Deaf Role Model of the Month: Abdi Gas, Founder of Deaf Unity
Published: May 28th, 2020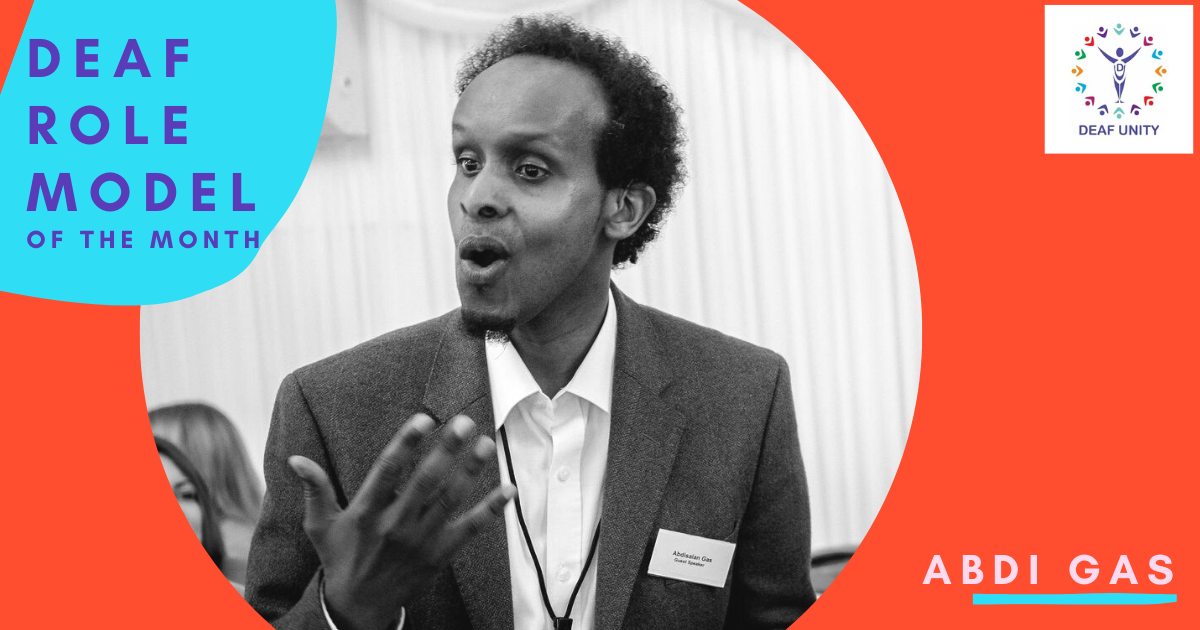 Each month we invite an inspirational or outstanding deaf role model to share their story. From what they've learnt, to what they wish they'd have known and their best deaf tips.  
This month, meet Abdi Gas. Deaf father to three hearing boys, husband, and founder of Deaf Unity. Abdi is a proud member of the deaf community, he enjoys teaching sign language and sharing deaf culture with others.  After battling with a lack of support and struggles with self-doubt throughout his education, Abdi decided to set-up Deaf Unity to support deaf learners facing the same issues.
1. Hi Abdi! Let's start by you telling us your deaf story?  
I was born hearing and became deaf through illness at the age of 10. At the time, diagnosis, consultation and support for deafness was poor. To make it more difficult, my family had recently immigrated to the UK and couldn't speak much English, so they missed out on the support services available. 
When my 6 siblings began transitioning to life in the UK, I struggled to keep up. I began feeling isolated and confused, and suffering from panic attacks and depression. 
After I eventually moved to a deaf school, I slowly learned sign language which helped me find a new community, and a sense of belonging. 
There have been times I was proud to be deaf, and times I wish I was hearing. Now I'm a father, I'm certain I want to pass down sign language and deaf culture to my children, so that it continues to be part of our family.  
2. Tell us about Deaf Unity, and why you decided to create it
?
When I left university I realised how much harder my path had been compared to my hearing peers. They had come from supportive families and schools who encouraged them to be ambitious and get their feet on the ladder.
I had to fight for support throughout my education and was coddled into relying on others, rather than being empowered to push myself into a brighter future. 
This drove me to seek change. I discovered a leadership programme run by Disability Rights UK offering 1-2-1 coaching sessions and, for the first time, I was encouraged to think about what I wanted to do and shown how to carve a path to achieve it. 
This made me realise the need for adequate support for deaf people, so I decided to create Deaf Unity. 
3. What is Deaf Unity's main aim? 
The main aim when I started Deaf Unity was to encourage deaf students to apply to university, and then support them through their education. Over the years, we've grown into supporting deaf graduates looking for work, and those already in work too.
4. W
hat would you like
Deaf Unity
to become?
There's lots of organisations that do great work in the deaf community, but they don't always share their learnings and resources which can make it confusing for deaf people looking for help.
I want to get to a place where our information is accessible, aspirational and available to everyone in the deaf community, as well as allies of the deaf. 
5. What is your experience of British Sign Language (BSL)?
I found learning BSL challenging, but I'm so glad I did it. 
At school I was struggling to read and write English, and then when I moved to a deaf school, I found it incredibly daunting to see sign language being used. I was put in a class with younger children because I didn't know how to sign which I found really difficult, but gradually I appreciated BSL as my doorway to communication, and a brighter future. 
I've made good friends in the deaf community through signing, and I now teach BSL. I feel privileged to see people learning sign and marvel at how poets and artists use it as a beautiful means of expression.
BSL is a lifeline to many, and it was to me, so I fully support campaigns to widen its use, like the campaign to make it a GCSE language.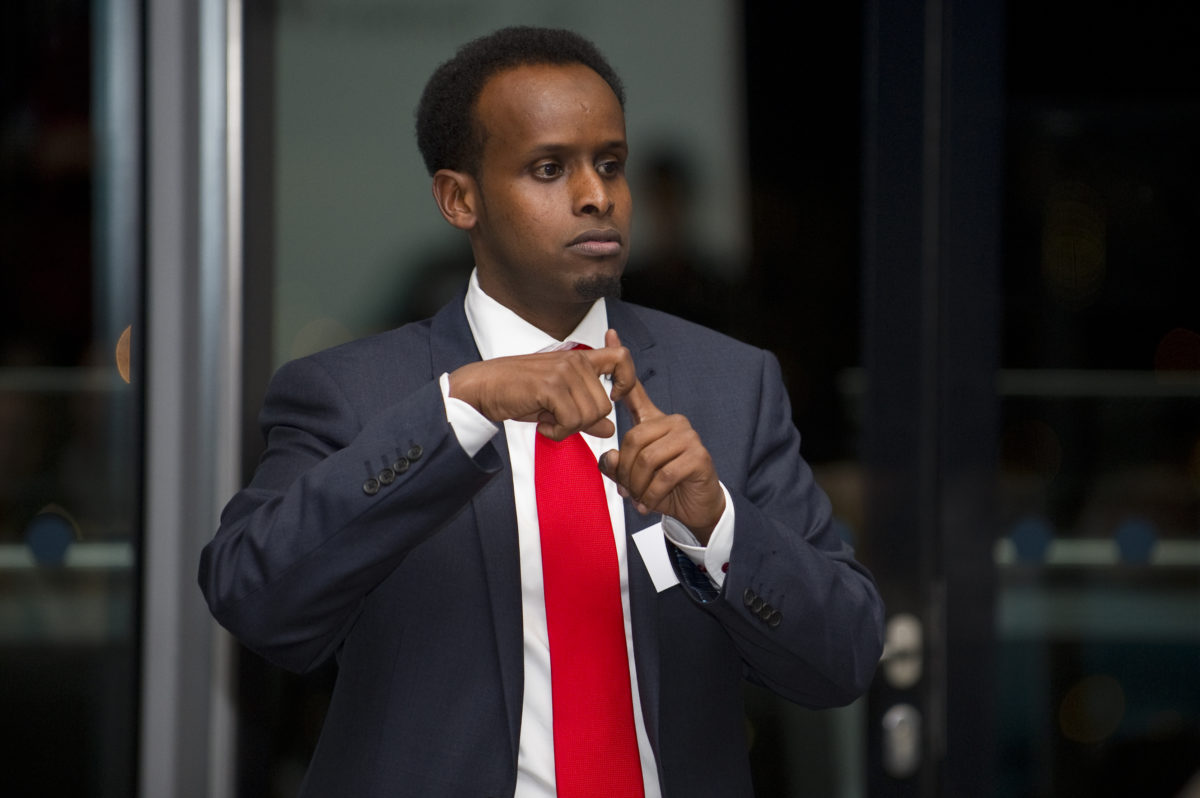 6. Have you faced any challenges from being
d
eaf?
H
ow have you overcome these?
A few years ago, I'd have listed ways I felt discriminated against, or things I've missed out on, but now I realise that my main obstacle was myself.
From a young age, I wasn't supported to believe in myself and felt inadequate, but then I discovered 1-2-1 coaching which was a powerful experience and helped me hugely.
Now, I sometimes still suffer from self-doubt, but I'm a lot more confident than I was.
7. What is one thing you wish you
'd
ha
ve
 known before studying
and
 working as a deaf person?
There's a few… 
I wish I

'

d 

have 

known what I wanted to do before 

studying, 

but that

 

other 

students struggle

 to

 know

 too

.

 

I

 wish I

'

d 

have 

known that m

any 

people apply for jobs and don't get them

, and that everyone struggles at work 

sometimes

 but 

people don't expect perfection.

Lastly, I wish I'd

 have

 known interpreters are a right, not a 

favor

. 

Equality is just as much about mindsets as legislation, so it's important to stand up for your rights.

 
These are all things I thought I was struggling with because I was deaf, when in reality they're things everyone else struggles with too!   
8. Where do you turn for
support
or understanding of your deafness?
I usually turn to my family when I need support, but I've found the Deaf Unity Cafe great for mutual encouragement too.
I have a few deaf friends who I always appreciate talking to, and I like being part of the deaf community online.
I do think more needs to be done in terms of deaf awareness and inclusion to stop us missing out on vital information (like news reports), and lighter everyday communication (like humour and sarcasm). 
9. What advice would you give to anyone struggling
with their mental health
?
How do you look after yours?
My best advice is: it's okay. It's okay to say you're struggling. It's okay to ask for help. It's okay to make your own choices about your deafness.
There are strong opinions around the choices we make as deaf people, like wearing hearing aids, using your voice or learning to sign, and the conversations around these can make us feel judged. 
If you need advice, reach out to the community or accessible support services who have lots of helpful information and shared experiences. I'm so pleased that talking about mental health is becoming normalised, and that amazing organisations like Deaf4Deaf and Sign Health exist. 
Personally, my family brings me so much joy. I love spending time with them, and the pandemic has made me realise just how important it is. I take time out to exercise when I can too, which helps me focus.  
10. Wh
o
inspires you and why?
I'm inspired by people like Dr Justine Durno, Danny Murphy, Tomato Lichy and other deaf people who shine in their fields, and remind me that deafness can be a wonderful tool when it's embraced, rather than being seen as an obstacle.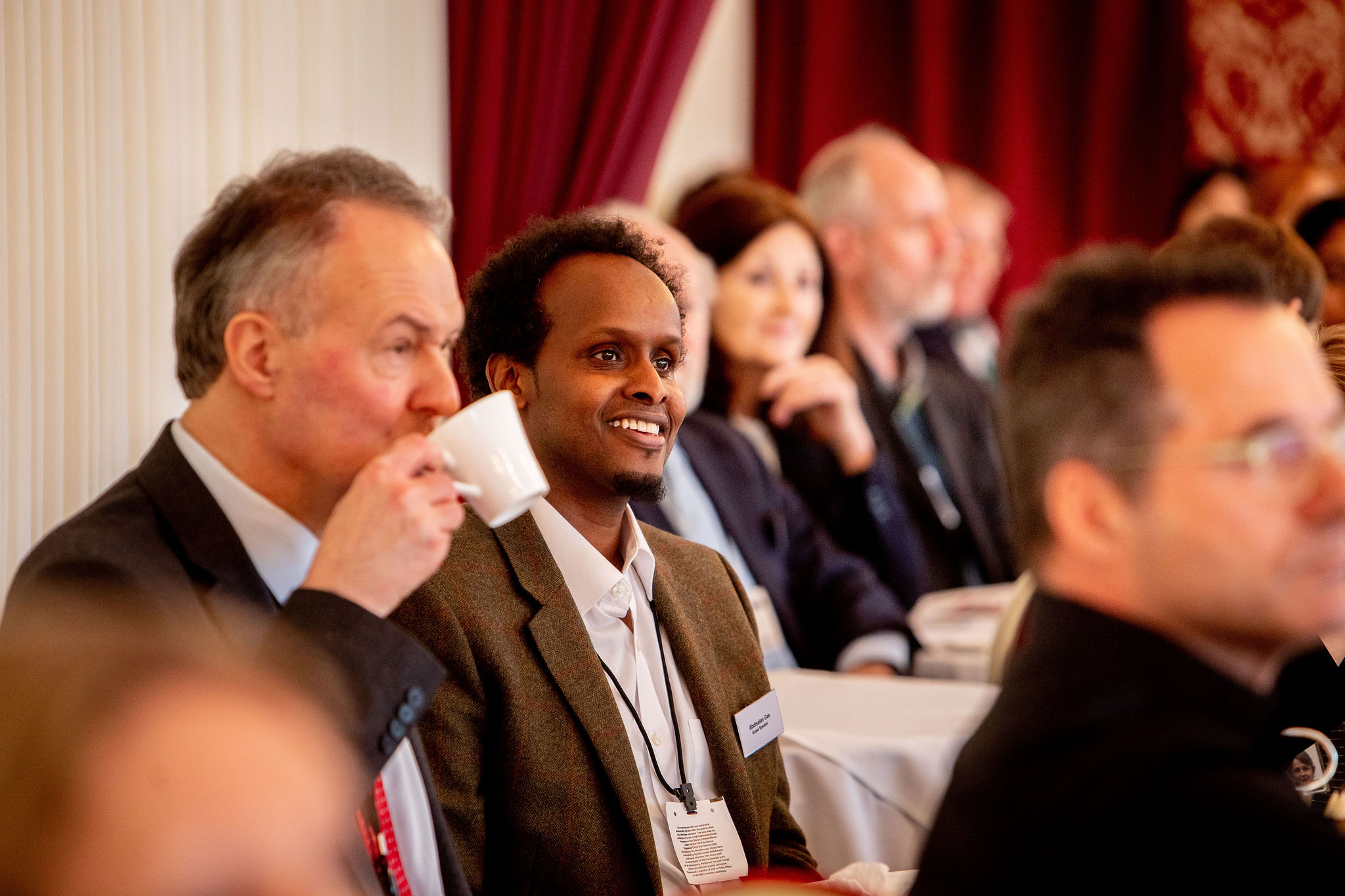 11. What makes you proud to be part of the
d
eaf
c
ommunity?
I love the diversity of the deaf community and how it includes many different people; from families, interpreters and sign language users, to those who have chosen to be allies. It makes a huge impact when we all come together to campaign and ensures the community's voice is heard. 
I also like that the deaf community doesn't have strict borders. It's much easier for a BSL user to learn another sign language than for a hearing person to learn a spoken one. I've been lucky enough to travel around the world communicating and connecting with deaf people from Europe to America, and the Middle East. 
12. What is your best piece of advice for young people in the
d
eaf
c
ommunity?
You can do it. Dream big, believe in yourself, and don't listen to anyone who tells you that you can't do something.
Don't forget to give back to the community, too. It's important we make it easier for future generations and continue to support the community that helped us grow in the first place. 
13. What ways do you think hearing people can be allies to the
d
eaf
c
ommunity?
I really appreciate when people understand deaf culture and deaf history. It's great to see hearing people learning sign language too, but I think it's important to ensure those teaching and advocating for the community are part of it themselves.   
14. 3 top tips for
d
eaf people?
Aspire – dream big and 

use your determination to go for it

, don't let deafness hold you back.

Get yourself out there – take a risk, be it socially, personally or professionally

 

and you're 

much 

more likely to 

feel the benefits.

Don't be afraid to ask for help

 – there are 

lots of 

accessible 

support 

services

 and friendly communities willing to help

, 

all

 you 

need to do is 

ask. 

 

 
3 Tips for Deaf People in BSL
1
5
. 
What's in
 the future for Deaf Unity?
The COVID-19 pandemic has reignited our drive to make sure we're supporting deaf people as much as we can. We've got some exciting new initiatives launching to help increase accessibility and transparency of support services, and we're continuing to help build bridges between the deaf and hearing communities through language and culture. 
Looking for more support? We've made it our mission to improve the lives of Deaf people everywhere. Check out Deaf Unity's projects to find out what we can do for you. If you'd like to get in touch, contact us here.