Dr. Julie McElroy A Journey to Empowerment
Published: May 29th, 2019
My name is Dr. Julie McElroy. I have mild Cerebral Palsy along with profound deafness, so I choose to wear hearing aids. Despite, or you may say 'in light of' my disabilities, I have risen above the barriers to study and have accomplished many achievements of which I am proud.  My journey into higher education began when I was at an Additional Needs School in Glasgow. I began to question: whilst everyone was doubting my ability to succeed, I wondered how far I really could go and could I stand out or above my peers.
Realising Potential
When I completed my secondary education, I felt ready and eager to venture into the bigger world to pursue whatever I wanted to do. Sadly, this momentum was quickly curbed when I reasoned the support I required just wasn't there. Although my twin sister and older brother have always given me the strength and inspiration to go out there and succeed, it is the attitudinal and social barriers that I have encountered, which have made things more difficult. Thankfully, Glasgow Clyde College staff, University and the DofE Awards Scotland gave me the confidence to do extra curricula activities and grow in confidence and realise the potential within me to achieve.
DofE Scotland was my lifeline where I was paired up with a fantastic DofE Awards Licence Officer through the Council, Garry McLeod MBE. Garry was the first person outside of my family to really recognise my leadership skills and he said I think you have the potential to go straight for Gold. It was the start of my self-belief leadership journey. Without Garry's support and guidance throughout my award period, I may have never gained the self-confidence and self-belief to enable me to go on pushing boundaries in other areas.
Wanting to pass on the inspiration that was given to me, in December 2015 – seven years after achieving her Duke of Edinburgh Gold Award- I joined the Duke of Edinburgh Awards Scottish Advisory Committee. I never thought this would ever happen but once again an organisation such as DofE Scotland is breaking the mould with me by inviting an individual with a disability to sit on the Board. It wouldn't have happened if it wasn't for the outgoing chairman who thought I was ready for the leap up into board management. I would recommend the Duke of Edinburgh Award Scheme to anyone and everyone as it really does act as a catalyst for young people to realise what they can achieve and will help them on their career path.
Additionally, I took up a voluntary international role as Head of Recreation for CPISRA (Cerebral Palsy International Sports & Recreation Association) in 2017 as it set out to engage with international organisations who deliver recreational opportunities for people with Cerebral Palsy.
Educational Achievements
With my enhanced confidence and knowing the support that was behind me, I used my experiences to forge ahead and overcome barriers that lay in my educational journey. I am proud to say that in 2017 I graduated, having completed my PhD in Assistive Technology at the University of the West of Scotland. My research was focused on the experiences of tertiary education students with disabilities who use assistive technology in their learning. Using the same technology for myself, I have also completed my Master of Knowledge Exchange looking at the globalisation of disability entrepreneurship and the reutilisation of Assistive Technologies recently at the University of Strathclyde. I am also in the midst of finishing my Master of Law through Open University. This has been especially challenging as I have been recovering from a traumatic accident. This area interests me, however, as through my experiences I have come to believe that I have a lot to offer in the area of disability rights and its relationship to Law.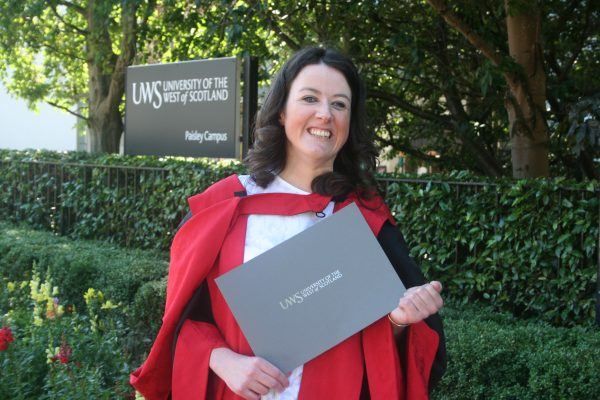 It was when undertaking my Honours Dissertation that I was taken in a completely different direction of looking at assistive technologies. It was then I realised that combining my IT knowledge with assistive technologies gave me the passion and niche to advance my knowledge in a specialised field. This was not only academic, it was personal and real to me as I constantly use assistive technologies to live my daily life.  Thereafter, the University of the West of Scotland, (UWS) offered me a scholarship to study for a PhD. It was there I met prolific academics who recognised my capabilities and potential. Over the six year period while I embarked on my PhD, the supervision of my work allowed me to take leadership of the research and connect with professionals in the field of assistive technologies to underpin the theoretical concepts in relation to assistive technologies and education. I am in great debt for my supervisor's knowledge, expertise and professionalism throughout my learning journey.  PhDs are peculiarly difficult to hold together. It was such a big leap going from an Honours, directly into a PhD. It was a difficult challenge and more pronounced for me because of my deafness.
Employment 
In recent years, I have become an advocate of normalising the word 'disability' in the employment context. The focus should also be on employers to enhance their commitment to widening access and equalities for all, ensuring that those who have the ability can embrace opportunities irrespective of their background. The policy and legislative landscape and the practical guidance available to support people into employment have all improved and continue to evolve as society moves forward. Realistically, employment practices still have a long way to go. I am committed to contributing to the positive shifts and developments and encourage everyone reading this to join the movement.
We previously shone a spotlight on Julie back in 2016 on her Achievements as Deaf Learner– it's great to see her continuing to forge ahead and become a really inspirational Deaf Learner and Role Model to all.
Dr. Julie McElroy is a Scottish woman. She epitomises drive, motivation and passion.  Throughout her life she has succeeded in so many challenges. Julie is a woman who has so much to offer in terms of possessing ideas and concepts in every aspect of any project she undertakes. She possesses the self-leadership, determination and fortitude required for success.  Julie makes the connections between the adversities and obstacles we face in everyday life to reaching your goals, and despite her own hurdles which she has to overcome, never lets anything get the better of her.