Interview with Lee Marshall, BSL song-signer by Matilde Martinetti
Published: Feb 18th, 2015
Let's start from the beginning: are you deaf or hearing?
I'm hearing, born into a hearing family. I learnt BSL at the University of Bristol in my Deaf Studies degree and have been signing for almost 6 years.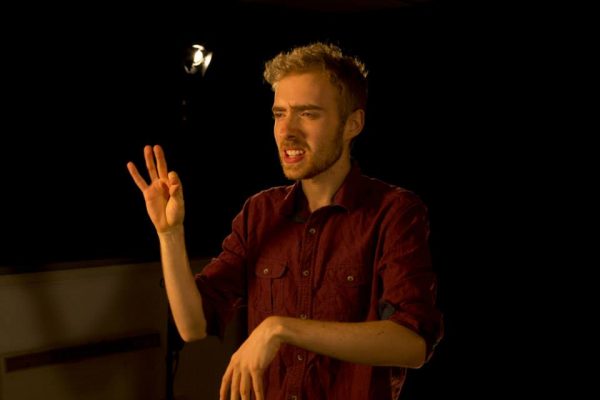 What is your background and how did you get to become a song-signer?
I first came across signed songs when I was watching the music channel, The Hits, and saw several in-vision interpreters signing the music videos of songs. I got hooked and thought it was amazing – the translations, the way they grooved to the beat, the fact it was giving access to deaf people; I thought it was fantastic! I quickly learnt as many as I could. In 2009, I thought to myself "I could do that" and started to film myself sign songs and post them on YouTube. It got a great response. Now, after many months of silence, I'm back again with my website leesbslsongs.london.
What challenges did you face in developing your project and how did you overcome them?
The main challenges were: making sure my translation of the song was right (it takes a while for me to be comfortable with a translation), and also picking the right songs. All my songs have a positive message about being the best you can be and I want to pass that message onto young people. I had to screen them first to make that they don't have swear words or anything sexual in nature.
Future plans/ambitions?
I want to expand this to stories and poetry and other BSL resources, perhaps a country signs glossary (that's another passion of mine!). I love seeing signed performances and their translations have their heart and souls put into them. It's fantastic to watch AND do yourself! I recommend that everyone watches sign language arts.
Any suggestions for a deaf person who wants to take up a career in the art?
Anyone can sign a song, deaf and hearing. There can be conflict, such as 'why is a hearing person signing songs,' or even 'why do deaf people do it, they can't hear.' But it's something that everyone can do, even hearing people who can't sign can learn a song within an hour. They have to be dedicated and give their all in the song, and don't feel embarrassed!
London, January 2015
You can find Lee's Website here