Chichester College: Outstanding Support
Published: Apr 30th, 2014
Chichester College is one of the sponsors for Deaf Unity's Deaf Careers Fair, being held on 7th May – they offer outstanding support for deaf students at a college rated Outstanding by Ofsted.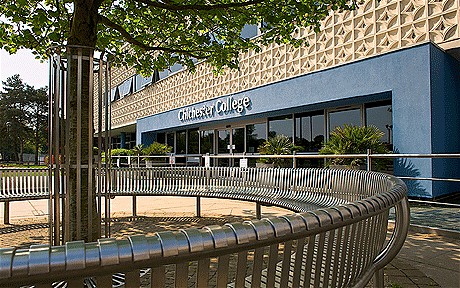 Chichester College is a general further and higher education college situated in West Sussex. The main campus is situated in the Georgian town of Chichester, while the countryside campus is situated at Brinsbury, north of Pulborough on the edge of the South Downs National Park.
The College has recently been inspected by Ofsted and was graded outstanding in all four key areas of: teaching learning & assessment, outcomes for learners, overall effectiveness and leadership and management. It was also graded outstanding in the most recent Ofsted Care Standards inspection where support and care for residential students was particularly assessed.
College staff are passionate about providing opportunities for all and there is a great focus on providing support necessary to help students achieve their potential. The Additional Support team offer the following support for Deaf students:
In class BSL Communication Support Workers (CSWs)
Lip speaking/lip reading (oralism)
Note taking
Adapting any learning materials to aid understanding
Support with written work
Help to build positive relationships with fellow students and teachers
Social support
Deaf Awareness training for staff and students
Help to  become independent
1:1 out of class support
Arranging exam concessions e.g extra time and a CSW
Arranging with assisted technology e.g. loop systems and webcam
All our CSW's are fully qualified and trained to a minimum BSL level 3 standard, most are level 6. All staff and students that have a Deaf student in their class/course receive appropriate Deaf Awareness training.
Support isn't just for the classroom, we care about our students' future prospects and progression so we offer support with C.V writing, filling out application forms and finding and applying for jobs online. CSW's can also attend interviews or open days with their Deaf students. Our CSW's can advise Deaf students on how to apply for Access to Work and Disability Students Allowance. They can also help to identify and discuss the Deaf students next steps such as higher education courses by contacting the Additional Support teams working in universities and supporting them throughout their progression.
Preparing for employment: to help prepare for employment we can provide students with the following skills;
Practical skills relevant to specific industries
Qualifications
Social skills
Work experience/placement opportunities
Confidence building
Health and Safety training
Integration into the community
Information on access to support in employment, such as a BSL Interpreter
Literacy and numeracy skills
The College's Positive About Futures careers team provides advice information and support with applications for jobs, further training and higher education.
Joining the College is a simple process:
Complete the online application form or the form at the back of our prospectus. Return it to Admissions.
You will be invited to an interview and to see around the College you will meet a course leader and a member of the Additional Support team, accompanied by a CSW. During the interview your needs will be identified.
An individually tailored support plan is developed from the interview and an offer of a place on the appropriate course made.
On acceptance of the offer, information arrangements about accommodation (where needed) can be made.
You will receive 'starting your course' details.
Your individual support plan will be reviewed every 6 weeks to ensure your support is beneficial and appropriate.
Any Deaf students interested in courses at Chichester College can attend our termly open days/evenings and course taster days to find out more information, communication support can be provided. For more information check out www.chichester.ac.uk or email info@chichester.ac.uk