Katarzyna Hadley on appreciating the unique qualities of Deaf graduates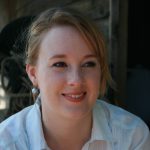 The most important thing that I realized during my university studies was that we, deaf people, should not be put into a box marked 'deaf', but rather be seen in a positive light as we have unique qualities.  As an example, we generally compensate for our hearing loss by developing an enhanced visual perception which can be of great benefit when working e.g in the visual arts field.
When I was a teenager living in Holland, there was a lack of adequate support for young deaf people integrated into mainstream education and I therefore decided to move to the UK as I wanted to pursue my dream of entering the world of performance arts and go to university. I didn't want to follow the standard advice about what kind of job is "feasible" for a deaf person; so being able to do something that I really liked felt very liberating. I therefore studied for a BA Hons in Theatre followed by a Masters in TV Production. I have successfully completed both studies, despite a few bumpy rides I had to face in terms of communication barriers and a lack of deaf awareness, especially during my Theatre course. I have learnt a lot about my own qualities and abilities from both courses, which I would like to cultivate further.
My course leader from MA TV Production, who worked for the BBC for many years, once made a very important comment indicating that deafness DOES stand out as a very positive 'quality' that could be used as a creative tool in visual media rather than being marked negatively. This example is relevant to many deaf people from a variety of backgrounds and I strongly feel it is very important to exploit an individual's unique abilities e.g. in the working environment. However, a lot of work still needs to be done to make our voice heard. The main problem is a lack of awareness within the work environment about what we are capable of.  There is still a big gap between the employers and potential deaf employees in terms of confidence, as people tend to focus too much on what we can't do instead of focusing more on what we can do. Employers can easily reject an application letter as they have apprehensions and concerns about practical issues such as verbal communication, our general communication skills and, for example issues such as the use of a telephone. For instance, I got fewer responses from application letters than my hearing peers, and I fear that my deafness may be off-putting for prospective employers.
I therefore still prefer to approach companies that I know to be deaf aware or willing to accept and support a person with a hearing impairment. However, it is difficult to find such companies where you feel you would truly be part of a team. A key problem now is how to spread the word in order to raise this kind of awareness and build confidence and trust between deaf people and employers.
When I think back about various encouraging comments, both from my fellow students and tutors, I realize that these people, along with successful deaf professionals, could also contribute to raising awareness within the hearing world about deaf talents. The gap between deaf people and employers could be narrowed down if we could start passing the word around by the use of workshops, seminars, social media, Vimeo and other visual media. Networking is really essential as it may be the best way to break through this barrier.