Deaf Role Model of the Month: Andrew Belcher
Published: Jun 18th, 2020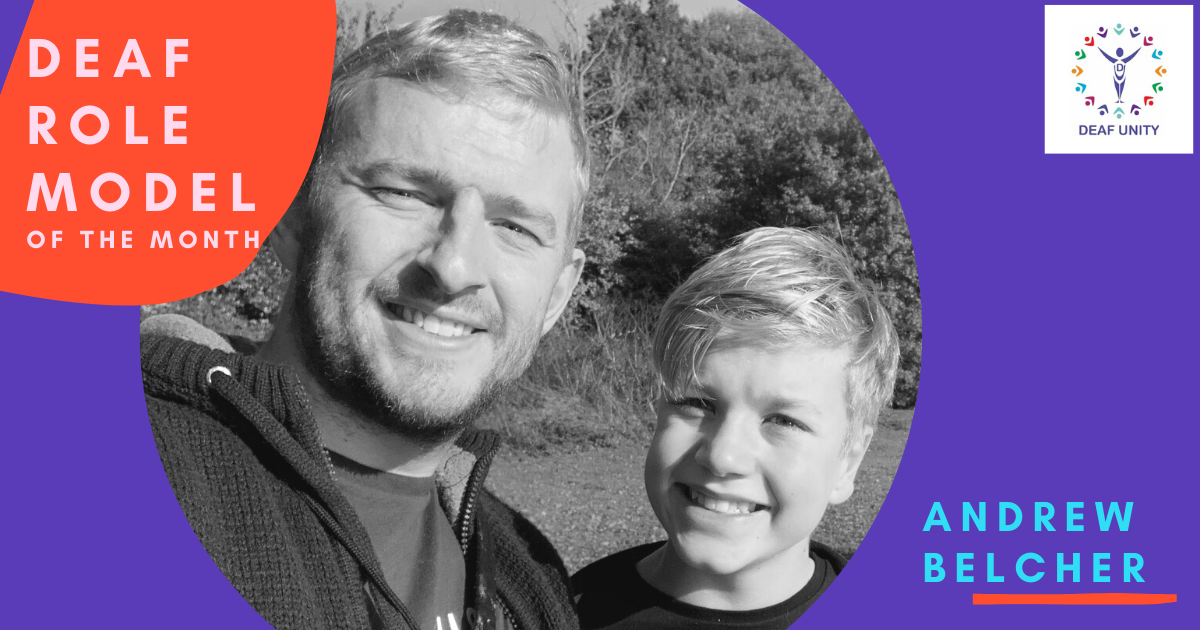 Each month we invite an inspirational or outstanding deaf role model to share their story.  From what they've learnt, to what they wish they'd have known and their best deaf tips.   
This month, meet Andrew Belcher. Deaf BSL teacher and father to two profoundly deaf children. 
Andrew and his wife have fought tirelessly to ensure their children's educational needs were met, and continue to passionately call out accessibility issues and barriers to the deaf community. They also promote deaf awareness through their business B.S.L Community. 
BSL Video
1. Hi Andrew! First up, tell us about you and your deaf story? 
I'm from a mixed family of both deaf and hearing. My mother was hard of hearing and my father, sister and brother are hearing. My youngest sister is profoundly deaf.  
My wife, who is also deaf, has deaf parents. And together, we have two profoundly deaf children.   
I work as a BSL teacher and have been teaching for over 13 years. I used to work in a sensory team as a social work assistant, where I enjoyed supporting families of deaf children. I have also set up B.S.L Community to help promote deaf awareness. 
2. What are your experiences as a deaf father, and as a deaf family?
We're a deaf but completely ordinary family. We like the same things as other families. We like to travel, we go on long walks and, we enjoy movie nights!  
The only difference we've found is the lack of understanding towards our children's educational needs, particularly from important decision makers like our Local Authority. 
It's astonishing how little these professionals know about deaf language, culture and heritage. Even when we've given them information or evidence, they've discarded it and rely on their own 'knowledge' or 'experience'. The powerful decisions they make can mean we face constant barriers and frustrations. 
My wife and I have had to fight hard for our children from the start. Even creating an initial Education Health and Care Plan was difficult because of accessibility issues. 
3. How do you communicate as a family? And how have your children found this?
As a family we communicate through BSL (British Sign Language).  
My wife and I decided not to implant our children (despite pressure from audiologists and medical professionals) as we wanted it to be their own choice.  
When my daughter opted for implants at the age of 6, we were told it was 'too late', but my wife challenged this and persuaded professionals to give her the assessment she was entitled to. She was eventually implanted at 8 and has surprised everyone with her amazing developments in listening and speaking. She continues to use BSL as her first language.  
Our son decided to have double implants at 10 and benefits from hearing environmental sounds and his name being called, but he uses BSL too.  
Ultimately, the decisions about our children's hearing were their own, that was important to us.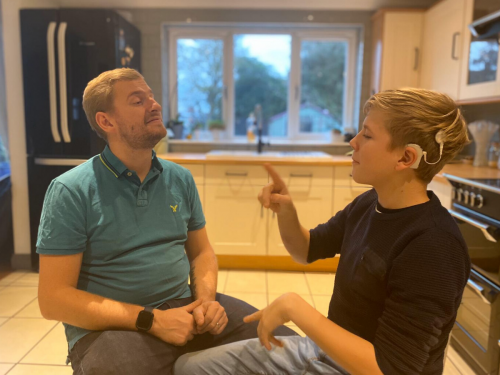 4. What is your best piece of advice for fathers or families in the deaf community?
Talk to each other, share information and work together.  
Regardless of if you have deaf or hearing children, as a deaf person, accessing the right services for your child is difficult – particularly accessing appropriate education. Although there are some ways around this, the information is mainly in written English, and not accessible in BSL.  
That's why I think it's important to talk to other families and share information – it's the only way to become stronger as a community.   
5. What do you like about being deaf? Or being part of the deaf community?
I love deaf language, culture and history. And, the sense of belonging.  
I've formed close friendships with other deaf people from secondary school, and although I don't see them that often, we still have a strong connection. I know some people in the hearing community, and the deaf community don't have these connections, so I feel very fortunate.   
6. Have you faced any obstacles or challenges from being deaf? And how have you overcome these?
It always come down to accessibility.  
At work, I run two businesses (one training-focused, and the other community-focused) so I need to be well organised so I can book my CSW's (Communication Support Workers) and interpreters in advance. It can be tiring, but if I didn't do it there would be a negative impact on my work. 
With services, like making appointments at the GP, there's always issues with interpreters' availability or refusal to book an interpreter. Instead of complaining at deaf clubs, I try to make the effort to formally complain so that providers will see a pattern, then track and record of issues, which will bring change.
If only a few of us raise these issues, they won't take notice. So we all need to do it.
7. What resources or support have you found the most useful? Are there areas you think families or deaf parents need more/better support?
We wanted our children to attend a deaf school, but were refused, so decided to challenge the decision at a tribunal. My wife had to produce evidence, which was a lot of work but we did receive assistance from the NDCS' (National Deaf Children's Society) Appeals Team. 
There are many organisations doing fantastic campaigns, but there isn't anyone leading on accessibility and rights to language or BSL – which needs to be better understood. A good example is that the SEND (Special Educational Needs and Disabilities) Code of Practice isn't translated into BSL.  
There also isn't enough peer support for deaf BSL users, especially in my area, which is why I was determined to change things and set up my own Community Interest Company, B.S.L community.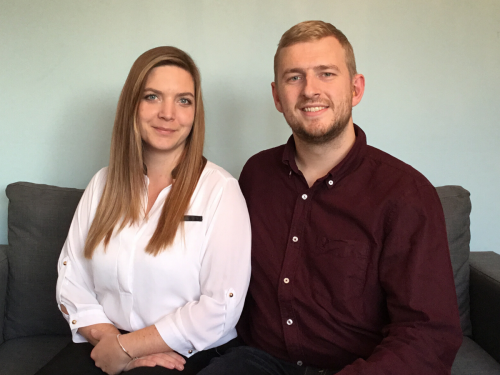 8. 3 top tips for deaf people?
1. Complain, complain, complain. 
You have the right to complain. If you come across an accessibility barrier –

 make a 

formal complain

t.

It doesn't have to be in writing. You can send a simple email requesting a meeting with BSL interpreters to raise

it

.

 

Companies are obligated to make their complaints systems accessible, and 

this is a reasonable adjustment.

At the moment, many organisations aren't aware of our communication difficulties

,

 because we don't complain about them

 enough.

 The deaf community needs to work together to raise

awareness.
2. Stay balanced.

B

eing deaf can be a struggle everyday, and it's easy to give up.

O

ffset negative thoughts by doing

things you enjoy like

 

being with family 

and

 friends

, 

or 

taking

 part in a hobby.
3. Keep on fighting.
If you truly believe

in 

something –

keep

fighting

for it.

There were times we thought we

'

d never win our children's education battle

–we actually lost our son's tribunal to attend a deaf secondary school, and

it was only because we did our own research and found mistakes in their handling of the case, that we appealed and won! O

ur belief 

in our rights 

was stronger than our willingness to accept anything less.

Now our children are at their happiest

, because we fought for them.

It's the same for our business – we felt there was

n'

t enough

 

deaf 

support

 in 

our

 area 

so decided

 to change 

things

. Every day is a challenge –

we work hard 

speaking to

 

authorities and creating an interest from the community

, but t

here are moments 

that 

make

 

it all worthwhile.

 
Looking for more support? We've made it our mission to improve the lives of deaf people everywhere. Check out Deaf Unity's projects to find out what we can do for you. If you'd like to get in touch, contact us here.