Please scroll down for the BSL translation of this article.
In the past few years, awareness of mental health issues and the support available to those in need has risen, mainly due to an increase in research and those suffering speaking out. In 2014 Mental Health and Wellbeing England found that mental health issues affect 1 in 4 people in the UK every year, with worries about things like money, employment and health making it harder for people to cope.
In the deaf community, worryingly this number rises to 1 in every 2.5 people (around 40%) experiencing mental health issues.
This means deaf people are 2 x more likely to experience mental health issues than hearing people. So it's important for us to understand the link between deafness and mental health, and ensure the community has access to help and support.
Why is Deafness Linked to Mental Health Issues?
There are many reasons why someone might experience mental health issues, ranging from everyday struggles around money, employment and education, to emotional struggles related to family and relationships, as well as insufficient access to mental health services and support. In the deaf community, these problems are amplified because of difficulties in communicating, barriers in education and employment, and a lack of accessible support.
Communication Difficulties
One reason deaf people are more at risk of experiencing emotional issues is because it's harder for them to access mainstream mental health services. Difficulties in communication make it harder to access even the most basic support services, like talking to your GP. It's unlikely mainstream health professionals will be able to sign, and if a BSL interpreter is provided, or a friend or family member used to interpret, some deaf people may feel uncomfortable talking about sensitive issues through someone else.  
Lack of Understanding of Deaf Culture
Another issue is that mainstream healthcare professionals and support services tend not to be in tune with deaf culture, and don't understand the challenges and frustrations of living with deafness. As many therapists, doctors and audiologists are not aware of these unique challenges, deafness is widely misunderstood, which impacts the amount of support available. Mental health issues surrounding can often stem from this lack of understanding of deafness, and the support available.
Barriers to Education and Employment
Job insecurity is an issue for many people, but for deaf people it's even more acute. Research suggests 3.7 million deaf people in the UK are of working age (16 – 65 years), but a deaf or hard of hearing person is 4 x more likely to be unemployed than a hearing person.
For many deaf people, the difficulty of finding work stems from a lack of support in education. This is because mainstream schools and Universities don't have the resources or training to give deaf students the support to reach their full potential, and prepare for the world of work. The number of deaf students in higher education has declined in recent years, suggesting employment barriers will increase in future generations.
When it comes to finding work, deaf people can face discrimination from employers who are reluctant to cater to their needs in the workplace. Other barriers include a lack of understanding and deaf awareness, as well as misconception that deaf people will be less able to do their job. These struggles can weigh down on a deaf person and increase their likelihood of facing mental health issues.
Inaccessible Information
Above all, lack of accessible information is the main reason deaf people are more likely to have mental health problems, and why they struggle to get the support they need. Unlike hearing people, the deaf community may find it hard to access helplines, and read leaflets, online advice or posters written in English, especially if they use British Sign Language (BSL) as their main form of communication. Many people do not realise the grammar and structure of BSL is quite different to written English.
It's also difficult for deaf people to tune into radio programmes or TV shows that discuss mental health issues and acceptance, as well as where to get support. One of the biggest impacts of deafness is feelings of isolation and loneliness, and the lack of inaccessible information adds to this – which in turn triggers emotional stress.
Where to get Mental Health Support
Whilst deafness may bring about feelings of loneliness, sadness and frustration, it's important to remember that there are many other people going through the same thing. The deaf community is a strong and supportive network open to all who need friendly advice, support and information on deafness. There are a number of mental health charities and deaf charities who offer accessible support options such as text, email, writing a letter and online chat. Deaf Unity is amongst these charities in the UK, and can direct you to support and advice, so please do not hesitate to get in touch.
Accessible Mental Health Services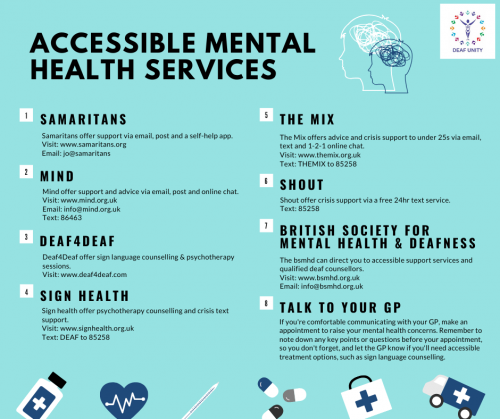 Visit:
www.samaritans.org
www.mind.org
www.deaf4deaf.com
www.signhealth.org.uk
www.themix.org.uk
www.bsmhd.org.uk
Another option for deaf people who need emotional support is peer to peer counselling. Thankfully there are a number of qualified deaf counsellors available who are trained to work specifically with deaf people to discuss their emotional well-being and provide suitable support services to help with recovery. Take a look at the British Society for Mental Health and Deafness for more information.
BSL Translation
Here, we've translated the main takeaways of this article in BSL.
What are your thoughts on this article? Please share your views in the comments section below.