Karen Newby is a fully qualified registered sign language interpreter from United Kingdom (London) who has been interpreting for over twenty years. In January 2010 she went to volunteer in the Middle East Syria with a new organisation that was being established under NGO called AAMAL (meaning "Hope"). Karen's article was originally published in Association of Sign Language Interpreters (ASLI')s Newsli magazine in January 2011.
Helping Deaf Children & Families in Syria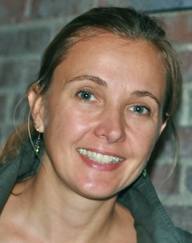 On the 18th of January 2010 I found myself on a flight to Damascus, Syria. Never having travelled to the Middle East before, I was rather excited at the prospect of arriving in a city so steeped in history. The reason for my trip? I was to join a new programme for deaf children and their families that was being established under an NGO called AAMAL (meaning hope), the national organisation for disabled people. The emerging deaf programme had its roots in the UK, thanks to two deaf brothers, Feras and Wael Moubayed. Born in the Middle East to a Syrian family, they were sent to be educated in the UK after their father could identify no quality education available for deaf children in Syria at the time (the 1970's & 80's). At the age of nine, with barely any useful language ability, Feras began living with a family near Brighton and became a weekly boarder at Hamilton Lodge School. Feras was the eldest of what turned out to be five brothers and it was 15 years before Wael, the youngest, followed a similar path, taking his education at Ovingdean School, which adopted a more oral approach to learning. As adults, Feras and Wael found themselves wondering what life was now like for deaf people in Syria. In the UK they had both gone on to tertiary education and experienced some professional success, Feras in fashion retail, Wael a sports massage therapist. They led active and varied social lives, including time spent with fellow members of the Deaf community in London and had even worked as actors: Feras in the popular Deaf soap, Switch; Wael in a Hollywood movie, Goya's Ghosts. But when they travelled east to visit with their hearing family, they saw little evidence of a Deaf community in Damascus. Arabic nations often have difficulty dealing with difference, despite a high incidence of disability due to inter-marriage, and families tend not to discuss disabled members.
The brothers began to look more closely and discovered a community that continued to suffer the hardship of oppression but who quietly and proudly did the best they could with the means available to them. The education system remains flawed. Feras spent time visiting state funded schools accommodating deaf children and found classes to be large, of mixed age and ability, with teachers who often appeared merely to be baby-sitting their charges. Saddened by what they saw, Feras and Wael decided to set up their own organisation, Syrian Deaf Children, as a fund-raising venture with a view to selecting recipients of funds at a later date. In a short time, via contacts they had made in their professional lives they were able to raise around US$50,000.00 to kick-start their work. The activity of the two brothers caused a bit of a stir in Damascus and an invitation was sent by the First Lady of Syria, Asma al-Assad, for them to meet with her to discuss their plans. The wife of the Syrian president is chair of the board of AAMAL and, after discussion, the brothers were asked whether they would be interested in relocating to Syria to undertake some of the development work themselves. Events snowballed and, by December 2009, Feras and Wael had returned to live in Damascus to begin their contract with AAMAL. They soon realised that the many meetings they needed to attend in order to establish the programme would be hugely challenging without the assistance of a BSL interpreter. The brothers do not have a fluent grasp of Arabic and meetings were therefore held in spoken English, mostly by second language users with a strong accent. An email calling for volunteers went out to the UK interpreting community and this eventually led to my journey east. I had known Feras on a professional and social level for several years and the offer came at a time when I was able to leave my rented accommodation and store my belongings without landing myself with too much ongoing financial burden.
The project funded my accommodation, food and a little pocket money. My first day in Syria was spent taking in the sights and sounds of Damascus, one of the worlds oldest continuously inhabited cities. A lone western woman wandering the souks was seemingly not a common sight; eyes followed me in all directions and the occasional brave young boy approached to ask where I was from. At no time did I feel threatened, simply that I was worlds away from the anonymity of London. Initially, I stayed in a decent small hotel in the Christian quarter of the old city and was taken good care of by Feras and his family, spending my evenings either at their home or out with Feras, Wael and their friends. During the second month, I was joined by a fellow BSL interpreter, Rachel Horsington, a newly qualified MRSLI. By the end of the first month, I was suffering quite badly with upper limb pain brought on by the non-stop round of interpreting, researching, editing and corresponding (not to mention socialising, when I also sometimes got drawn into interpreting). The original agreement was that I would stay for one month, after which time someone else would be found to replace me, but a week or so into my trip, I met with Elizabeth White, the Director of the British Council in Syria, who agreed to contribute one months salary at local rates for me to continue my work after the initial period ended. Physically, I did not feel able to do this unless another interpreter could be found to work with me so, when Rachel arrived, I felt a huge sense of relief and the pain began to subside. Rachel and I began living in an apartment in the suburbs of Damascus, which had a positive affect since it removed the need to go out every night and we could make ourselves a pot of English tea whenever we wanted! Having a companion also meant we could be much more independent of Feras and Wael, which I m sure was a relief for them too. Despite only having met a couple of times previously, Rachel and I got along brilliantly and I'm happy to now count her as a friend. The programme was still in its early stages and there was a lot of administrative work to do, discussing ideas, researching and writing proposals. Many meetings were held with executives of AAMAL and potential funders, mostly private Syrian companies. My role was primarily as interpreter but, as someone who s been involved with the Deaf community for 20 years, I was also able to offer advice and opinions based on my knowledge of the UK and global communities and my understanding of current research.
It was agreed early on that I would make judgements about when to break conventional interpreter boundaries. I aimed to do this as little as possible, particularly during meetings with external organisations, however, since neither Feras, Wael, nor their PA, Majd, had worked in the domain of deafness or development previously, there was much I knew that would be useful to them. We spent many an hour discussing the principles, priorities and profile of the programme and I was very much a participant, taking the role of interpreter whenever necessary. Before leaving AAMAL at the beginning of April, with the permission of Professor Bencie Woll from the Deafness Cognition and Language research centre (DCAL) in London, I gave a presentation on the deaf brain and language processing to an audience of SLTs, teachers and parents. It seemed that each day our small team faced huge challenges. There is currently no interpreting profession in Syria and therefore little understanding of how to work with Deaf professionals. Whilst many members of the Deaf community work, it is mostly manual, such as carpentry and building trades. Even within AAMAL, it was often a struggle for Feras and Wael to express their views without other people talking over them or making assumptions. They were used to having their rights addressed in the UK but unaccustomed to actively asserting them and I sometimes took responsibility to push for their needs to be met since they were being careful not to upset anyone. Whilst meetings were supposed to be conducted in English, participants would regularly switch to Arabic if they were struggling to express complex concepts or if they wanted to have a private exchange. Majd did her best to represent the programme s views before steering the language back to English but this could take time and it was difficult for us to gauge what was being said or check for accuracy. Culturally, it seemed our Syrian colleagues found it dif cult to refuse requests for support made by our team and would sometimes agree to things they were not able necessarily to follow through. This meant our team being given expectations that were then not met, which in turn led to frustration. AAMAL already provided some services to deaf children in the form of a small primary school. Being a relatively new organisation, established in 2006, the current focus is on three specific groups, children who are either blind, deaf or on the autistic spectrum and there were around thirty children from each group attending the school. It is generally believed that sign language inhibits the development of speech, so children were being educated orally and the use of natural gesture was prohibited though the teachers are well meaning and hold degrees in special educational needs (one is even married to a Deaf man and uses some sign/gesture when nobody is watching!) Sadly we met with one lady who told us that the Deaf son of her Deaf sister had been asked to leave the school because the other children were beginning to acquire sign language from him. There was nowhere else for him to go and the family were crestfallen. When our team queried this with the school they became quite defensive and shortly afterward we were told he had been invited to return. It was decided that the plan for the rest of the year of the project would be to focus on family and public awareness of childhood deafness. We were in touch with Susan Daniels, CEO of the NDCS, who kindly agreed for us to adapt the new Family Friendly resource book published by Deaf Child Worldwide, their international wing. Feras decided the book should be shorter for a Syrian audience since literacy levels are low, particularly among women. He did not want people to be put off by the size of this resource, although it is well illustrated. I contributed to this by editing Feras selections to ensure they remained connected coherently and check that sections of the book being referred to in the text were not those which had been discarded. The first thing our team did after Rachel s arrival was to head over the border to Jordan for a few days to visit The Holy Land Institute for the Deaf in Salt. The Principal, Father Andrew (a priest, originally from the Netherlands), has been working at the school for over 30 years and was able to offer a lot of sensible advice. Children at the school are taught in Jordanian sign language and learn to read/write Arabic and English.
In the capital, Amman, we met with Mrs Amal Nahhas, Secretary General of the Higher Council for the Affairs of Persons with Disabilities. Mrs Nahhas also has over 30 years experience and is a big supporter of sign language education and interpreter provision. During this meeting we were honoured to be introduced to His Royal Highness Prince Raad Bin Zeid (uncle of the current king) who is actively involved in the disability movement there. The situation in Syria is vastly different from that in Jordan and it was good to see such positive attitudes and services being modeled by a neighbouring country. I was relieved to note these influential people are strong advocates of individual countries retaining their indigenous sign languages and do not support the development of the pan-Arabic sign system being promoted in the region (also not supported by the World Federation of the Deaf). Apparently this system was instigated some years ago by interpreters working for Al Jazeera, the Arabic news channel, as a solution to providing interpretation for cross-border broadcasting. It functions similarly to International Sign (IS) and is not a grammatically complete language. However, educators have been thrilled by the notion that one language can cater for the entire region (25 countries/territories) and have begun to stipulate its use in Deaf schools. Ironically, we learned that eastern and western dialects are already emerging, influenced by cultural differences in a region that straddles Africa and Asia.
I was told by a respected member of the Damascene Deaf community that they use Syrian sign language when outsiders are not present because it is richer and more expressive. Since Arabic sign is made up of the most iconic signs from the region, it helped make our life easier when attending Damascus Deaf Club but any gaps were filled with Syrian signs. This is also the strategy adopted by the in-vision interpreter who provides a twice-weekly service on a Syrian news broadcast. Despite being married to a Deaf woman, he is a supporter of the pan-Arabic system and was involved in the production of a dictionary of Arabic signs. I attempted to discuss language oppression with him but he was somewhat evasive and we were limited by not having a skilled Arabic/English interpreter to assist. It seems, in Syria, there is but a handful of people performing an interpreting function, this gentleman being the only one to receive any payment. This comes from the TV company and from the court if he is required to work there but he told me funds barely cover his travel expenses.
The only other place interpreters are found is in the mosque or church at weekly services, for which they are not paid. There is no medical or workplace provision at all. At Deaf Club, this interpreter appeared to be the person everyone approaches for help understanding letters they have received but Deaf people and Children of Deaf Adults (CODAs) were involved in providing education to younger or less able members of the community. One lovely experience we had was when our team asked Damascus Deaf Club to select a name for our programme. Men and women attend on separate days so we organised two evenings for them to brainstorm names and vote on their preferences. Syrian Deaf people are so unused to being asked for their views and it took some time to persuade the committee (of Deaf men) that it was a good idea for all members to contribute. They felt that the average member would not be capable of expressing independent views and that they would all simply copy each other. This was not the case however and we witnessed a brilliantly vibrant debate with just about every member present getting involved! Happily, the men and women (on separate nights, women rst) agreed on their number one choice and the decision was made for the programme to be called Mawj, meaning an ocean wave. The reasons given were wonderfully descriptive, encapsulated by one lady who described the ocean as a powerful force, which, like the Deaf community, is ever present yet constantly changing, the motion of which evokes the swishing of hands, back and forth in signed conversation. I could go on and on but am regrettably limited by column inches. Things move slowly in countries like Syria and it is still early days for the deaf programme. However, in the relatively short time we were there, Rachel and I witnessed ripples being generated by this charismatic pair of siblings who literally shock audiences by looking and behaving like many other well-to-do members of Middle Eastern society but who happen to be deaf and who often sign rather than speak. Syria is a stunningly beautiful country; Rachel and I enjoyed our time there immensely and can t recommend it enough if you fancy something a bit different. Our eyes were well and truly opened to how fortunate our western Deaf communities are in comparison and we wish Mawj and the Deaf people of Syria every possible success in their future.