Deaf Unity have partnered with leading experts Bright Network to provide deaf and hard of hearing job seekers with top advice with BSL, captions and voice over. Deaf Unity empowers deaf and hard of hearing people by providing the right support at critical moments from youth to adulthood. We work to ensure deaf people have equal and full access to information and opportunities.
Sign up now for our exciting digital series 'Deaf Futures' and we'll send you Deaf Unity and Bright Network's fully accessible CV Masterclass video, direct to your inbox, and fresh new content each month on a range of topics.
Are you leaving school or university and looking for your first 'real' job?
Have you applied for lots of jobs but don't get invited for interview?
Are you looking for a career change and need to revamp your CV?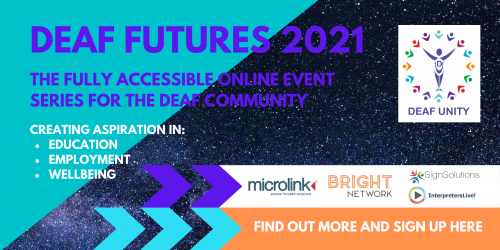 Who are Bright Network?
Bright Network supports students and recent graduates from all backgrounds land their dream jobs. They give members free access to tailored careers advice, connecting them with over 400 leading partner employers. Bright Network provide a range of exclusive events and personalised support to help them stand out from the crowd when applying for jobs and interviewing.
Deaf Unity and Bright Network Partnership
We have created a partnership of expertise with Bright Network. We are experts in the Deaf Community, the barriers that are faced by Deaf Learners, Deaf Graduates and those looking for new job opportunities and how to overcome those barriers. Bright Network are experts in all things jobs and careers! Together, we have amazing plans for our deaf and hard of hearing followers – 2021 is your year!
Our Fully Accessible CV Masterclass for Job Seekers
As part of our Deaf Futures content series, Bright Network have put together an incredible, accessible, CV masterclass video, which we will release to Deaf Futures registrants next week! In this 30-minute masterclass, Shelly O'Gilvie, Bright Network's Membership Manager shares tips, tricks and hacks for impressing top employers. You'll learn about:
What students think employers are looking for versus what top attributes employers value most in their job candidates
Ways to go about researching careers or particular firms that match your qualifications, skills and mindset
What your CV should look like, what it should include and how it should be written to stand out against the crowd to top employers
Easy hacks that others competing for job roles potentially won't know, fed back by genuine, stand-out employers
Followers can also access a free Virtual CV Clinic, with one-to-one CV feedback directly from the Bright Network team of experts.
If you're interested in benefiting from Bright Network's free support, as well as accessing their free ongoing Virtual CV Clinic, become a Bright Network member here