When I was 2 years old, my Aunt noticed that my older sister, who was 6 at the time, was not responding to some noises. Thus began a series of tests, which eventually gave my parents a diagnosis of deafness. The audiologist, who was absolutely lovely with my parents, suggested that I be tested as well – just in case. But my mum has told me that she already knew; she already knew, inside, that I was deaf. She was right.
My sister was already attending our local, mainstream primary school, and when the time came, I was enrolled there too. Although I can remember some faint good memories, I also had a handful of bad ones. One was an isolated incident of being excluded from my small group of friends, one day; I can't remember the reason, but I remember the feeling of being extremely hurt. Another was possibly a regular thing, in class, wherein my teacher would shout at me a lot because I "wasn't listening"…
Changes
Together, my parents, along with my Teacher of the Deaf (ToD) at the time, decided it might be a good idea for me to move to another school in the borough, where there was a HIU (Hearing Impaired Unit) at the school. During my year at the local primary school, I had to go for mornings at a Speech and Language department of a NHS clinic. This had an effect on my development at school, because of all the times I was taken out of class. At the second primary school, Speech and Language was offered in school. This meant that I didn't have to miss a big chunk of the school day any more.
I was much happier at the second school; I had a mixture of hearing friends, and also a couple of deaf friends who were in different years to me. It was rare that I ever felt "different"; although I was taken out of class a lot, for back-up support in the Unit, I was allowed to take some hearing classmates with me – this definitely helped. Rather than all the focus being on me being taken out of class because I was deaf, it was more like a popularity contest – my fellow classmates would always try to be the friend that I picked to take out with
me!
There are still two friends that I have kept in touch with from this school; one is deaf, and one is hearing. In the later years, particularly Year 5 and Year 6, I began to feel more self-conscious. I realised that I wasn't quite the same as my hearing peers. Although I was very close to my hearing "best friend", there was a slight divide between me and my hearing classmates. I became more introverted in class, preferring not to speak up or put my hand up.
Working with my ToD, I developed a love of writing. This was most noticeable in Year 5 and 6, when we were preparing for SATs. She (my ToD) helped me to break longer words down, focus more on longer words in Speech and Language sessions, and gave me a love of writing stories. She made a huge difference to my learning in those last few years of primary school, and I left with a Level 5 (above average) in my English SATs.
The transfer to secondary school wasn't too bad; in fact, the first year was actually good. My sister was at the same school, just beginning her A-Levels, and there were 3 other deaf pupils in my year. I became very close to 2 of them, and we helped one another to get through our secondary school years, along with a few hearing friends as well.
The social side of secondary school was never a problem; I got on very well with some hearing peers in my year, and was very lucky to have the 2 other deaf girls in a lot of my classes. The school was the obvious choice for my parents and I, because it also had a HIU, and it was the same school that my sister had just been through. There were no other schools like it in our borough, so I was off to this school, which sometimes took up to an hour or more to get to.
Difficulties
Year 8 was difficult. At the beginning of the year, when my mum, sister and I were going around different Universities (my sister was at that stage where it was time to do this), I suddenly changed. It was extremely sudden, and it didn't make sense; but I was sad, very, very sad, every day. I couldn't sleep well. I found it hard to focus in class. I was in tears most of the time at home. No one understood what was going on, least of all the 13-year-old me.
My sister suspected something, and she was right…but just as suddenly as it came, it went away, after about 2 months. I had been depressed. For those 2 months, it didn't affect my school work in a big way, because I was a perfectionist, and would spend hours on my homework, getting it just right. However, this probably wasn't helping the situation!
Over the next few years, depression came and went. Sometimes it threatened to take hold, but I was able to somehow stop it. Other times, it was too strong, and wrapped me up in sadness once more. Looking back, I wonder why some of my teachers didn't notice something big was going on; I assume that most of the time they put it down as hormones, and the trials of being a teenager. Through having extra lessons in the HIU, and my own determination, I did very well in my GCSEs, coming away with a collection of Bs and Cs.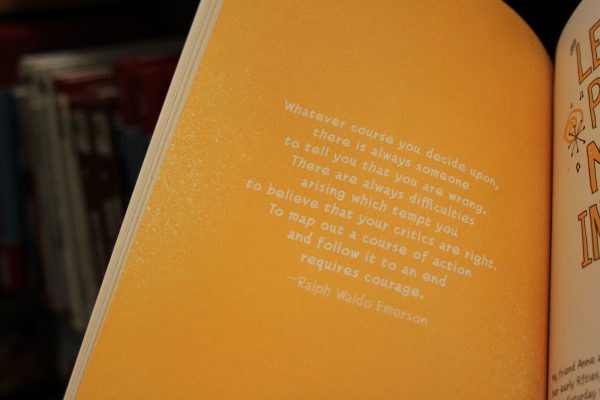 For A-Levels, I had my heart set on doing creative subjects: Photography, Art and English Literature. However, my ToD at the time thought I should be doing academic subjects. I was so confused. In the summer between GCSEs and A-Levels, my mood deteriorated. I was anxious about the GCSE results; I had convinced myself that I would fail them. I was beginning the all too familiar process of gradually shutting down within myself, without any control over it. When September came around, I was a mess. An anxious, tearful, fearful mess.
I chose A-Levels that I felt pushed into choosing: Psychology, Sociology and Drama (which I then swapped for ICT in the first week). I felt isolated, and deeply unhappy. Alone at lunchtime, I went up to the HIU, and saw one of my support teachers; the moment I explained that I didn't have anyone to eat lunch with, I broke down. She let me eat my lunch in the Unit, and herself and another kind teacher came and sat with me. They were extremely worried; this was not like me, normally I would have a sparkle in my eye – but instead, there were tears.
I didn't feel that I was getting enough support; roughly 50% of my lessons were supported in the form of note-takers, but at this advanced level, it just wasn't enough. My mum came into the school with me one morning, to talk to my ToD. We wanted to ask about the possibility of more support. I was told: "You're old enough now, you need to be taking more responsibility. You can take your own notes in class." This came from my ToD, who was also in charge of the HIU. I was in tears. Needless to say, after 2 weeks, I left, and transferred to Chickenshed theatre. They offered a BTEC in Performing Arts, and at that point in time, it was where I needed to be. Slowly, my confidence returned, and I grew into myself in a way that I never did at school.
At secondary school, I felt very deaf; at Chickenshed, all labels fall away. In terms of support, I was given an interpreter for the first few weeks, but didn't feel like I needed it in the end. I was coping fine by lipreading my tutors (performing art tutors are, well, animated), and as the first year went on, my fellow students were becoming very deaf aware and helping me if I ever didn't understand. I felt much more confident, and wasn't scared to say if I wasn't following. It was such a stark difference from school, where I would feel shy and very small in class; at Chickenshed, I felt like…me.
University
Following the BTEC, I went on to the University of Reading, where I began their unique course: Theatre Arts, Education and Deaf Studies. I had known about the course since I was 14, and knew that it was what I wanted to study. It began well; most of the tutors on the course could sign, so they either used total communication, or talking/signing via an interpreter. Every class had an interpreter, and we also had a notetaker in every class. What a shock it was, at first, to be in a place where I could access every single word that was being uttered. I had thought that I would absolutely love it. And I did. Until the year went on.
Unfortunately, a combination of factors caused me to drop out after I finished the first year. Although I was good at performing, and loved the sign-theatre form, I was not happy with the deaf awareness of fellow students in my year. I was actually quite gutted; after wanting to do the course for so long, it wasn't quite right. Myself, and the one other deaf student in the year, were at times very angry with the lack of deaf awareness.
The tutors, and students in other year groups, were great. They were keen learners of BSL, they were eager to work and interact with deaf people; and then in our year group, it was lacking. A small handful were extremely eager, and tried their best to make things accessible; however, overall, it didn't work.
There was one occasion when we were rehearsing for our first year final production, when nerves were high, causing a lot of arguments – and I finally let rip. I had had enough of them all arguing, and shouting at one another – with the two deaf students in the same room being unable to access any of it. Okay, it was arguments, but we should still have been able to access it. I was absolutely furious. I screamed at them at the top of my voice, and told them to calm down – and sign what they were saying.
It was a course where the aim is to graduate with a wide range of skills; you're expected to be at least Level 2 in BSL by the end, be able to communicate with a mixture of d/Deaf and hearing people, and have a unique experience of theatre that is accessible for both d/Deaf and hearing people. That was what I wanted, but there were too many ignorant and lazy attitudes within my year group, so I had to make the decision to leave, rather than carrying on for 2 more years.
Since then, I have been studying part time with the Open University; slowly building up to graduation. It's been a long process, and not always easy, but it's given me tools to succeed. Particularly as a freelance worker, as you need a lot of motivation! Through my own determination, and the belief that d/Deaf people can achieve anything they want to, I am getting to where I want to be.
It helped to have parents who were extremely supportive, and an older deaf sister who was able to give all the wisdom that an older sibling has – and also impart wise words to do with growing up as a deaf person. Being a Deaf Learner is, at times, very difficult, but I believe it only makes us stronger. And if we make enough noise, our voices will be heard, and we can change the outlook for many future d/Deaf generations.
Sarah Ward is a Freelance Photographer and Writer, based in London. She is also a blogger, and runs the Handprint Theatre blog. Passionate about photography, art, theatre and the world around her, she is constantly in search of adventure and new creative challenges. She is currently studying for a BA with the Open University, and believes that if we make enough noise, our voices will be heard – and we can change the outlook for future generations.