Interview with Victoria Nelson: Managing Director and owner of Deaf4Deaf.
Deaf4Deaf is a Deaf-led and Deaf-owned Confidential and Professional service (launched in June 2016) run by a team of 12 highly Qualified and BACP Registered Counsellors and Psychotherapists (mixture of hearing-level 6 BSL and D/deaf).
Victoria Nelson, who founded Deaf4Deaf in 2016, was presented with the top prize of £30,000 at the Stelios Awards for Disabled Entrepreneurs. The national awards, run by Stelios Philanthropic Foundation and disability charity Leonard Cheshire, was held on 22 October 2019.
To find out more, go to: www.deaf4deaf.com or contact info@deaf4deaf.com
Transcript of video below:
Firstly, thank you to Deaf Unity for inviting me to be interviewed.
What was the motivation in establishing Deaf4Deaf?
What can I say… well I established Deaf4Deaf three years ago because I wanted to make deaf counselling services accessible to all deaf people in the UK, as that hasn't been the case until now. Deaf people struggle to access mental health support as live in all over the country or in remote areas, where services might not be readily available or they have to travel long distances. When they have accessed support, they have to do so through an interpreter – often a different one each time – and with long wait times to get an interpreter. So deaf people face many barriers in accession support. To compound the problem, many deaf people are not even registered with a GP, preventing them from accessing any services at all.
So I established Deaf4Deaf as I realised that something needed to be done so that deaf people can access mental health support. Over the last 12 years working as a professional practitioner in a hearing team, I have seen deaf people have to travel far to access services. I felt I wanted to share my experience, training and knowledge with them in a meaningful way. Many of my fellow deaf practitioners were having the same experience as me, so we were able to recruit them and create a team with the goal of giving access to mental health services throughout the whole UK.
It was a big risk setting up three years ago and initially we had to be privately funded, because many deaf people can't afford to access these types of services. Over time the NHS started to request our services and as we became approved by more and more regions we were able to help a lot more deaf people. There's still a long way to go, as many mental health teams prefer to use their own local services, which means a deaf person using an interpreter. So, we endeavour to explain why we would recommend a deaf therapist providing the service: allowing a deaf person to be face to face with another deaf person who's aware of their culture, their communication needs and who has a personal level of empathy about their experiences. It's true that the Deaf Community is diverse with some people communicating orally, some using full BSL, others using SSE or even having minimal or no language at all. So we feel we can offer experienced qualified professional therapists that can meet all deaf people's needs.
The last three years have been really successful. We follow the NHS framework, their ethical and professional code of conduct, professional and legal requirements over confidentiality etc. The more that we've been able to show that we working in line with their frameworks, we've been able to be approved by more places and offer more support.
What challenges have you faced?
There's been many challenges over the years. Initially, one was getting our services out there in the public domain, telling deaf people about the services that we offer. Originally we offered remote, online counselling, but now through our team we're also able to offer more face to face counselling if one of our 12 therapists in the team is living in the person's local area. It's definitely been a challenge to persuade the NHS that we're a credible provider: that we are qualified; that we're experienced; that we have the knowledge and the skills to be used. The challenge now is to get deaf people to recognise their own mental health issues. There's been a lot of information over the last year or two about mental health. So we've been trying to do more brief information videos on social media, to get the word out to people. And that's been popular. A lot of deaf people have also begun to speak about their experiences and set up groups. I'm really proud of the Deaf Community for so many deaf people showing up and using their experiences to share with the community and sharing important information. I feel that's what we need to do we need to bring the deaf community together to look after ourselves. There have also been issues with getting deaf people to register with their GP's, as that takes a long process. We have to go through the correct procedure for them to access our services. Before they can, they have to go through the necessary health checks before they'll look at whether they have any mental health concerns that we can then support.
What positives have you seen?
There have been lots of improvements across the whole topic of mental health and wellbeing, and there is more to be done. The crisis SHOUT text messaging system is a fantastic provision for deaf people to be able to access help through text messaging if they're experiencing a mental health crisis. There's also other services available for people who are experiencing domestic abuse. These two are just a few of the examples of improvements that I've seen over the last few years, but as I say there's a lot more that we need to do with deaf people through schools, talking to parents, and raising awareness with parents about bilingual access. It's been good to see more deaf people becoming more empowered and using their agency to access training.
What does the recognition of the Stellios award mean to you?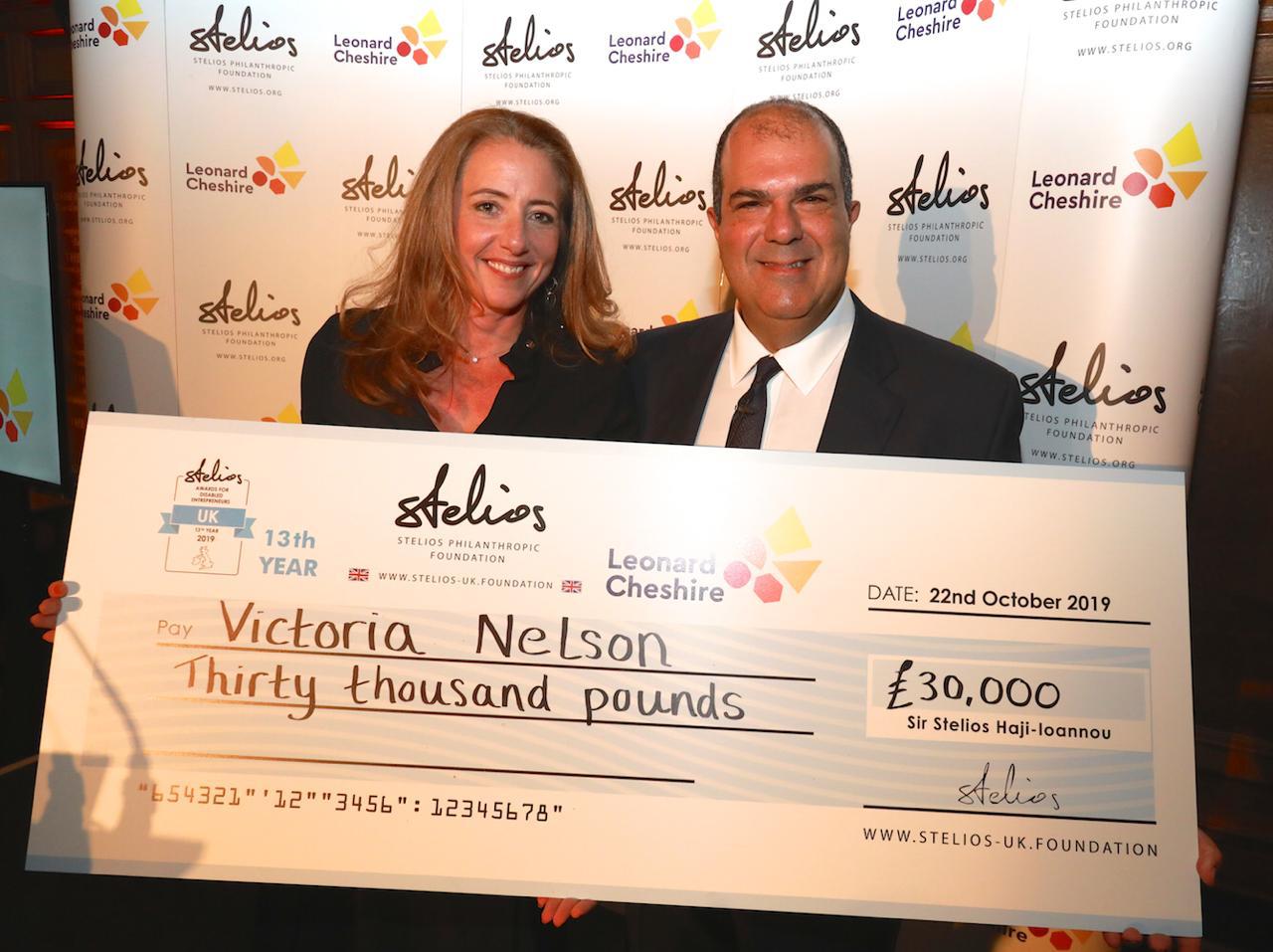 Well, it means a lot to me, personally, firstly it really made me think about what disability means. It made me face up to that that I am disabled by society – but I mean, of course, I am disabled: I can't hear the phone; I can't communicate fully with people, especially in large group situations. The award gives me a lot of pride though – I feel honoured and humbled by the recognition because there are so many other amazing disabled people that could have been recognised. The process in itself was wonderful. I was interviewed by the board for the Stelios award and it really was a lovely experience. Talking about the organisation, the work we do, my dreams and aspirations, and all the training that we've done, and what we've achieved so far. It was a wonderful opportunity for me to be able to explain about what we've been doing and really make them aware of the barriers and challenges that we faced. At the end of the evening, when I realised that we had won the award, I was just overwhelmed. I felt really recognised as an individual. I felt recognition for the profession. I thought there was also recognition for the team and what we've achieved as a company because we have worked really hard together having open discussions and debates and lots of laughter. There were also so many questions from other disabled groups and other prominent people on the night and since. They really made me feel proud to show that deaf people can do these things. We can set up a company. We can offer a service. We can do whatever we want to do, so I feel proud about that.
I know the Deaf Community will continue to prove this on so many different levels. I would say just don't believe the negative talk – I know many people say the Deaf Community will never change and I don't agree with that. I believe that deaf people can change through greater experiences, through more learning, through self reflection. I believe that deaf people and the Community can change to become more motivated and more empowered. And I do believe that starts with families through education, by going to college, by being involved in the arts, learning about history and heritage, having access to all of those things will stop us from being 'disabled' and will enable us to engage with the wider community, and then contribute back to it.
Thank you for inviting me for the interview.