You may have noticed a campaign spreading through social networks and gaining momentum. It began in late February this year – and now the Facebook group has over 11,000 members. Ten years ago, BSL (British Sign Language) was recognised by the Government as a language in its own right. What did that mean? It meant that a previously unacknowledged language, used by 122,000 people in the UK (according to BDA figures), was officially labelled as a language. It did not afford BSL any special rights, or any protection – essential for the provision of interpreters within many settings, such as the NHS, the Police service, Counselling, Education and much more. If a language is protected, and given that protected status, it is more likely to affect the service provision for that language, and give the users of that language more rights for access.
At the moment, the most important aspect of campaigning is to get the EDM 1167 (Early Day Motion) debated in parliament – and for this to be debated, we need to get MPs to sign the EDM. If as many MPs as possible sign the EDM, then there is more chance of the BSL Act being noticed. At the present time, the number of MPs who have signed stands at 55. To get involved, all you need to do is email your MP, with a template letter that can be found on the BSL Act Facebook page.
Not Just a Language
Why is the BSL Act important to me? Specifically, why do I support the campaign when it isn't my first language? I consider it my second language, even though at times, it is obvious that I have gaps in my knowledge and I find it difficult to switch between the grammar of English and the grammar of BSL. What I do know is that learning BSL gave me confidence, and helped me to understand my own deaf identity. Of course BSL is wrapped up in identity politics, access issues and can often be extremely misunderstood.
People often dismiss sign language as a whole as 'mime' or as an exact translation of English. Instead, it has the same translation issues as any other language – it has its own grammar rules, different signs for different contexts and is rich in description. What is it that
draws me towards it, when I have grown up within a hearing family, only with brief encounters with the Deaf community? It all leads back to how much BSL opens up the world.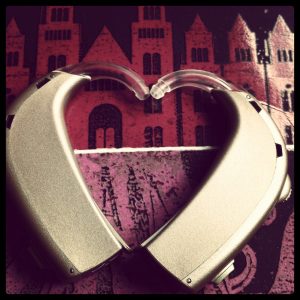 Two years ago, I attended an event at the Custard Factory in Birmingham, organised by Deaf Arts Network UK (DANUK), and the Deaf Cultural Centre. My sister and I had requested lipspeakers for the day, because at the time I wasn't fluent in BSL, and I assumed that this would be the easiest option. There was also a BSL interpreter there, and towards the end of the day, I found myself struggling to lipread the lipspeakers. I experienced that odd sensation of 'tunnel vision' when the person you are lipreading seems far away, at the end of a long tunnel, no matter how close they are to you. One of the lipspeakers understood how tired we were getting, and also used a
bit of SSE (Sign Supported English). I began wondering what it would be like to not to have to focus on such a small area for information – that perhaps lipspeaking was not for me, at least not for long periods of time.
Fast forward a bit, and I was learning BSL Stage 2, and finding that it gave me more confidence, similar to how I had felt whilst learning Stage 1. There is something about acknowledging that as a deaf person, you are born into the possibility of accessing a rich culture and language. Even if you still feel as if you belong between two worlds, as I do, you still have the possibility of accessing both worlds – the hearing world and the Deaf world. I feel that it depends on your perspective, and how you interpret being born into this culture.
I didn't always feel that way. It is only since learning Stage 2 that I have come to accept that there is no escaping that, as a deaf person, I have a part of me that wants to relate to other D/deaf people – that this aspect of my identity is a strong and positive part of me, just as being a woman, a feminist, a self-proclaimed geek, and a writer are all part and parcel of what makes me who I am. BSL is not just a catalyst for identity; it is a powerful means of expression, and inhabits a space that English cannot.
The Importance of Legislating BSL
Moving away from Deaf identity, I strongly believe that regardless of how many BSL users there are in the UK, the Government has a responsibility to protect and fully legislate BSL. This is because communication remains the largest barrier towards full participation in society for D/deaf people, and if the Early Day Motion is debated in parliament, then we, as a community, however you define yourself, can then think about what we want from this Act.
It may mean putting a clause within the legislation that means all methods of communication for D/deaf people must be acknowledged – covering everything from STTR, lipspeakers, captioning, subtitles – all the way to BSL itself – as essential to the lives of every D/deaf person in the UK. The point is to have vision – to open up the debate and to pull together with something that may very well change the lives of generations of D/deaf people.
The BSL Act is, and will be, the tip of the iceberg. Even if the EDM 1167 is not debated in parliament, this has proved without a doubt that a community can come together and make some noise and can raise awareness. As a community, we all need more of this activism. The important thing is to carry that spirit with us – to understand that even when we experience lack of access within society, there is a whole community behind us who are experiencing the same thing; and we can all come together to make a difference.
To find the email for your MP, go to the Parliament page for contacting your MP, and search for an email template within the BSL Act Facebook group.
Lizzie is a deaf Masters graduate, writer, blogger and creative professional. She is working on various writing projects, including writing her first two novels, and editing and writing articles for Deaf Unity. Interested in social networking, social research and breaking down barriers for deaf people, she hopes her work with Deaf Unity will encourage more people to strive for their dreams and push through the barriers within society. She has a keen interest in the Arts, loves to read, and dreams of travelling to far flung places.