Social media is a great tool for discovering like-minded, interesting people, communities and organisations.
For deaf people, social media offers a vital opportunity to feel included and meet others in their local deaf community, and global deaf community.
There are also many deaf organisations and support groups on social, where you can find helpful resources about deafness, and learn more about deaf culture.
If you're looking to update your feed, here's 7 inspiring social media accounts about deafness to follow, from both the UK and the US.
1. Eloise Garland (UK)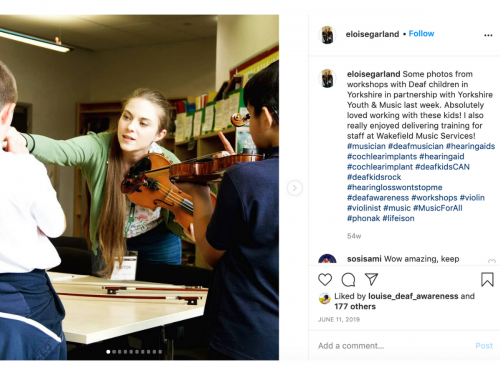 Image via @elouisegarland
Eloise Garland is a talented musician, music teacher, producer and campaigner from London.
Her musical talents range from singing, to violin and piano.
Elouise runs music workshops for people with hearing loss, and coordinates music lessons for deaf children.
She is keen to elevate deaf awareness on her Instagram account, where she shares ways to engage with deaf and hard of hearing children through music and BSL.
Eloise reaches out to her followers regularly with support and advice on issues around deafness and music.
2. Ms Deaf Queen (US)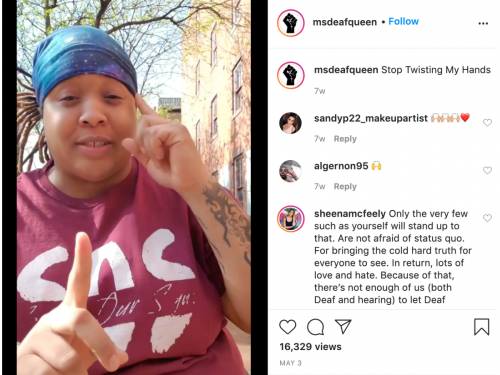 Image via @msdeafqueen
Ms Deaf Queen is a comedian, filmmaker and actress based in the US.
She has over 27,000 followers on Instagram and posts original, funny and relatable imagery and TikTok videos that have garnered her a large following.
One of her most popular video series is titled 'Wrong Sign Lessons' where she corrects signs by other social media influencers and encourages her followers to sign correctly.
3. DeafMed (US)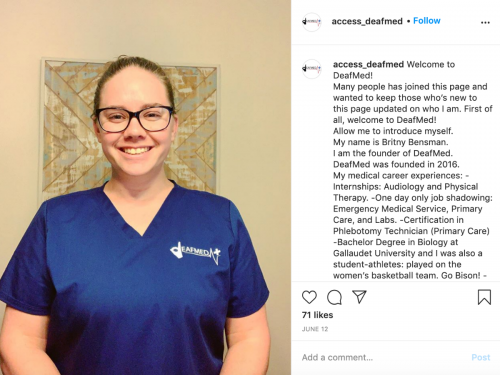 Image via @access_deafmed
Britny Bensman is a clinical medical assistant based in Tennessee.
She is profoundly deaf but hasn't let her deafness stand in the way of working in the medical profession and furthering her ambitions. She's now working towards her dream goal to become a Nurse Practitioner.
Britny launched DeafMed in 2016, a Facebook and Instagram initiative profiling deaf and hard-of-hearing people in the medical field, along with advice and inspiration for deaf people who are interested in pursuing a career in medicine.
4. Jessica Kellgren-Fozard (UK)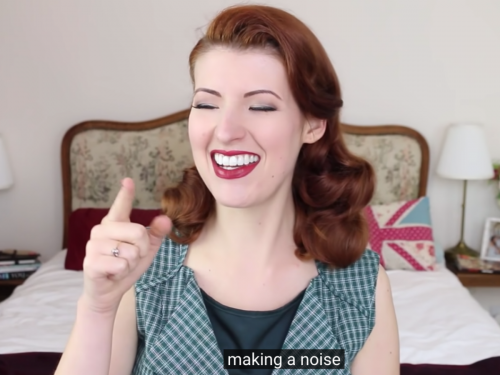 Image via Youtube (MissJessicaKH)
Jessica is a deaf YouTuber from Brighton, who started posting videos in 2011.
She has gained an incredible 692,000 subscribers and over 52 million views on her channel.
Jessica creates content about her life with disabilities and chronic illness, education, LGBTQ+ awareness, and vintage fashion.
Her positive attitude and charm combined with her exceptional style make her videos compelling and inspirational to watch.
5. Why I Sign – Stacy Abrams (US)
Image via @whyisign
Stacy Abrams started the #whyIsign social media campaign as a way to connect with parents of deaf children and support others in the deaf community.
Using the hashtag, she is vocal about the lack of resources and support offered to families with deaf or hard of hearing children, and aims to ensure they no longer feel alone in their signing journey.
Stacy's keen for deaf people and parents of deaf children to understand that sign language is a right, not an option.
Through the #whyIsign campaign, families are able to connect with eachother and wider communities, and find information and resources on raising a deaf child.
6. Jazzy (UK)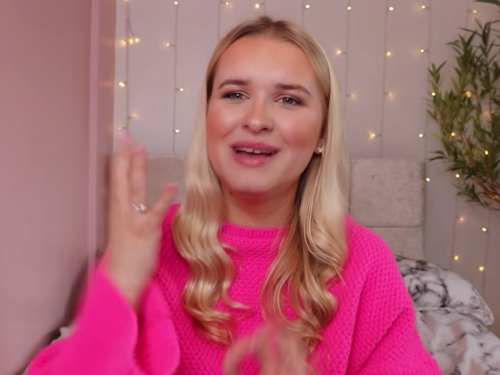 Image via Youtube (Jazzy)
Jazzy is a YouTuber who is profoundly deaf, and her first language is BSL.
She has a huge 206,000 YouTube subscribers and has accumulated over 17 million views.
She posts engaging and relatable content for her followers covering topics such as deaf issues, learning BSL, beauty, travel and lifestyle.
7. Luke Christian – Deaf Identity (UK)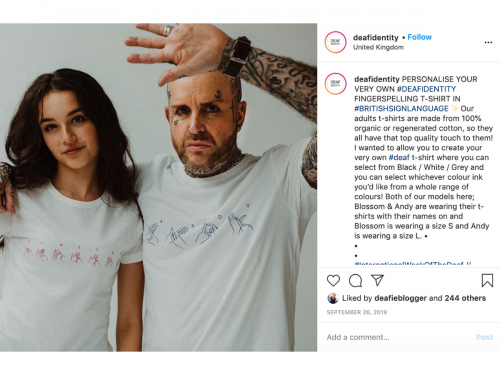 Image via @deafidentity
Luke Christian is CEO of the fashion brand Deaf Identity, designed to raise awareness of deafness.
Luke, who is born deaf and from Yorkshire, launched the brand in September 2019 with the mission to create a diverse range of clothing that includes Deaf Identity branding, slogans and BSL.
Since the launch of his brand, Luke has received an overwhelmingly positive response from customers for his dedication in designing inclusive clothes for the deaf community.
Follow Deaf Identity for their latest inclusion fashion updates.
Do you have a favourite deaf content creator or channel? Are there any that do a fantastic job of making their content accessible? We want to know! Shout them out in the comments to help grow their audience.  
Looking for more deaf articles? Take a look at our latest articles and interviews. For support, check out Deaf Unity's projects to find out what we can do for you. If you'd like to get in touch, contact us here.
This article was written by Rebecca, who has a background in communications, project management and event management. Passionate about writing, Rebecca loves researching and writing about important topics that affect the deaf and hard of hearing communities.