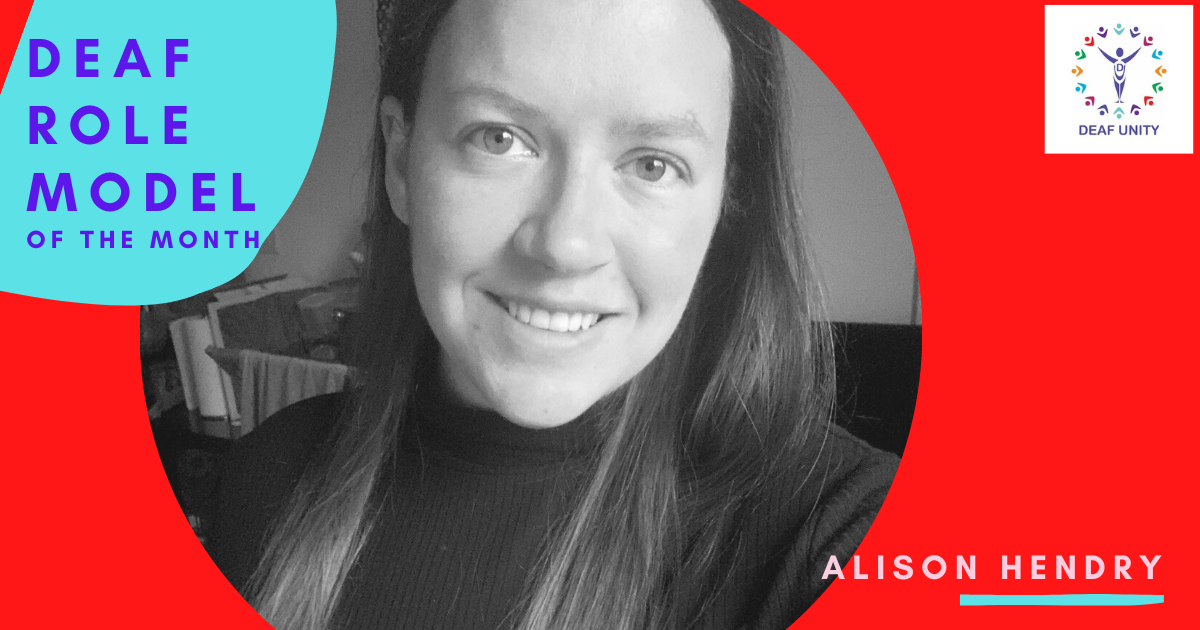 Each month we invite an inspirational or outstanding deaf role model to share their story.  From what they've learnt, to what they wish they'd have known and their best deaf tips. 
This month: meet Alison Hendry a British Sign Language Development Officer at Edinburgh University. After initially struggling with communication, learning BSL completely transformed Alison's world. Now she works tirelessly to ensure university is accessible for deaf young people, and those who communicate using BSL.
Scroll down for the transcript of this BSL interview.

Transcript
1. Hi Alison! Tell us about yourself?
Hello! My name is Alison Hendry, I'm 30 years old and grew up in Glasgow, but moved to Edinburgh four years ago.
I have two sisters, one older and one younger, who still live in Glasgow with my mum. My dad sadly passed away seven years ago from illness. I have a dog called Bella and a cat called Coco – they must be mentioned as they are important members of the family!
Currently I work at the University of Edinburgh as the British Sign Language (BSL) Development Officer.
2. What is your deaf story? 
I was born profoundly deaf but wasn't diagnosed until I was 8 months old. My parents were shocked with the diagnosis, and worried about the future – they'd never had any experience or link to deafness prior to my birth.
At the age of 1, I was fitted with hearing aids to help with picking up sounds. My parents were advised by doctors not to use sign language but to focus on communicating through speech instead. As they had no experience of deafness or sign language, they followed what they felt was the best medical advice.
Since then, my mum's said that she wishes she'd have been told about sign language earlier, so that it could have been implemented into our early communication.
I'm the only deaf individual in my family so I'm not sure why I was born profoundly deaf. For a few years, it was clear that the hearing aids weren't working for me, so my parents made the decision to get me a cochlear implant when I was 4 years old.
The operation was a success and for a few months it was working ok, then a technical issue cropped up which meant I had to have a second operation. When I was 7, I had to have a third operation for my cochlear implant. Since then, (touch wood) it has been working fine for me.
I think at the time, technology was ever changing and it's really rare to need multiple operations for a cochlear implant. I'm so grateful to my parents because I know it was a difficult decision, but having a cochlear implant helps me to hear things like music, conversations and other sounds but it doesn't mean I can hear everything.
3. How did you learn BSL?
I grew up in a hearing family so most of our communication was through speech. We used 'home signs' in the house as a way of communicating.
I remember when I was 8 or 9, my mum and I went to BSL classes together. But the first real impact of sign language I experienced was when I was 11 or 12 and went to a deaf youth club in Glasgow. There were a lot of deaf young people 'like me' that were signing. I was shocked and in awe, and so interested in learning from them.
I picked up BSL from them, and to this day continue to pick up BSL from different people – which might explain why my signing looks like a mixture of different regional signs!
I continue to use BSL because I find it easier to communicate through sign language, and easier to take in and process information when it's presented in BSL. It's also easier for me to express myself using BSL.
4. What was your experience of education and higher education as a deaf person? 
Primary school
My primary and secondary schools were both mainstream. I was the only deaf pupil in my primary school, in fact I was their first ever deaf pupil.
I think, initially, the school was a little nervous about having a deaf pupil but the staff were great, and the teachers were fantastic. They were respectful and really supportive, adapting to ensure that I was involved with my learning.
From what I remember, school was enjoyable. I enjoyed learning and my peers were great too. I had a Teacher of the Deaf who would come in throughout the week to support me with work, which raised awareness amongst my peers as they realised I needed additional support.
Having a Teacher of the Deaf was really helpful as she would clarify anything I wasn't sure about, and we also had 1-2-1 time where I could catch up with work. So overall, I had a good experience in primary school.
Secondary school
My secondary school was different because we had a timetable with lots of changes, and a lot more people. There were other deaf pupils who were hard of hearing or deafened, but they were more oral. I connected with some of them, but most of the time I was with my own friends.
As I got older, I realised that I preferred communicating through BSL and used it to converse with my deaf friends. I struggled to keep up with my hearing friends; it was difficult to follow conversations and the school work. I still had the Teacher of the Deaf coming in occasionally for subjects like Maths or English.
When I was in my 5th year, aged 16 or 17, I began to feel isolated and found it more difficult to fit in with social groups. I wanted to continue my education, but at the same time I just wasn't happy and wanted to leave.
I told my mum I wanted to leave school, but she wanted me to continue with my education, I still had one more year to complete. After a long chat, I agreed to try a different school in a different area for my 6th and final year. This was a good move as there were more deaf pupils, and the school was more deaf aware in terms of supporting deaf pupils.
I did my 6th year there and felt much more supported. Teachers of the deaf were based there for specific subjects for example Maths, English, Science, so with that was a little better. Overall, secondary school experience was OK, with some difficult moments, but I managed to get through and achieved my Higher qualifications which I needed to get into university.
University
Ever since I was young, I always wanted to be a primary school teacher and never thought about other possible career options. I managed to get the grades I needed for University and I was delighted as this meant I could start my journey to become a teacher, but when I started, I found it a real struggle. I think at the time, I thought to myself "oh I'll cope, I can hear OK" but in hindsight I wish I'd been more confident to ask for support and to see what support options were there like BSL/English interpreters, electronic notetakers, or others. I never explored that further.
I just about managed to get through my first year. Second year was difficult too, and halfway through the year I was on placement. I wasn't confident enough to tell people that I was deaf and didn't ask for clarification if I missed anything, I just kept it all to myself.
I remember one day I was on placement and my tutor came in for a 1-2-1 meeting. We were talking and she had her head down, muttered something and I said "sorry, I didn't hear what you said, could you repeat please?" and her response was quite derogatory, saying things like "how will you teach in class if you can't hear?" I was shocked and my confidence was knocked to pieces. I managed to hold it together but as soon as I got home I burst out crying and told my parents I wanted to leave the course. My confidence had been completely shattered.
That was a difficult period and I did withdraw from university. I felt that the tutor wasn't supportive and the way she reacted really made me feel like I wasn't good enough. I had a few months of no education then a few months later I went to college to study Sports Coaching as a change of subject, and I enjoyed sports anyway, watching and being involved.
I was at college for two years and I was a bit more open about what support I needed, but my confidence was still at a low point. I enjoyed the two years that I studied there and I achieved my HND, which I needed to go into 3rd year at University, where I did Sports Development. At the same time, my dad took ill so I found it hard to focus fully on my studies. Unfortunately, he passed away before I finished my studies so that was difficult. I graduated in 2014 so I was happy to have achieved something.
Looking back at my education; I think school was overall positive as I had the support in place and my parents were so supportive. But for college and university it was much more difficult because I had to do it myself. I never really had the opportunity to explore different support arrangements like an interpreter or notetaker or other support options. I do wish I was more confident and more assertive, and I also wish there were more deaf role models that could have offered advice on different types of support.
It's so important for deaf young people who are about to start college or university to ask about types of support offered, and also understand fully what to expect from their course. It's a big change going from school to higher education. Overall, I did enjoy learning and if I could go back to university I probably would, but what course? I don't know!
5. Have you faced any obstacles or challenges from being deaf? And how have you overcome these? 
With my deafness I face barriers every day regardless of where I go. I have days where I'm not confident about telling others I'm deaf so I wear a sunflower lanyard (for hidden disabilities), so when I'm out and about, for example at the shops or at the airport or travelling, I don't have to tell staff I'm deaf as they should recognise the lanyard and be aware that I might need additional support. That helps me a little. If I do tell staff that I'm deaf, the majority are very adaptable to ensure we can communicate should we need to do that.
One example of a barrier is – if a tannoy announcement is made in the station or airport, with my cochlear implant I cannot pick up what is being said because it is very muffled and unclear. If information changes at the last minute how do I know? I use social media to get a message across so I'll tweet the travel company and let them know that the experience hasn't been positive for me. Most of the time it's acknowledged and I am provided with an apology. But will the next time be improved?
Another barrier for me is communication. Lots of people don't know sign language. I find it easier to communicate and take in information using BSL, so if BSL access is limited then it's harder to take in important information.
When communicating with colleagues at work, I can lip-read but sometimes the accent or the use of jargon makes the conversation more difficult, so that's a barrier for me and it would be great if more colleagues could sign. It would make communication easier and I wouldn't have to worry so much about picking up what is being conveyed.
One additional thing in relation to barriers, especially in the current circumstances with Coronavirus  – is face coverings. I feel anxiety mostly because of communication, or lack of. I rely on lip-reading but also facial expressions, so if someone approaches me wearing a face covering I'm reluctant to engage because I won't understand what's being said.
I ask individuals to pull down their face covering (at a safe distance) or wear a clear mask, or use other ways of communicating. Most of the time people have happily stood at a safe distance and pulled their face covering down.
I know other people may be unsure about pulling down their face coverings, which is fine, there are other ways to communicate such as using pen and paper, typing on the phone or other ways. We just need to support one another, this is a new situation for us all and there is no right or wrong approach (to the face coverings) so we just need to look after ourselves and each other.
In the workplace, my manager has been really supportive – he does wear a face covering but when we have meetings we sit apart and he'll remove his face covering so we can have our discussion. My workplace is really understanding, supportive, and flexible when needed.
6. Tell us about your job as a BSL Development Officer? 
My role as the BSL Development Officer at the University of Edinburgh is really unique, and the only one of its kind all over Scotland, and the UK in further and higher education. There is no other equivalent role in Higher Education, but there are similar roles in Scottish Parliament and Scottish Government. I do feel a bit of pressure and it can be challenging being the only BSL Officer in Higher Education institutions.
I thoroughly enjoy my job though. My remit is to oversee the implementation of the University's first-ever BSL Plan. We have the BSL Act which means public bodies – colleges, universities, health boards and councils – must ensure their services are accessible for those who use BSL. The University had to create their BSL Plan to show how they will promote BSL throughout the University and celebrate the language. I'm responsible for ensuring the BSL Plan's 54 actions are achieved by 2024, working with colleagues across different departments.
I love working at the University, it's very different and I do have challenges but we all need to challenge ourselves to be able to work in different circumstances. If it's the same every day then it becomes too easy. It's good to have challenges and to be able to work with colleagues. I have noticed a lot of colleagues are really interested in not just learning BSL but learning how best to support individuals who are BSL users.
My responsibilities include: delivering BSL Awareness training for staff, ensuring key information on webpages are translated into BSL, increasing the profile of BSL through the university so that it becomes the norm, to name a few! There have been challenges, for example COVID19, which happened as I was just starting to get stuck into my role and engage with colleagues, but then the focus was shifted away from BSL which is understandable, but at the same time trying to work with colleagues was tricky at points. I'm excited to see what comes in the next few years!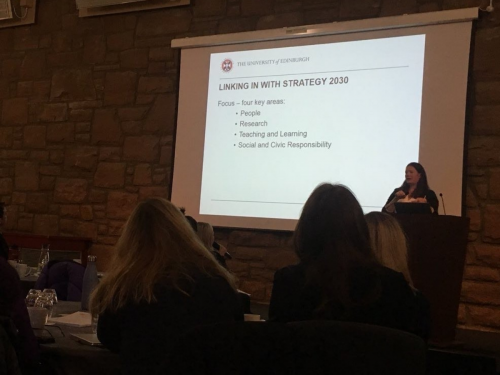 7. How has the 2015 BSL (Scotland) Act benefitted you as deaf person? 
I think the 2015 BSL Act has made public bodies across Scotland more aware, and understanding of how to meet the needs of BSL users, and learn how best to work with the deaf and BSL communities.
At the same time, there's still a long way to go. As this is the first Act of its kind in the UK, we're still trying to find the best way to ensure the needs of different BSL users are being met. I know it's hard but the deaf and BSL communities need to support the public bodies; support them to support us. It's a two-way partnership.
8. What are the benefits of the 2015 BSL Act for deaf people and the wider community in Scotland? 
Personally, I believe that there are many benefits to the BSL Act. I like that there are different public bodies involved – colleges and universities, health boards, local authorities – covering most aspects of our daily lives, from birth to death.
Deaf people have a wide range of services they can engage with and it's important that they are able to access these services. Support needs to be two-way between the deaf and BSL community, and public bodies. We (the deaf and BSL communities) are the experts in what works for us, how best to improve access, and how to ensure it fits with our needs. If we can provide these suggestions to public bodies it gives them something to work on and improve their services. It will take time, and I hope in the next 5 or 10 years things will change and life will be easier for BSL users.
I hope the BSL Act raises the BSL profile so that it becomes the norm, and not an afterthought. For example, some videos have captions (which is good) but BSL needs to be included, as some deaf people struggle with following captions.
Recently, Scotland, Northern Ireland and Wales have all had sign language interpreters standing next to the country leader at their live COVID19 briefings, translating important information about health, next steps, lockdown, etc. Disappointingly England have not followed suit; there is the occasional access but it's still not good enough. I'm disappointed for my friends who live in England.
9. What advice would you give to Deaf people who are not aware of the BSL Act? 
If deaf people don't know about 2015 BSL (Scotland) Act, I would recommend reading up about it online. Also, approach public bodies and ask what they are doing to ensure their services are accessible – this is a good way to remind them of their responsibilities.
If you want to know more, talk to people who've been involved in the BSL (Scotland) Act – there are some passionate individuals out there. They know what they want, and what they're fighting for, as they've done fought for years to get to this point.
I think some public bodies are proactive at changing their services, whereas others are taking their time, which could be because they don't know how to best support the BSL community. Those ones need a bit of encouragement.
10. What do deaf communities in other countries need to do in order to campaign for a similar BSL Act? 
It would be fantastic to see other countries in the UK have the same or equivalent BSL Act and it's important that people keep fighting for it.
I think Scotland is leading the way, and we might make mistakes but everyone can learn from them. This is the first time that we have had this legislation, so it's a learning curve for us all.
For those who want a similar Act in their country – use Scotland as an example. Keep on shouting, get your voice heard, your hands seen, and stand up for your rights. You have a right to access important information. Don't sit back and expect public body / Government to know everything. Public bodies will need your support, the deaf community are the experts and will know what works best in terms of improving services. Give the public bodies the suggestions and they will look into how to implement these.
11. What makes you proud to be part of the deaf community?  
I think I have a strong deaf identity. I do have days where I question myself "what exactly does deaf identity mean?"
I feel like I'm a little mixed because I grew up in a hearing family, so have the benefits of being able to hear with my cochlear implant, and use my speech for communication, I can sign too. Some days I don't use my cochlear implant so I am fully deaf and feel very much a part of the deaf community. But other days I want to put my cochlear implant on so that I can listen to music, the TV, have spoken conversations with individuals and I tend to not use BSL as much.
I definitely sway more towards preferring using BSL to communicate and take in information. Growing up, in my hearing family and attending mainstream schools helped me to understand about engaging with hearing people. I still find it hard though to follow conversations if there's a lot of chat going on and lip-reading can be very tiring. Obviously, I'm fine with family, but with other hearing people I'm still a bit unsure about engaging with them.
Being in the 'deaf world' within the deaf community means I can switch off, literally by taking off my cochlear implant, and use BSL to communicate instead. It's nice to link in with people who are the same as I am – regardless of background, age or where they're from – we all connect because we understand each other. Being part of the deaf community is nice as there are so many deaf people across the UK, all over the world, and you can communicate with them through BSL, international sign or gesturing so it can be easy to pick up conversation with individuals.

12. Who inspires you and why?
I respect lots of people, but there are three people who I find really inspirational. Before I introduce them, my number one inspiration is my mum. She's a fabulous lady and she's done so much.
She's gone from being unaware about deafness to tirelessly fighting for my rights and for my access needs to ensure that I can participate in society. She's also fought for the rights of other families who have deaf children – and worked so hard at it.
When my dad became ill she looked after him so well – that is true love – and when my dad passed away it was a very difficult time, but she got through it. She's a fantastic mum and along with my dad, has looked after my sisters and I so well. We're so close – I love her so much, and can't imagine life without her! I'm a mummy's girl.
The three deaf individuals who I respect are: Frankie McLean – BSL Policy Officer for the Scottish Government. We previously worked together and he was so supportive at work. When I first started in my old job, I used a mix of speech and sign to communicate, and he encouraged me to work with BSL/English interpreters. His advice was really beneficial as it gave me the option to explore different routes of working with colleagues. He inspired me to reflect on my own deaf identity (he is a deaf BSL user) – as he's never allowed his deafness be a barrier. He's a strong individual within the BSL community. I look at him and I can see he has achieved so much, I just think 'wow!' I respect him a lot and value his feedback.
The second is: Dr Justine Durno – we grew up together, she is one of my best friends and I love her to bits. She moved to London to continue her medical studies and she is now a trainee histopathologist who specialises in skin tissue, I think. I look at her and I think she is amazing, she has worked so hard to get to where she is now. She's achieved so much and I have a lot of time for her, I learn lots from her.
The third is: another doctor but a different kind – Dr Audrey Cameron. She works with me at the University and I look up to her a lot. She was the first deaf person in Scotland to achieve a PhD and become a Doctor. I respect her a lot, she is deaf herself. She teaches student teachers – and she hasn't allowed her deafness to stop her from teaching. I think she is great and she's been very supportive with my role at the University. I am thankful for her guidance and advice, and I think it's amazing she's become a teacher. So, these three people are wonderful.
There are others who I think are fantastic – deaf young people to watch who are future leaders, for example Erin, Amy, Abbie who I've worked with previously and can see they have so much potential. Ones to watch for the future! We need more role models like them.
13. What ways do you think hearing people can be allies to the deaf community?
I recently made a video about this, as I was sharing my frustrations about hearing people attempting to take on BSL or deaf issues, rather than giving the deaf community the opportunity or platform to have our say.
The most important thing hearing people can do, if they get asked about deaf issues or sign language, is refer to the deaf community. We are the experts! We can share our experiences, and the right information about BSL.
In my opinion, where possible, hearing people shouldn't represent the deaf community. Instead, I want hearing people to understand us, support us, and give us a platform to share our voices.
If hearing people are representing the deaf community, the attention is still on them even if deaf people have worked harder. Deaf people don't get as much recognition.
A controversial comment perhaps.. and maybe you agree or disagree, but if hearing people can support us, deaf people would really appreciate the support.
14. What are your 3 top tips for deaf people?
Make sure you know what you want and what you need. Fight for the right support, fight for access. Be assertive and proactive, tell people or public bodies that you want to see change for the better. Don't wait for changes to be made – if you say nothing then they won't know.
Life is too short. Grab any opportunities you can. Maybe it scares you – that's a good thing, you need to try getting out of your comfort zone and try new things. Challenge yourself – if you don't then how can you go ahead without learning from new experiences?
Never give up. I know life sometimes will have its barriers, but don't give up. Remember there are lots of people out there who can help you; you are not alone. Talk to people. Talk about your needs, your barriers – you will find someone who can support you. So, don't give up.
Looking for more support? We've made it our mission to improve the lives of deaf people everywhere. Check out Deaf Unity's projects to find out what we can do for you. If you'd like to get in touch, contact us here.