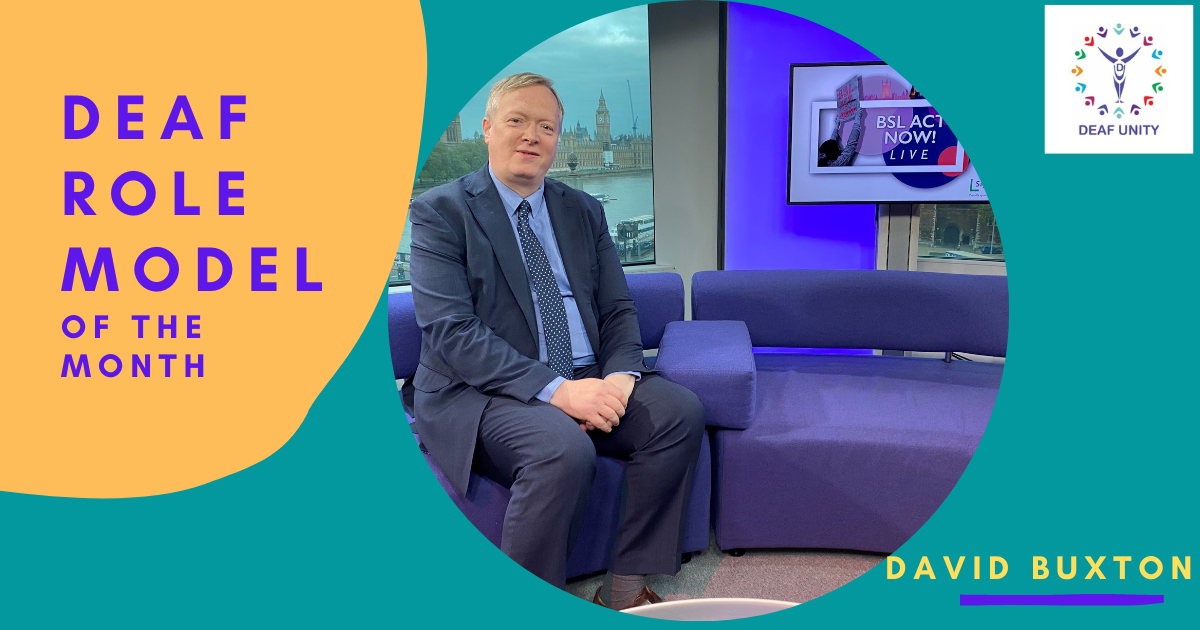 Each month we invite an inspirational or outstanding deaf role model to share their story. From what they've learnt, to what they wish they'd have known and their best deaf tips. 
Our role model this month is David Buxton. David has been at the fore-front of the rights movement within the Deaf Community, breaking out to the mainstream and bringing much needed attention to our causes. If you are interested in politics, lobbying and change-making, read on!
1. Please tell us a little about yourself?
I was born Deaf due to my mum catching German measles when she was pregnant – she caught it at the clinic! This was a first for my family – there hadn't been a profoundly Deaf family member for hundreds of years, according to the family history records!
My first job, when I was 20 years old, was as a CAD Designer, working for DSSR, an international building engineering services design firm after achieving an ONC in Building Studies plus 2 A Levels. I then moved to Ardin Brooks and Partners as a senior CAD Designer but, the building construction industry was declining nationally due to a deep recession in 1990. I saw RNID were advertising for a Further Education Development Officer (2-year project) applied and joined the RNID, a fantastic charity at that time, mainly because so many Deaf people were employed there at every level, from top to bottom. After 2 years, I moved on to become Development Coordinator at Breakthrough Deaf-Hearing Integration (now DeafPLUS) and was later promoted to London Regional Manager. I subsequently became the Regional Director. I obtained my MBA through the Open University which helped me join the Local Authority as a Senior Commissioning Manager for Disabilities, overseeing a £12m a year budget. After 5 successful years at the Local Authority, I joined SCOPE as a Regional Operations Manager to oversee Greater London and South East Adult Services, which I did for 5 years. I then moved on to the British Deaf Association, was their CEO between 2011 and 2017, before becoming CEO of Action on Disability, where I am currently working.
I married Bronwynne Pringle, originally from South Africia, in 2000. We have a son of nearly 20 who is partially Deaf with mild CHARGE Syndrome. We are a close family unit, and we recently got a Red Fox male Labrador which forces me to take daily walks – I am hopeful I will return to my physique of being 20 years old again, tall and thin!
Looking back on what I have achieved, I just cannot believe it; I mean, nearly 40 years of working! I had to fight all the way, through the ups and downs, the calm, and the storms. As a Deaf person who, today, loves BSL, I look back at how my own sign language leaning started – I had to learn BSL later in life. I started with SSE when I was at residential college for the deaf, BSL was all new to me! Without BSL, I must say, I would not have achieved much; for example, I was the first ever Deaf Sign Language user elected as a Borough Councillor in1990, the first in British political history; I later stood for the GLA and also for Parliament, three times, no Deaf Sign Language candidate at that time had ever stood before. I was informally considered to be given a life peerage in 2015 but, sadly, the Liberal Democrats lost, so many MPs, after the General Election of 2015, were given life peerages but the number was limited so these went to the losing MPs. However, I have continued to liaise with MPs and Peers for over 35 years, knowing many of them in all the main political parties. Lobbying, campaigning and attending meetings throughout this time. This is one of my greatest strengths. If I had to list my best achievements, they would be: (1) set up a pilot Access to the Elected Office Fund; (2) BSL Act Now! Campaign to get the BSL Act 2022; (3) Access to Work Judicial Review challenge; (4) Deaf jurors in the Courts; (5) elected Councillor twice; (6) stood for Parliament 3 times; (7) fundraising for the new Deaf Heritage project for the BDA (£860k); (8) co-founded Liberal Democrats Disability Association; (9) was chosen 3 times as Britain's Disability Power 100; and (10) heavily supported BDA Scotland (behind the scenes as I preferred Deaf Scottish to lead, not me as an Englishman) to achieve BSL (Scotland) Act 2015.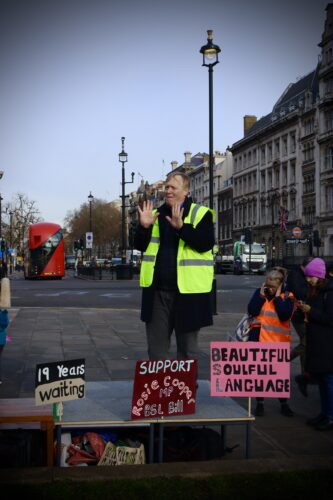 2. Did you grow up in the Deaf Community or come to it later in  life?
No, as I said I was born Deaf to a hearing family. I vividly remember my dad took me to meet Deaf adults at St Saviour's Deaf Centre (Acton, London) when I was about 13 or 14 years old, I don't know why it didn't work, I think it was because my dad realised there were no young Deaf people to play with me in the clubhouse. However, I attended a strictly oral school for the deaf in Malvern. The biggest turning point of my life to becoming Deaf, not deaf, was when I attended Norfolk House College for the Deaf, next to the Burwood Park School, in 1981. That was where my life began to move from being oral to me becoming a Sign Language Deaf person, by meeting more Deaf young people and adults at the College, Deaf gatherings, events, parties, Deaf church, and so on. Looking back this made me much stronger and the person I am now, I am a proud Deaf BSL signer.
3. What was your experience of education and higher education as a deaf person?
My experience as a deaf oralist in a residential school for the deaf was a mix of good and bad. I was the first person to fail the Mary Hare Grammar School exam at my school for many years, at least 1 went to Mary Hare every year. The reason why was that the new education law in the early 1970s said a school inspector must visit and write inspection reports, etc. The headteacher owned the school and two smaller schools; she was very worried she might lose her star pupil, so she instructed my class teacher not to tutor me for the Mary Hare exam. I will never forget when I came home from school for half term holiday, my dad was so angry with me after he found out I failed the Mary Hare exam. I went back to school and told my class teacher. Many years later, when I was about 23 years old, my dad and I went out for an evening meal at a restaurant. I asked my dad why he was so angry about the exam; he immediately said it was not my fault because my class teacher had called my dad, explaining secretly why I had failed. Not surprisingly, my school never sent any star pupils to Mary Hare after I was the first pupil to fail, it was all about money and keeping the school going!
I left school with 9 CSE passes from Grade 1 to 4 and went on to a College for the Deaf. The College changed me completely – I became more confident, outgoing, accepting more about myself, making new friends, learning new skills. I worked so hard for 3 years, although I didn't have a BSL interpreter or notetaker at that time. However, I did later hear of Asif Iqbal, if I am correct, and his Deaf peers, protesting outside the College about the lack of BSL / notetaking provision a few years later after I left the College in 1984. If I had had that provision, I could've made much more progress by getting higher grades. On obtaining my first paid job as CAD Designer, the firm offered me the chance to attend an HNC course at the Polytechnic for 2 years and, for the very first time, the firm agreed to pay for notetaking / sign language support. This did help me a lot. Later, I went on to obtain a Certificate and then a Diploma in Management Studies at the South Bank University whilst I was working full time for deaf charities. The provision was good, I had full access. I paid my own fees to study for my MBA at the Open University, and, amazingly, the Open University paid for communication support for the full 4 years until I finally graduated! My experience with higher education was it was very hard work and rather lonely; sometimes I had to go the university library every weekend to catch up on my assignments and presentation work, mainly because I wasn't able to be part of the students support groups to discuss assignments and coursework, practising for exams, etc. Without communication support, how could I effectively participate and contribute!
4. You are known for your involvement in politics and more recently BSL Act, what drew you to politics?
Yes, since I joined the Liberal/SDP Alliance as a member in 1988. I began my political journey to learn, meet and influence, etc. In 1990, Paddy Ashdown the Leader of Liberal Democrats appointed me as an advisor for Disabled people, I did this for about two years before I co-founded the Liberal Democrats Disability Association. In 1989, Simon Hughes MP encouraged me to stand for the local council elections (May 1990) in the ward where I lived. I agreed and fought hard and won Dockyard Ward from Labour in May 1990 as the world's second Deaf Sign Language politician elected and Britain's first ever elected Deaf Sign Language using Borough Councillor. That was why, after all these years, I have links and direct contacts with senior party officials, MPs and Peers; my previous 25 years in politics and through my current and previous jobs have enabled me to have many contacts. I have lobbied and met main political party officials at the conferences, drinks receptions, dinner parties, policy seminars etc. Maintaining my direct relationship with MPs and Peers helped me to be well prepared for the launch of the BSL Act Now! Campaign on 18th March 2021, led by the British Deaf Association as part of the BDA's national Sign Language Week 2021. We declared that we had enough of 18 long years of waiting for the promise to investigate a BSL Act. With great help from 56 BSL campaign volunteers supporting a BSL Act Now! Campaign meant many thousands of BSL supporters were encouraged to write to their local MPs, which resulted in putting extra pressure on the government minister to support the BSL Bill proposed by Rosie Cooper MP.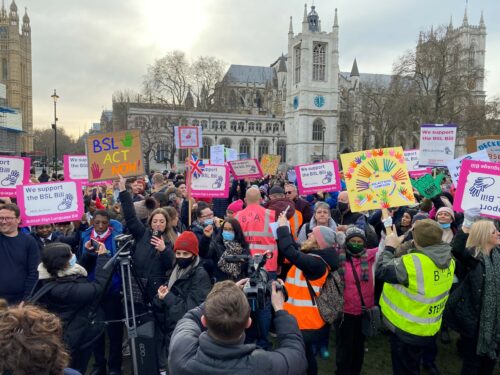 What drew me into politics…. Oh well, people see me as a pioneer of disability rights, always ready to debate and challenge, taking the lead in community campaigning, fighting for equality, social justice and inclusion so we are all fairly treated, equal to hearing people. I saw direct discrimination, prejudice and misconception of Deaf people and Sign Language; for example, why does State education allow schools to say no to BSL, why does State education avoid paying for BSL learning at home, yet they pay for Makaton learning at home? Why don't we get fair access? Not only this, but my family has also been involved in law and politics for hundreds of years. One of many examples is that I am a direct decedent of Sir Thomas Fowell Buxton MP, the Liberator, leader of the Anti-Slavery Society, taking over from William Wilberforce, and who finally facilitated passing the 1833 law to free people from slavery. I read his book on why he did it, what happened, and this resonated with me and made me feel strongly about Deaf people and Sign Language. We should fight for freedom against the 'slave' professionals supporting deaf children and young people, they enslave us as their oral puppets, only a very small % are oral successes, a huge % of Deaf people are oral failures and are hidden away. Why don't we expose them; why not to expose some deaf charities' anti-sign language policies and practices. But alone, I cannot. We need to join together and build up case studies, facts and then campaign for better, fairer BSL provision within the schools.
5. Do you see the same level of activism in the up-and-coming generation of deaf people? What advice would you give to someone thinking about getting involved in politics?
Yes, we do need to re-energise Deaf People to campaign – especially our young Deaf people who have experienced very poor mainstream education. We need to find new young Deaf activists to join a campaign group. This is where I would volunteer my time, so let's see what it is possible.
My advice is that any Deaf people, who are interested in politics, should join their preferred political parties. We have a Deaf Sign Language using elected Councillor for the Conservatives, also another Deaf Sign Language using elected Councillor for the SNP. We know several Deaf Sign Language signers actively involved in the Liberal Democrats, the Greens and the Labour Party. That is great. When I was elected in 1990, I was the only active Deaf Sign Language using politician, now we have more Deaf Sign Language signers in the political parties. Again, I must warn you that it is really hard work to be part of local party activism due to the lack of funds to pay for BSL interpreters. I used my DLA / PIP to pay for interpreters. I wanted to prove that I am an active campaigner, going out and meeting local residents and so on. Show my true ability and skill to campaign for them, a community champion! No matter, Deaf or not, it is up to individuals to use our natural ability and skill to do great service to the local communities.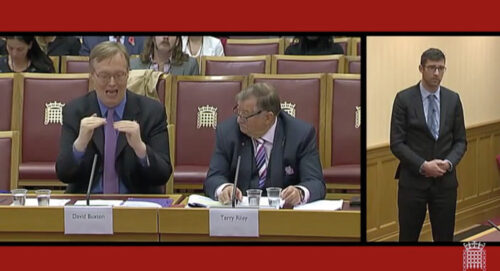 6. The BSL Act 2022 came into force on Tuesday 28th June 2022. What impact do you think the BSL Act will have on young deaf people?
To date, we are still waiting to hear who will be on the BSL Advisory Board. The Government will announce who will be co-chair and Board members within a month or so. I want a young Deaf person on the BSL Advisory Board. The Government already knows Education is one of three biggest issues for the Deaf community. They already know of case studies, school barriers or resistance to BSL access. It will be very hard to get education right for Deaf children and young people. This means a well-resourced campaign for better education, involving money, people, volunteers and campaigners. Again, we need more young Deaf people to join to give more power to the BSL 'voice' to Parliament.
7. You have been involved in deaf organisations at a senior level for many years, and now on the board for EUD – what further changes would you like to see at the UK or European level for Deaf Communities?
Yes, I cannot believe, nearly 35 years since I first joined the BDA as a life member, in late 1980s. With the new BSL Act 2022, my hope is to see a new BSL coalition or alliance to bring together deaf organisations, groups, clubs and individuals – raising a more powerful 'voice' to see the BSL Act reap results, more money invested in BSL provision and support. I have said for years, 'united, not divided' despite our own differences and views, we share the same common goal, to see our inclusive world through Sign Language. Without Sign Language, we are nothing! Without using 'our voice', we will be made voiceless and powerless. Together we must rise like a phoenix rising from the ashes, flying strongly and showing our true values and worth in our social and community lives, committed to transforming education.
At the European level, we need to support to each other to ensure every European country has a legal status of Sign Language, enforcing rights and inclusion for Deaf people. It will be a lot of hard work to think how we can make it happen. Making Sign Language more visible, making Europe more inclusive!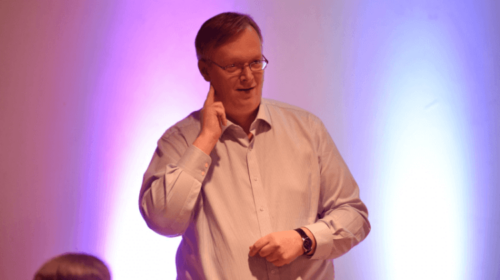 8. Your political career started in 1990 when you were elected Britain's first Deaf BSL-using Borough Councillor. During that time, you must have faced and overcome a number of challenges, can you tell us a little about your experiences?
Yes, I will never forget when I was elected as Borough Councillor in May 1990. Labour-run Southwark Council wasn't very supportive of me by not offering a budget for me to use for BSL interpreters when I met local residents, nor was I invited to meet the tenants and residents' associations, etc. I had to fight for several months, even challenging Labour councillors to support me. Eventually, I used the local and national press to write a story about me and Southwark Council, resulting in a budget being allocated to me, although it was not enough. It was not easy to communicate with my fellow councillors, so we bought minicoms (old telephone machines for deaf people) to communicate, it was hard work, slow and frustrating. I was fortunate to have very good support from a few Councillors which kept me going. You have to remember, like when you get a paid job or a place at university or college, you cannot expect to have freedom and access to meet anyone, you still have limited funding, so we have to be very smart as to how to use the money and time to demonstrate how good you are. Resources must be used wisely. This is how politics works, of course!
9.Who insires you and why?
For now, I can immediately name two Deaf people who really inspired me. One is Doug Alker, a man with a great vision and passion. During early 1990s, Deaf people at that time thought it was not possible for Deaf people to become a director or CEO. Doug was there as one of the directors at the RNID. He was a brilliant communicator, giving ideas and so on. After he left the RNID, he set up the Federation of Deaf People (FDP) and led national BSL marches. Again, brilliant leadership, inspiring many thousands of us, bringing us together for BSL. His charisma and leadership drew me to be part of the Deaf Rights movement.
Another one is Dot Miles – a Deaf woman whose leadership was quiet. I saw her lead; she made me be part of the Sign Language movement. Sadly, she died early. If she hadn't died early, I believe she would have done great things. Her signed performances certainly uplifted us and gave us a united front, fighting for equality.
10.What ways do you think hearing people can be allies to the deaf community? Any DOs and DON'Ts?
Hard question – to be honest, today is rather different from 30 years ago. 30 years ago saw a strong togetherness of BSL interpreters, CSWs, sign language learners and Deaf individuals at parties, events, seminars, debates and clubs. Now it is not there. We need to think of something new, I mean it is different in this digital and changing world, how can we bring everyone together to celebrate BSL, how can we be bold to give regular monthly donations to support BSL Rights campaign nationally, I could go on.
Be an ally of the Deaf community by simply supporting our language, culture and identity, especially deaf children and young people, where they seem so isolated, excluded and undervalued, away from the real Deaf community. We need their allies to recognise and help challenge local authorities and government.
Never ally with anyone who continually says sign language is a distraction, damaging to the ability to talk. All are total myths, fictitious stories which they want Politicians to believe. We must stand up against anti-sign language people and organisations – to me, they are modern slave traders promoting audism and language deprivation, I mean what I say, they must be rid, we need allies working together to stop them carrying on their 'modern slavery' businesses limiting Deaf children and young people, robbing or stripping them of their deserved right to learn BSL and read/written English.
11. 3 top tips for deaf people?
Oh, hard one, only 3 top tips, I would say
1. For everyday life – love yourself first – if you do that, this will improve your self esteem and value. This means you love who you are – we all know we will face barriers all our life. We must love ourselves first – our language, culture and community – this will unite us together for BSL.
2. For communicating – respect each other's views without any oppression or deprivation – sometimes we disagree with each other, but we still share a common goal for an inclusive world through Sign Language. Stay united, not divided. I mean all cultures, faiths and intersexuality. Maybe you don't like a certain group (eg. language minority, faith group, LBGTQ) but whilst you fight for equality and inclusion, this doesn't give you the right to be judgemental. Our communication must be acceptable. Recently I was told off by saying 'good girl' and it made me think and realise she was right. It was unconscious bias thinking, a habit to say these words, we must change how we communicate using the right words which treat everyone as equals, respected and valued.
3. For travelling – you know Deaf people love travelling and meeting at large Deaf / BSL events. For example, the City Lit Deaf Day, Over 50 Deaf Group, BDA AGM, BSL Festival. This keeps BSL alive, visible and exciting, making all of us take a true pride in BSL. When I saw thousands of BSL supporters gathering in Trafalgar Square on 18th March 2022, I felt we are together at last after an awful 2 years struck down with Covid-19 lockdowns and restrictions. Lots of Deaf people said to me 'I want to see a very large BSL festival annually, this brings us together – reunions to celebrate our language, catching up on news, exchanging and making new friends. That is something for the BDA to think about, a national BSL Festival – we will travel there and celebrate BSL – music, dramas, story telling, debates, learning and fun!
To read more inspirational role model interviews, take a look here. If you would like to be an ally to the deaf community and learn sign language, check out our courses here.
Looking for more support? We've made it our mission to improve the lives of deaf people everywhere. Check out Deaf Unity's projects to find out what we can do for you. If you'd like to get in touch, contact us here.