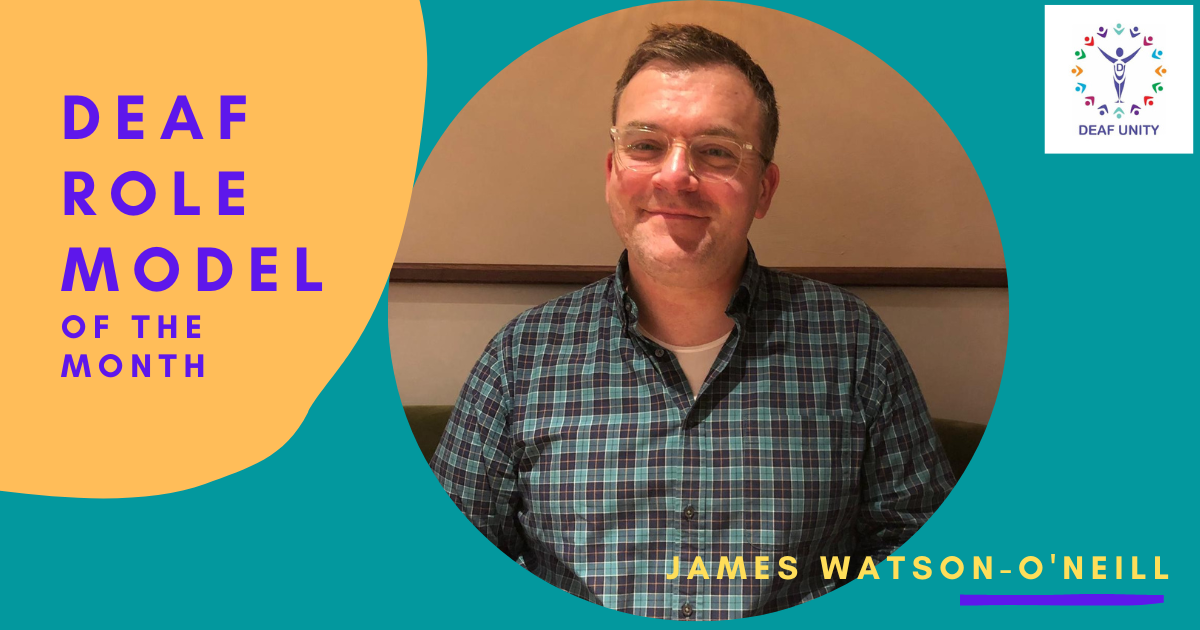 Each month we invite an inspirational or outstanding deaf role model to share their story. From what they've learnt, to what they wish they'd have known and their best deaf tips. 
Our role model this month is James Watson-O'Neill – who has not only embraced his deafness, but also the fact that he works behind a desk! As CEO of SignHealth he has steered the ship through the pandemic and times of change. Find out more about this well-known person in his story below.
1. Please tell us a little about yourself?
Hi – I'm James and I'm chief exec at the Deaf health charity SignHealth. I've been here for about six years and working in the charity sector since 2001. I never expected to work at a desk as I initially trained to be an actor, but I really love my job and I'm very proud of the work that we do at SignHealth. I live in north London with my husband Chris and our three rescue dogs.
2. You weren't born Deaf so can you tell us about your journey to embracing your Deaf identity?
I don't actually know conclusively whether I was born deaf or not. I have been a patient at ENT and audiology departments since my early teenage years. It's a long complicated story of lots of misdiagnosis, poor access, relocation and having to continually start again with new clinics and also medical professionals who didn't perceive my experience of "hearing loss" to be important. When I left my last job at Scope in 2016 I was really struggling to hear my colleagues at work but I still wasn't really identifying as a disabled or deaf person when I interviewed for this job or when I arrived at SignHealth. But, because it was such a change of acoustics, change of people and change of jargon, I found my first few months at SignHealth very hard – I couldn't understand a lot of what colleagues were saying. Luckily, I worked alongside some deaf colleagues at Scope and had done BSL Level 2 many years previously, so I was able to rely a little on the interpreters who were often in the room and my lip-reading improved dramatically.
Because of my job and SignHealth's membership of the Hearing Loss and Deafness Alliance I got to attend events and conferences on a wide range of issues linked to the medical side of audiology and that forced me to confront the reality of being deaf and that hearing aids could help me. So I forced my GP to refer me again to an audiologist, got my first hearing aids and my world changed. Not just because I could hear better but because it forced me to confront my identity as a deaf person and learn to respond positively when people notice my hearing aids.
I now buy my hearing aids privately and use other tech every day to support me (like Roger On, which connects to my hearing aids) but I'm also fascinated by the growing acceptance within our community that there are lots and lots of different "ways of being deaf". I'm working hard on being confident about my deaf identity and I'm very grateful to my colleagues at SignHealth who have supported me and encouraged me to see that embracing that identity is a positive thing.
3. What was your experience of education and higher education as a deaf person?
My parents were in the army so I was sent to boarding school while they travelled around the world. I went home for school holidays, wherever home was at that time, and I was lucky to experience lots of different cultures and meet people from lots of different backgrounds. They lived in Hong Kong, Germany, the USA and all over the UK during my childhood. I grew up understanding that people are different and that difference is a good thing that should be valued and respected.
In the schools I went to I was lucky to be in very small classes, often as few as six or seven people, which made hearing all the detail of what was being discussed so much easier. I learned intuitively to sit at the front, look up, and to focus on what was being said rather than taking notes.
While I only started seeing lots of ENT and audiological medical professionals towards the end of my time at school and I was still a long way away from being diagnosed as deaf, I randomly got the chance to meet lots of deaf people on a summer camp in the very early nineties that my parents sent me on. I can't remember much about it other than it was my first experience of sign language and the freedom it brought. I loved it.
4. You've been working in the charity sector for over 20 years. How did you find yourself there after starting out in drama?
I tried to be an actor but kept failing! I did tiny bits of TV – I was in the football soap Dream Team on Sky TV for a couple of episodes and I was an extra in Band of Brothers. But, my heart was in theatre and although I directed lots of fringe theatre shows I couldn't get any work as a theatre actor so I worked as an office temp, mostly in private sector companies. That gradually led to permanent jobs in marketing and design agencies which I enjoyed because of the creative side of things – we made promotional packs of Angel Delight with Aardman Animation and I designed the cardboard packaging as well as Wallace and Gromit made out of Angel Delight and sweets! But my heart wasn't in it. I moved on to a temp job at a call centre and ended up managing the team but knew I had to make a more permanent career change as I wasn't happy. In 2001, I saw an advert for a job with the NSPCC in my local community, setting up a new Young People's Centre in East London. I got the job and loved it from day one.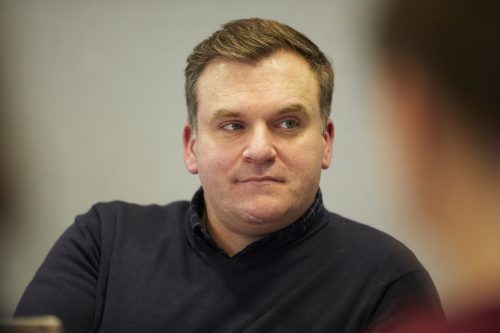 5. Where does your passion for social justice come from? Has that been a driving force in the various roles you've held over the years?
I was so lucky when I started working at the NSPCC. I was based in a small office in Mile End and worked with a fantastic team of women who taught me a lot. They were very experienced social workers and helped me understand the value of difference and to remind me why being different is good. We worked all across Tower Hamlets and I met so many amazing people, including lots of children in care, and it all just clicked for me. Working with people to change the world is what I love doing and what gives me energy.
6. What is your biggest achievement so far?
I'm really proud of all the work we do at SignHealth – from our work in social care to psychological therapy to domestic abuse, as well as all of the campaigning work we do too. The work we do is rooted in our lived experience as deaf people.
I'm really proud of how quickly we set up BSL Health Access at the start of COVID. We spent more than £1m on a service that was desperately needed and really well used. But I'm sad that it had to come to an end and that NHS England hasn't stepped up to follow it up with a similar service yet. I am hopeful that will still happen though – watch this space!
7. There have been a number of legal and social challenges and wins over the last two years – what are the key legal or policy changes needed to bring equality and equity for Deaf people going forward?
A lot has happened recently, hasn't it? From the BSL Act to Lynn Stewart Taylor's #WhereIsTheInterpreter campaign, as well as Rose winning Strictly, Tasha Ghouri on Love Island, Troy Kotsur winning an Oscar, the launch of 999BSL, and Lydia Gratis and Romel Belcher's Saved By The Sign. And NHS England commissioned a new BSL Therapy service for all of England, which was unthinkable just a few years ago!
But we know that a lot more needs to change for us to achieve equality. We're working with lots of colleagues from across the sector at the moment to look at a Theory of Change – a way of mapping out what all of those challenges are and to see how we can work together as a whole community to break them all down. COVID showed us that we can achieve a lot when we work together and at SignHealth we are determined to do more of that!
8. SignHealth has been involved in recent landmark developments, like the 999BSL launch, working with other organisations – do you think more would get done if we worked more collaboratively as a Community?
Yes! See above! There is so much to celebrate within our community and no need to duplicate what other people are already doing. Let's work together – we are so much stronger when we do. But that needs to be really open – it can't just be the people who already know each other. There has to be room for new leadership, particularly from Black Deaf people and Deaf people of colour, as well as from Deaf people who are in the LGBTQIA+ community and all of the intersections of these communities too.
We know that young deaf people's experience of being deaf can be radically different to older deaf people's – how do we develop a really broad and accepting idea of deaf identity that leaves lots of room for deaf people to define ourselves as we want and need to, and to celebrate all of our stories? People like Luke Christian are already creating that culture with his brand Deaf Identity and Hermon and Heroda Berhane are breaking new boundaries with their work as influencers. But they are also collaborating with us as charities in the sector and that means a lot to all of us.
9.What do you love most about your work?
The people! People are what motivates me and I'm lucky to work with really talented people. I spend a lot of time in meetings but that's ok – I like meeting people!
10. Where do you think the future might take you? Will you stay in the Deaf sector?
Who knows?! I hope to always stay connected to the Deaf sector. I've been a trustee of a couple of different deaf organisations and hope to find other trustee roles in the future. I am very happy at SignHealth and I really love my job.
11. Who inspires you and why?
We did an exercise at a SignHealth board away-day last year where we asked people to bring a picture of their "social change hero" and talk about them. I brought a picture of Dustin Lance Black. Dustin is married to Tom Daley, the Olympic diver, but he is a star in his own right. He is a screenwriter and won an Oscar for writing the film Milk which is about the life of Harvey Milk, the first openly gay man to be elected to public office in California in 1977 and who was sadly killed the following year. He won the Oscar at around the same time as the equal marriage debate was at its peak, particularly in the USA. In his acceptance speech he said:
"…if Harvey had not been taken from us thirty years ago, I think he'd want me to say to all of the gay and lesbian kids out there tonight who have been told that they are less than by their churches or by the government or by their families, that you are beautiful, wonderful creatures of value and that no matter what anyone tells you God does love you, and that very soon, I promise you, you will have equal rights, federally, across this great nation of ours. Thank you. Thank you. And thank you, God, for giving us Harvey Milk."
I remember the hope that his words filled me with at the time and they still do. Although I don't believe in god, I do believe that we are all "beautiful wonderful creatures of value".
12. What ways do you think hearing people can be allies to the deaf community? Any DOs and DON'Ts?
I think the key life lesson for all of us to keep learning (including me!) is that people are different. Don't assume.
Don't assume that everyone is hearing, don't assume that all deaf people are BSL users, don't assume that gay people's experience of going to the doctors or getting a mortgage or coming out to their parents, is what you might expect.
Let's try to celebrate difference and actively expect people to have different life experiences to us, and be respectfully curious about how learning about other people can help us become better.
12. 3 top tips for deaf people?
I wouldn't give deaf people top tips! But I would suggest that we should all work together to achieve equality. I believe we can and I am excited about the future.
To read more inspirational role model interviews, take a look here. If you would like to be an ally to the deaf community and learn sign language, check out our courses here.
Looking for more support? We've made it our mission to improve the lives of deaf people everywhere. Check out Deaf Unity's projects to find out what we can do for you. If you'd like to get in touch, contact us here.