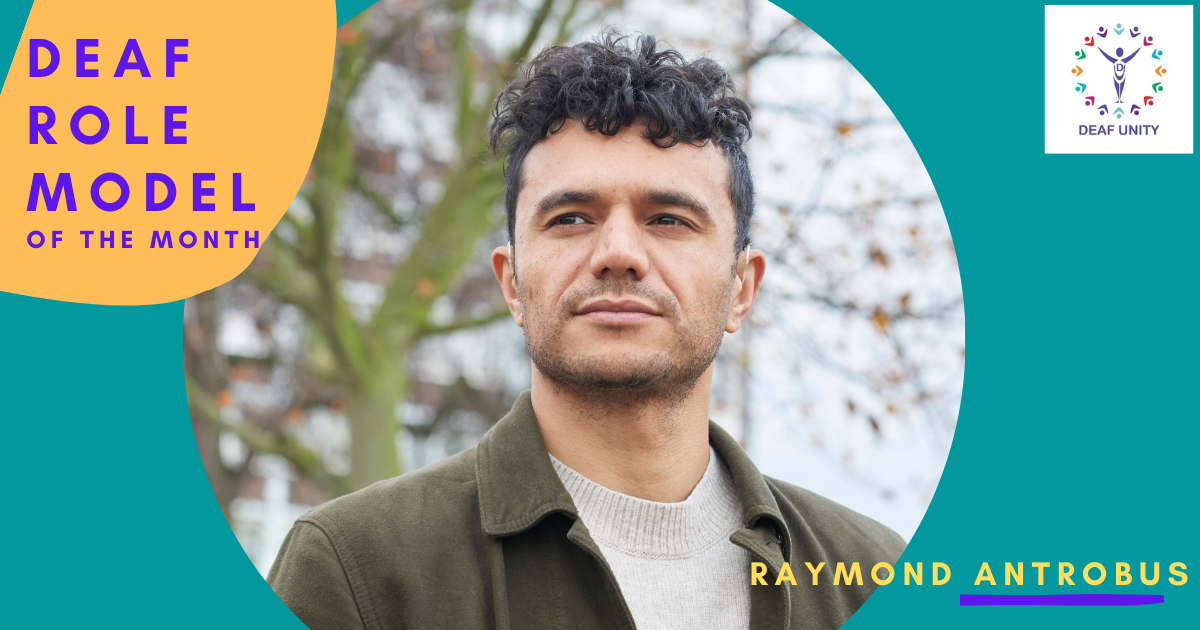 Each month we invite an inspirational or outstanding deaf role model to share their story. From what they've learnt, to what they wish they'd have known and their best deaf tips. 
Our role model this month is award winning poet Raymond Antrobus, the author of 'Shapes & Disfigurements', 'To Sweeten Bitter', 'The Perseverance' and 'All The Names Given'. He has also written a children's book, 'Can Bears Ski?'. He explains how he found his own deaf identity and now teaches others to express themselves through written, spoken and signed languages.
Find out more about Raymond and his work here.
1.    Hi Raymond! Congratulations on being a Deaf Role Model – tell us about yourself?
My name is Raymond Antrobus. I am a poet and teacher. I grew up in Hackney, London to an English mother and Jamaican father. I was educated in both hearing and deaf schools. To date I have published a number of poetry collections, including 'To Sweeten Bitter', 'The Perseverance' and 'All The Names Given'. I also recently wrote a picture book called 'Can Bears Ski?' which is illustrated by Polly Dunbar, a hard of hearing children's author from a Deaf family.
2.    What is your deaf story?
I have wrestled with different aspects of my deaf identity but there is more than one way to be deaf. I understand that any of our identities exist on a continuum. At the moment I think I'm more comfortable calling myself hard of hearing. I was born hard of hearing and went to a deaf school in London. I learned to sign at school but once I left school I lost any connection with the d/Deaf community. It wasn't until much later that I decided to reconnect with D/deaf people because of how much I was struggling in the hearing world. I was losing jobs and was frequently misunderstood by hearing people who didn't know how to interact with me. They assumed I was hearing, but I'm a lip-reader and rely on hearing aids.
I didn't know how to assert my deafness so I could be better understood. I think it's a day-to-day thing, being deaf. During lockdown (because of masks) I've felt very self-conscious about not hearing people and I've fallen back on my old ways of just pretending I can hear and trying to float by. I haven't been as active in deaf communities because I moved to the US and don't know ASL and couldn't build up the confidence to learn and find a community and start that all over again. I was kind of triggered and traumatised by some of the isolation at one point. I'm back in London now so I can pick up with community here, friends, deaf club, etc. but it's an on-going journey.
3.    What was your experience of education as a deaf person?
There were a lot of struggles and some victories at school. I left school feeling mostly negative about my education. A lot of the education that I value the most came from my parents and from travelling the world. Then, after becoming well known as a poet, I was approached by Goldsmith's University to be part of the first cohort of poet-teachers in a MA programme designed for creative writers in education. This was very positive because I was intellectually and emotionally invested in this kind of education. It was meaningful and useful to me and others.
At University the seminars were small groups and I always sat near the teacher. Lectures were harder because they were longer and in huge rooms that tired my brain out after a while, but I had friends who helped me with note-taking and relaying missed information. I finished my MA with a distinction, which surprised me given I had no academic experience. I went on to lead the programme for a couple years as well as teach in East London schools for the next six years.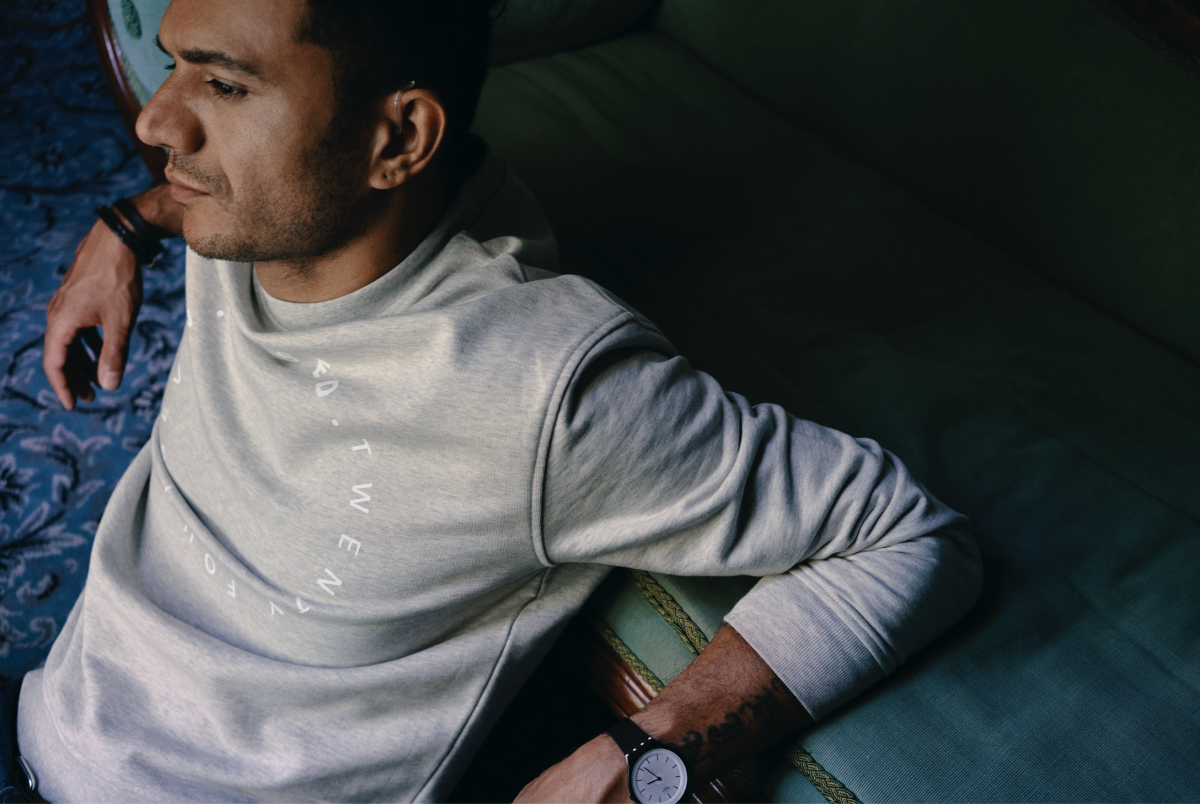 4.    Have you faced any obstacles or challenges from being deaf and how have you overcome these?
Yes. Many. But I have had a lot of support – probably more than most deaf or hard of hearing people. I had in-class support; I had a hearing and speech therapist; I had hearing aids and radio aids, and I now wear newly designed Bluetooth digital hearing aids, which connect with all my technology (phone, computer, doorbell etc). The technology helped and so has connecting with other deaf and hard of hearing peers.
5.    Would you say your lived experience of being deaf has informed your poetry and writing?
Yes. It's a big part of how I think about language and storytelling.
6.   Many deaf people do not feel a connection to the written word due to poor literacy and lack of exposure – would you recommend more poetical works be translated into BSL or for deaf people to be encouraged to read more poetry and creative works?
Yes, I would. I advocate for sign language as well as written and spoken English. I try to engage the complications of each of these languages and make it part of the lessons. We can engage with the oppression of oralism through written, spoken and signed language but I'm also not trying to prescribe how one learns and chooses to express themselves. My specialist skill is writing, performing and teaching creativity, so the more ways we have to express our ideas the richer this can be for everyone.
7.  What inspires you with your writing – where does your spark come from?
I have always written things down from as far as I remember. I don't really remember being encouraged to, it's just something I did. My spark comes from a desire to connect and communicate something with others in meaningful ways.
8.  Do you feel the Creative World is accessible and welcoming to people with disabilities? What has been your experience?
This is a wide and complicated question, one that can't be answered without looking at academic data, which I don't have at the moment. There are a lot of obstacles and a lot of failures and some triumphs. It's been a struggle not having captions or interpreters at most cultural events, but that is changing, and people are slowly becoming more aware of terms like "ableism". My hope is inclusion and accessibility are understood in a way that is less about tokenism and box-ticking and more about a genuine interest in human beings and ways of being in the world.
9.  You have recently started writing for a younger audience – was this decision driven by anything in particular?
Well, it was quite accidental. I was asked if I would like to try it so I did and I'm very glad I did. The book was recently featured on Coronation Street, to my surprise! I don't watch much TV, but I started getting messages and emails from people who had seen it. It was random, but beautiful to have happened. I wouldn't have written that book if I hadn't gone back to my former deaf school and seen how few books they had representing deaf and hard of hearing people.
10.  You have won many awards and accolades – do you have any that are particularly meaningful to you?
Awards are strange things. I try to hold them lightly and take it all with a pinch of salt. However, being shortlisted for a Canadian prize (The Griffin Poetry Prize) was particularly exciting for me because it felt like it came from nowhere. My books weren't being distributed internationally at that time so it was the first time I thought about readers of my work outside of my community and that was exciting!
11.  Who inspires you and why?
Many inspirations! The Deaf Sound Artist Christine Sun Kim has been a big influence on my latest book of poems ('All The Names Given'). Her work has deepened how I think about deafness and language (visual, signed, spoken, written, etc.). There are many others, Joyce Dunbar, Polly Dunbar, Sophie Stone, Raymond Luczak, Ilya Kaminsky, Meg Day, Cece Bell, Lisa Kelly, Josephine Dickinson, Douglas Ridloff, Lauren Ridloff, Evelyn Glennie, Nadia Nadarajah, I mean, there are a lot of d/Deaf artists working today… too many not to know any. The painter Goya went deaf and learned Spanish sign language – our culture and way of being is rich and varied.
12. What ways do you think hearing people can be allies to the deaf community? Any DOs and DON'Ts?
The best slogan for disability rights that I still see being used appropriately is "nothing about us without us".
13.  3 top tips for deaf people?
I think I'll just reiterate some things I already said:
1) There is more than one way to be a D/deaf person. Try not to fall into the trends of what deafness is expected to look like to others.
2) Identity exists on a continuum
3) If you can, travel. There are an estimated 34 million deaf young people worldwide. It's good to keep our minds as well as our ideas of community open.
Sign up to our newsletter for more content like this
To read more inspirational role model interviews, take a look here.
Looking for more support? We've made it our mission to improve the lives of deaf people everywhere. Check out Deaf Unity's projects to find out what we can do for you. If you'd like to get in touch, contact us here.