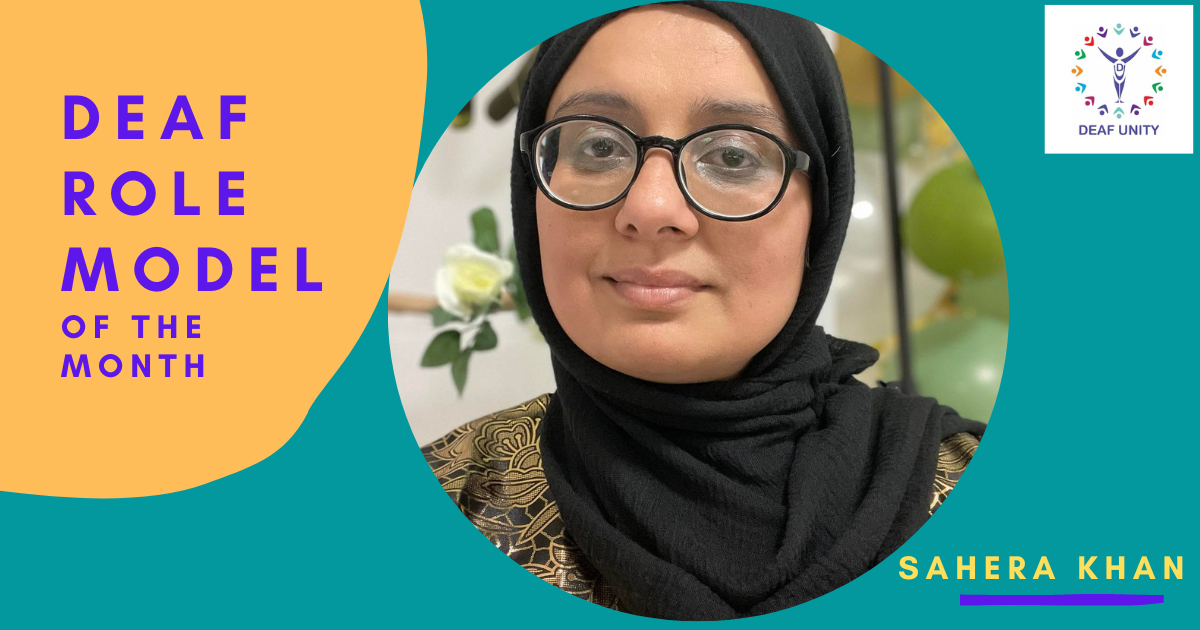 Each month we invite an inspirational or outstanding deaf role model to share their story. From what they've learnt, to what they wish they'd have known and their best deaf tips. 
Our role model this month is Sahera Khan – we love hearing people's journeys into the Arts, overcoming barriers and learning skills along the way. Read her story here or watch the BSL version below.
1. Please tell us a little about yourself?
My name is Sahera Khan; I am Muslim, Deaf and BSL user.
I was born in the United Kingdom to South Asian Parents, I grew up in East London.
I attended deaf schools until the age of 13, I then moved into a mainstream school, followed by college where I studied Business and Social Care.
My first job role was as a Youth Worker with the Asian Deaf Women's Association (also known as Deaf Ethnic Women's Association or DEWA). I then worked in a variety of roles providing services for deaf people, as well as working in schools supporting children.
I am currently a trustee for DEWA and on the board for 1623 theatre.
I now work as a freelance writer/creator, artist/actor, filmmaker and YouTuber.
My achievements include BTEC Business, Youth Work accreditation, Writing, Drama and Film Studies, as well as attending a number of different courses.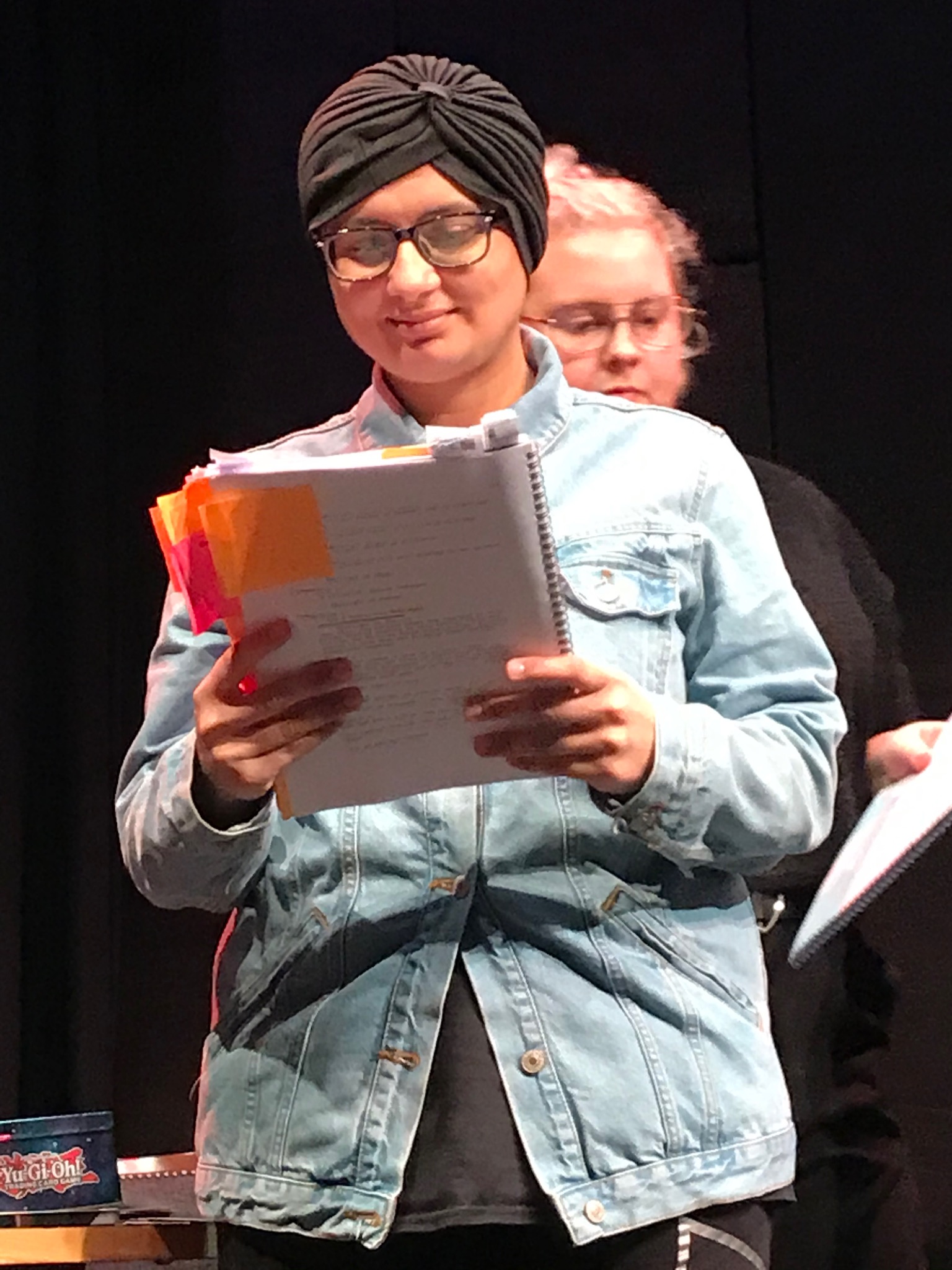 2. Did you grow up in the Deaf Community or come to it later in life?
I grew up in the Deaf community and have been a part of it all my life. I grew up being the only deaf person in my family. I am married and have two hearing children. My husband is a Deaf BSL user. I have some good Deaf friends which have developed through school and work.
I have lived all my life in the hearing world, this includes my family, shopping, travelling etc. I am used to it, but sometimes I am still faced with barriers, such as when interacting with hearing people who have no BSL or when there is no BSL interpreter provided. This can make even basic communication a real challenge.
As mentioned previously, I grew up in the Deaf world, which included attending a Deaf nursery and a Deaf primary and secondary school. This is where I was exposed to BSL for the first time, using it to communicate with the other children. I also got involved in various other activities, with both hearing and Deaf children e.g. performing in shows and participating in sports.
After leaving school I attended local Deaf clubs and joined in with many of the events that took place there, like parties and celebrations. I was very much a local person – I had everything on my doorstep – I didn't travel to other places. But now I am more confident and will travel anywhere, and when I do, I often meet up with Deaf and hearing people alike.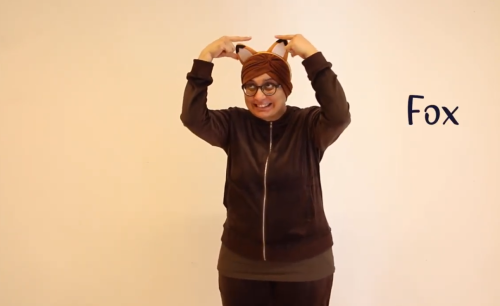 3. What's your expereince of education and higher education as a deaf person?
Fortunately, I attended primary and secondary deaf schools, and I was well-taught. However, attending mainstream school was a shock, as it was not what I was used to. Thankfully, I did receive support, such as a Communication Support Worker, Teacher for the Deaf and a Deaf Instructor.
My experience of college and university was very different, as there were fewer deaf people. I managed to cope very well with hearing people, and I did have a Communication Support Worker for when in class.
I passed my higher education certificate in Islamic studies. It was a challenge, in fact some students dropped out of the course. It was also difficult to get BSL Interpreters.
I managed well with reading and writing. I do have a good standard of English, but sometimes, I would require support from my interpreters who would translate from English to BSL and vice versa, as well as amend my grammar where needed.
4. How did you get into the Arts? Were you always interested in them?
Yes, when I was younger, I always wanted to be an actor on television and appear in films and the theatre. Unfortunately, my parents would not allow me to attend a performing arts course.
I stopped working after having my first child, becoming a full-time mother. It was during this time that my interest in the Arts resurfaced. I have always been interested in the Arts and I get my inspiration from the entertainment and media industry. I started writing because I love stories. I completed a short course on how to become a writer and how to write a short story.
To date, I have published nine books on Kindle, a few plays, and screenplays for my short films. Have a look at my books
I also attended short courses and workshops on acting and filmmaking, I was fascinated by what I was learning, and this help me to develop my skills further. Check out my videos
I decided to leave my job at a school, as it did not offer me the freedom I needed for childcare and to pursue my acting career. I enjoy having the flexibility and choice of work that my current career offers me.
5. Do you think more needs to be done to make the Arts more accessible to the deaf community?
Yes, I believe the Arts needs to be more accessible for the deaf community; there should be more opportunities for deaf actors and artists in the media, such as television, film and theatre work. As part of their accessibility they should provide BSL Interpreters, captions and be more supportive of the deaf community.
I hope the Arts sector is aware of the BSL Act. Both deaf and hearing artists make contributions to the Arts, therefore it needs to be equally accessible. This can be done via social media, forums and third party organisations that have contact with the Arts industry. I hope to see more doors opening for the Deaf community
6. You have a YouTube channel which has videos on many diferent themes and topics? What is your favourite thing to make? Comdey? Drama? Factual, Lifestyle files? Childrens stories?
My favourite is Comedy, I am aspiring as a comedian. Alongside this, I love my creative work; I am always thinking of new ideas. I find that this allows me to express myself. I am unique: I am a Muslim, and a deaf person. I like to express all of this in my creativity. It is a way for me to make my voice heard.
7. You have been nomited and won awards, what has been your produest career acheivment?
My short film 'FAITH' has won a few awards, which is amazing as I did not expect this. I am especially proud that I was able to achieve an award for my short film during the coronavirus pandemic. I am also pleased to see that my work is being recognised.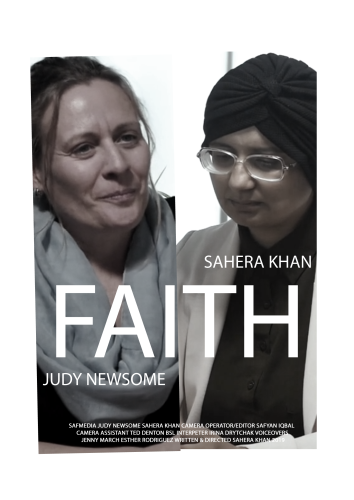 8. What do you love most about your work?
I love all types of creative work, especially creating videos. I like to film myself performing BSL poems, storytelling and creating humorous videos. I like to then edit the video, making it look good, before finally uploading it to my channel.
9. What advice would you give to young deaf people who are thinking of getting invovled in the Arts?
I would advise them to explore what it is that they want to do in the Arts, encourage them to do their research, network, to join local groups. I would also suggest asking their school/college to invite deaf artists into the classroom to share their experiences.
Also, go ahead and enrol in drama classes and filmmaking courses. I would highly recommend applying to courses to gain an understanding and experience of the industry.
I feel there is an increase of deaf actors, writers, filmmakers and creators at the moment, but there still needs to be more representation. A word of caution is that work in this field is not always sustainable, as the industry is competitive. The Arts is not easy to get in to and you have to work extremely hard, therefore, it is important to do your research and to network with people who can support your work.
And finally, ensure you are financially prepared as it can be extremely expensive.
10. Who inspires you and why?
I am inspired everyday by life, through networking on social media and keeping a positive mindset.
I am inspired by motivational sayings, such as 'Hard working!', 'You can do it', 'Keep going!', 'Don't give up!', 'Don't let them stop what you are doing', 'Keep going, you're creative.'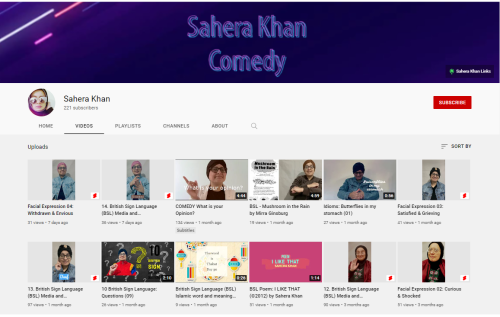 11. What ways do you think hearing people can be allies to the deaf community? Any DOs and DON'Ts?
It is very important for deaf and hearing people to work together. In the Arts, I feel strongly that deaf actors should be cast for deaf roles and stories.
I hope to see hearing people interacting with deaf people more and more within the entertainment and media industry.
Outside of the Arts, I hope to see the BSL Act creating better access for deaf people, for example booking an interpreter for health appointments and for employment. I would also like to see it encourage hearing people to learn about deafness, to have an awareness and to learn BSL, in order to communicate with deaf people in everyday life.
12. 3 top tips for deaf people?
1. Focus on your health and keep a positive mindset.
2. Keep updated with technology.
3. Exploring your creative or journey.
To read more inspirational role model interviews, take a look here. If you would like to be an ally to the deaf community and learn sign language, check out our courses here.
Looking for more support? We've made it our mission to improve the lives of deaf people everywhere. Check out Deaf Unity's projects to find out what we can do for you. If you'd like to get in touch, contact us here.