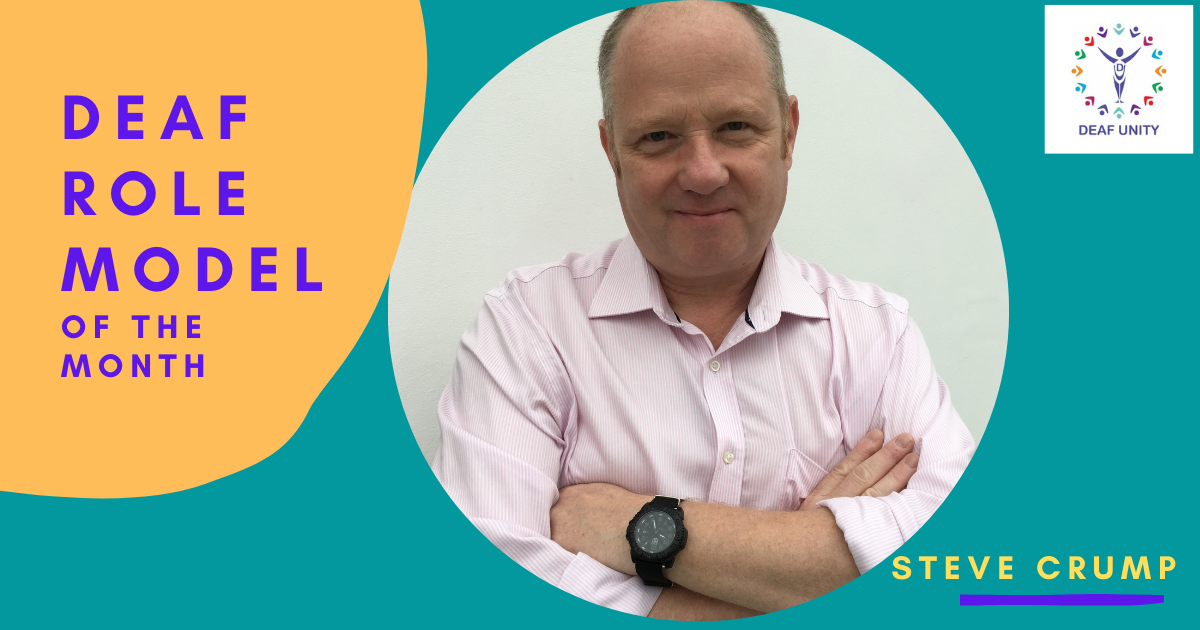 Each month we invite an inspirational or outstanding deaf role model to share their story. From what they've learnt, to what they wish they'd have known and their best deaf tips. 
Our role model this month is Steve Crump – a man who is literally out there in the field fighting for deaf children's rights and safety with DeafKidz International. Read his story here and get involved if you can.
TW – some of the aspects of Steve's work involve abuse, war and trauma.
1. Please tell us a little about yourself? (career, family, achievements etc.)
Family is so important to me, so I will start with them. I'm married to Mandy, a profoundly deaf BSL user, who teaches on the British Sign Language and Deaf Culture pathway course at the University of Sussex. Our daughter, Georgie, is a musician who, when not working with the examinations team at Rock School, divides her time between gigging and teaching music.
We're a total communication family who can be found, variously, on the beach, in the sea with the Deaf Otters swim group, meandering the Brighton Laines or up on the Sussex Downs!
Me, myself? I'm a hearing aid user who uses SSE / BSL. My deafness is the result of military service and exposure to loud noise, some forty years ago. The deafness being compounded by tinnitus. I'm constantly living through 120db of white noise. It's very tiring and can be very distracting. But what can you do?
I'm Brighton based and work as an Interim Manager – stepping into organisations that require a quick and ready solution to a particular problem. It could be the need to provide business continuity during maternity cover or perhaps the requirement to look at a new three-year strategy. Recent interim roles have included the Chief Executive role at MediCinema – a registered charity that provides cinematic experiences for patients in NHS hospitals; Head of International Affairs for the Royal College of Paediatrics and Child Health; Head of International for the Royal College of Physicians. I'm currently working in the NHS as an Interim Director, charged to merge a number of NHS Trust charities into one single and overarching concern. It's challenging and exciting in equal measures.
2. What drew you initially to pursuing a career in international development?
As with most things it wasn't planned. During the 1992 – 1995 Bosnian war, I saw an advert for delegates to join the International Red Cross. They were looking for a number of specialities – tracing, protection and logistics. I just happened to be in the right place at the right time and before I knew it, I was being briefed in Geneva before onward deployment to Zagreb in Croatia. There I worked as a logistician as part of an EU funded humanitarian aid programme – overseeing the distribution of aid across Croatia and then, at a later date, Bosnia. It was a horrendous time and watching the conflict unfold in Ukraine, takes me right back.
After the Red Cross, I joined the Manchester-based Mines Advisory Group as their programme manager for South-East Asia and then Angola; leading on the design, implementation, monitoring & evaluation of landmine and unexploded ordnance clearance programmes. Much of the work involved training local capacities to clear land of the silent and hidden killers and getting communities back into work after conflict. During the 1999 Kosovo emergency, I was part of a team that looked to respond to the clearance of the many sub-munition bomblets that had been dropped by NATO forces in their offensive against the Serbs. Those were long days. Thereafter, I moved into senior management roles in other global health and development organisations before stumbling into my current NHS role.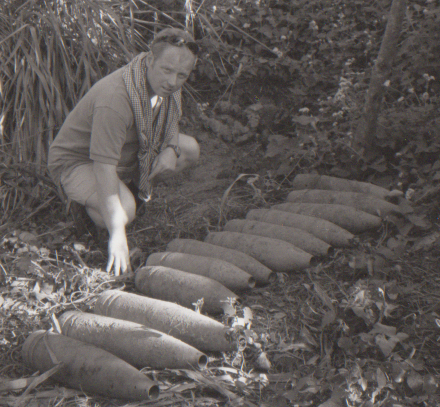 3. What inspired you to establish DeafKidz International and how did you draw on your previous experience in doing so?
DeafKidz International came about as a result of my experiences as a board member of War Child UK. There, the staff team flagged up to me that deaf children in a school for the deaf were being sexually abused. They wanted to know what they should do. How could they communicate with these children and ensure their protection? I didn't have answers for the War Child team, so it was clear to me that there was a gap. How do we ensure deaf children are protected from physical, sexual, emotional abuse and neglect? How do we make sure that existing child protection agencies – UNICEF, Save the Children etc – are inclusive to the needs of deaf children? Responding to their communication needs – sign language, sign supported spoken language etc – as required and appropriate? How do we reduce the risk and vulnerability to abuse that can occur in fragile states or where conflict has occurred?
To think through these questions, I consulted with a number of thought-leaders – Chris Underhill of Basic Needs; Martin McCann at Redr; Mark Waddington at War Child UK and Craig Crowley at Action Deafness. Together, we scanned the horizon to see who was out there working to safeguard and protect deaf children – there was no one. Yes, there were organisations working on accessing education for the deaf in low resource and developing settings, but no one specifically focusing on ensuring the protection of deaf children and young people. So that was it: there was an evidenced gap and DeafKidz International was the response. A response that quickly gained traction with both donors and partner organisations who recognised that here was a constituency that they had previously failed to reach or include. DeafKidz International has, therefore, found itself to be both a facilitator and enabler – pressuring the global child protection community to demonstrate its commitment to this previously hidden and hard to reach group.
Indeed, within a very short space of time, and in partnership with Comic Relief, DeafKidz International found itself in South Africa and Jamaica, working to develop capacities that enabled deaf children and young people to reduce their risk and vulnerability to abuse. Empowering deaf children to say 'no!' to abuse. Working with families to empower them to communicate with their children, to love and embrace rather than reject. Supporting the development of clinical, social welfare and criminal justice pathways that enabled the victims and survivors of abuse to access support. Also, developing specific programming aimed at addressing the nightmare of gender based violence. From these beginnings, and with the dedication of stalwarts such as Stuart Harrison and Emma Gilbert, DeafKidz International grew into the organisation that is today. Recognised by the UK government and academics alike as the global leader for the safeguarding and protection of deaf children.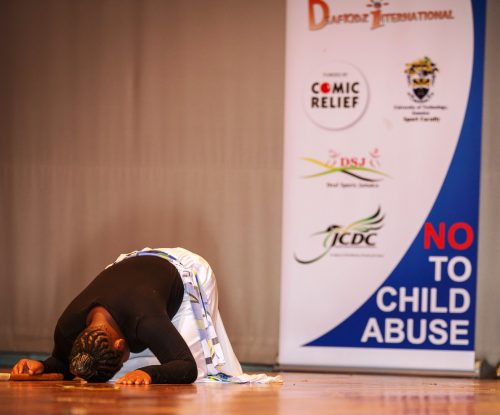 4. Do you see the situation for deaf children and the challenges they face improving and what can people do to help and support this cause?
Deafness is the third largest disability globally but the least resourced. Due to a lack of screening programmes, many deaf children go undiagnosed. As a result they are never actually seen as deaf but rather 'backward' or 'stupid'. This leads to marginalisation and, therefore, at an increased risk of abuse. Invariably, due to stigma, this abuse is often condoned and legitimised within the community. In short, 'it doesn't matter – because they aren't normal, they can't tell if I kick them, rape them, bruise them. No one cares'.
But we care! Our work has shown that the abuse and exploitation of deaf children is endemic, with deaf children three times more likely to experience abuse than hearing children. To challenge this dynamic, we need to empower deaf children to recognise their vulnerability and resource them with the vocabulary and means to self-assert and self-represent; to say 'stop, this is my body, no!'
Drawing reference from the UN Convention of the Rights of the Child (UNCRC), the UN Convention of the Rights of People with Disabilities (UNCRPD) and the Sustainable Development Goals (SDGs), DeafKidz International works to ensure that the rights of deaf children to be safe from abuse are realised; that through accessing an integrated pathway of care deaf children can be who they want to be – respected and fulfilled, living their lives safely and without fear of abuse. This pathway comprises: protection from harm; access to sign language and communication support; access to quality ear & hearing care (including hearing aids that work); equitable access to education; and gainful livelihoods. Whilst we've some improvements as a result of our programming, we've some way to go.
Deafness is invisible, it is hidden and so people pass it by. There are so many inequities that need addressing, such as sign language learning being a hobby in the developed west, yet access to language is a human right that is often infringed upon for deaf people in the global south and other areas. Even the most basic human rights of being safe, having shelter and being protected by those in authority are lacking. This has to change.
5. Is there a need for young deaf people to join your field of work and if so what steps can they take?
The greatest advocates for the protection of deaf children is the global deaf community itself, including deaf young people themselves. These are our children and if we don't stand up for the rights of our deaf children to be safe, then no-one will.
Yet, it exasperates me, for example, how little interest the UK deaf community shows in protecting its children. Every one of us has a role to play – in ensuring that deaf children know they have right to be safe; that they should not experience physical, sexual, emotional abuse and neglect; that victims and survivors of abuse have a right to access support in their communication mode of choice. I would expect all of us to stand up and call out abuse and this includes historical sexual abuse of which there has been plenty. The abuse of deaf children in schools for the deaf is a modern-day scandal that needs addressing. But we can only do that if people come forward to the likes of the Truth Project. This, in turn, will generate greater awareness, that the abuse of deaf children is simply wrong, very wrong, and that it can never be allowed.
In addressing the outrage of abuse, DeafKidz International works through a small staff team and a network of global consultants. This network includes specialists in protection, ear & hearing care, programme design and evaluation. Whilst we are a joint deaf / hearing team, I want to see more deaf young people being part of our work; because it is the confident and assured young deaf person – assured in their in their identity as deaf and, perhaps, as sign language user – who is the best possible role model for children in settings where deafness may not be so accepted.
To this end, we will shortly be launching an internship programme where young deaf professionals will be able to join us. This is aimed at enabling those who wish to work in the protection, humanitarian and development space to acquire experience and skills in a safe, total-communication environment. An environment that allows those who are interested in our work to contribute their energy, time and motion to our programming. We're still working out the details, but expect an announcement in the summer once we have confirmed details with our academic partner.
6. Your work is centred on the safeguarding and protection of D/deaf children globally – what changes do you see as vital – either socially or legally – to bring real change?
Continued advocacy on behalf of the rights of deaf children to be safe from abuse is essential. This is an area the DeafKidz International team is pushing – working with donors, partner NGOs, partner deaf organisations and nation state governments to advocate on behalf of deaf children who, ordinarily, would have no voice.
Scaling is also important and so DeafKidz International has been working to develop some innovative new digital technologies which can be scaled. This sees us disseminating protection messaging through partner networks such as the UNICEF Global Partnership to End Violence and Child Helpline International – a network of 179 child helplines.
We're also looking now to establish country offices – South Africa and the United States being just two – and these will give us additional leverage and network. Locally managed initiatives through which we can cascade our programming; building child protection capacities that can make a real and long term difference.
We also need to be agile in our work to respond to changing threats. The challenge of online abuse – grooming, sexting etc – is one, as is the need for deaf children to access protection during humanitarian crisis such as the current conflict in Ukraine. Working with the likes of the We Protect Global Alliance, DeafKidz International has focused a lens on the susceptibility of deaf children to online abuse – that due to a lack of vocabulary, the desire to be 'liked', to be part of a group or something, they may easily fall victim to online abuse. So, we're working to ensure that global programming to address the outrage of online abuse is inclusive of the communication and access needs of deaf children.
The same goes for accessing protection in humanitarian crisis. A DeafKidz International assessment team is shortly to deploy to Moldova and Romania, where it will work with a number of partner INGOs to ensure that deaf children and young people are safe from harm. The particular focus in this instance being children that were previously in orphanages – an environment where deafness goes undetected – and whom are at risk of trafficking; being lost to care during the confusion of a multi-faceted conflict such as the invasion of Ukraine.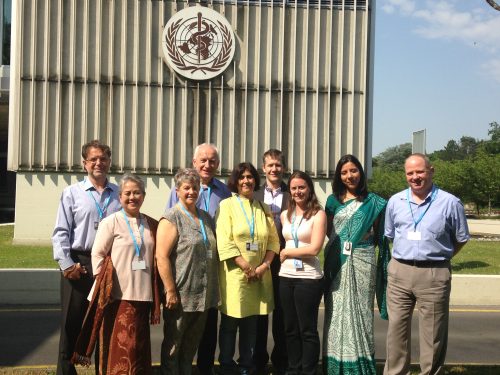 7. What do you love most about your work?
I like getting things done and as we look to DeafKidz International's 10th anniversary in 2023, I'm pleased to see that we've built a safeguarding and protection capability that has gravitas, is sustainable and resilient. But we've loads more to do.
No deaf child should have to endure the agony of abuse and we'll continue to develop innovative and scalable solutions until we're done. It's critical we shift attitudes and I'm reminded of an instance in Pakistan when I found myself in front of a number of anxious grandparents, parents and guardians – arranged around me with their deaf charges at their feet. 'What's the future? What can these children do? 'It's pointless isn't it?!' I let rip, in sign supported English; 'These children are what you want them to be; love them, care for them, embrace them. Cherish them; through these children realise YOUR dreams….' There was silence in the room till one elderly grandparent reached forward to her charge and hugged them. Then animated chatter began, as the adults began to engage the children. I think in that instance, in rural Gujrat, some attitudes changed.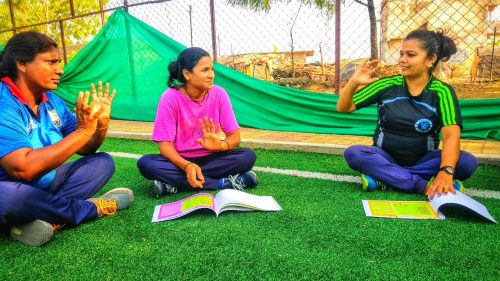 8. Who inspires you and why?
The DeafKidz International team – Kavita Prasad, Jaz Mann, Tanya D'souza, Gemma Twitchen, Steve Early, Miranda Bentley, Bhavisha Parmar, Stuart Harrison and Chris Underhill. Deaf and hearing working together, united in a mission to ensure the protection of deaf children.
9. What ways do you think hearing people can be allies to the deaf community? Any DOs and DON'Ts?
In these cases of protection and safety, it is imperative on everyone that if you see or learn of the abuse of deaf children – call it out. You have a duty. A large part of being protected is having a sense of self and of esteem. It is very easy to side-line deaf people and diminish their position in the room – that is true whether they are an abused child overseas or a deaf professional using an interpreter in the UK. Talk to the deaf person, not the interpreter! Not only can it reduce the deaf person's standing in the room, it is just also just so annoying.
As we have mentioned, access to language is a privilege many do not enjoy. If you have the opportunity to see sign language, don't treat it as something playful. Don't say that 'sign language is amazing, I wish I could learn' – go ahead and learn. It is interesting and enlightening and one day you could use it to protect, empower or support a deaf person.
10. 3 top tips for deaf people?
Never let deafness be an excuse for not doing something.
Volunteer for everything – you'll be surprised what can happen.
Don't be afraid to go sideways to get the experience or opportunities you want.
To read more inspirational role model interviews, take a look here. If you would like to be an ally to the deaf community and learn sign language, check out our courses here.
Looking for more support? We've made it our mission to improve the lives of deaf people everywhere. Check out Deaf Unity's projects to find out what we can do for you. If you'd like to get in touch, contact us here.