2022/3 seems to have been a hot period for signed languages and British Sign Language (BSL) here in the UK. There were so many different highlights with court cases being fought, legislation being passed, more interpreters on our screens, all of which saw BSL move from a niche to a mainstream topic.
Families Learning BSL
In the area of language learning, there have been petitions to the government on behalf of families of deaf children to make BSL learning free. Learning any language is a commitment not only of time, but of resources, and that is certainly true of BSL courses. With introduction courses costing anywhere from £100-250 and Level 1 courses costing from £200-500, the idea of paying so much money to be able to communicate with your child, sibling or family member feels galling! There is also talk of a new BSL GCSE but people cannot wait until they are choosing subjects at 13 years old to start learning to communicate with their family. We are thrilled to share that Deaf Unity has won funding from the Greater London Authority to be able to offer an accredited Signature Level 1 BSL course and exams for absolutely no cost!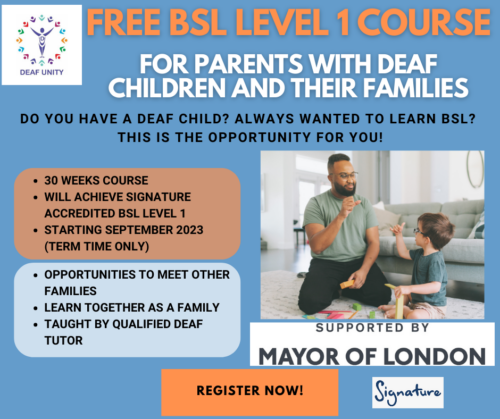 Immigrants and Refugees Learning BSL
It's not just families who might find themselves suddenly needing to learn BSL if a child born into the family is deaf or becomes a part of the family, it is also those who are deaf who have moved to the UK. For many deaf people, this might be optional choosing the UK as their new home and immigrating, but for others, they have been torn from their homes and their language and find themselves in a new place where they don't know English or BSL. They are effectively barred from the deaf community as well as the mainstream community.
Again, we are thrilled to share that we can also offer an accredited Signature Level 1 BSL course and exams for absolutely no cost to a cohort in London!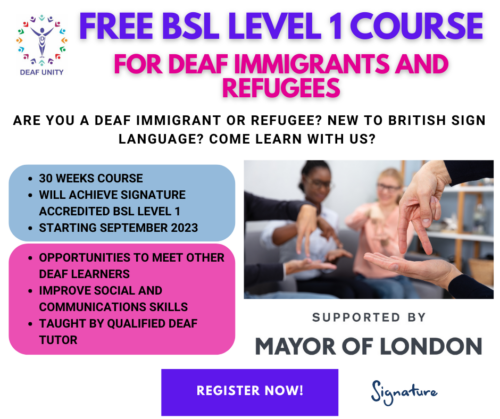 We know the government needs to do more for these groups, as well as the large national deaf organisations. Until they do, we are honoured to be able to offer these courses free of charge thanks to the support of the Mayor of London. Hopefully, other cities and councils will step in and support deaf organisations to offer similar courses.
How to join the course?
The course has now started but we have few more spaces on immigrants and refugees course. If you would like to join please contact us using this form.
Let's continue to work together to build bridges and remove barriers for everyone in our communities.
Looking for more support? We've made it our mission to improve the lives of deaf people everywhere. Check out Deaf Unity's projects to find out what we can do for you. If you'd like to get in touch, contact us here.