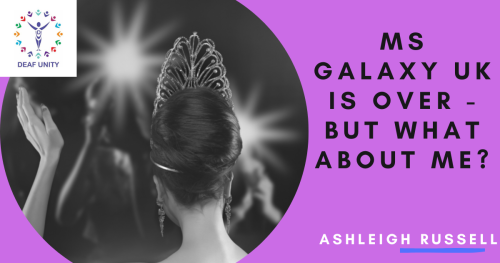 Ashleigh Russell is a deaf writer and content contributor but also following an exciting journey competing in Ms Galaxy UK! Her Ms Galaxy UK journey has come to an end, but this is not the end of the road for her! 
I've recovered from the pageant hangover of Galaxy UK and so thought it was time to do a write-up on my experience as a deaf contestant.
Did being deaf affect yous placing in the competition?
If you asked me, 'Did being deaf affect my placing in the competition?', I'd give a resounding, 'No'. The organisers, Pageant Girl UK, were fantastic. They were very aware and accommodating to everyone's needs. I didn't miss any important announcements, any choreography, or any instructions because the team made sure that they could be seen and heard throughout the day. I didn't anticipate how much more at ease it would make me feel to have people say, 'Can everyone hear me?' when they were speaking.
One part of the day that I was extremely nervous about was interview. In the Galaxy UK system, your interview is worth as much as the other rounds and it's only three minutes long so it's important to get it right. Not knowing the acoustics of the room, forgetting my hearing aid, and not being familiar with the judges, were all things playing on my mind as I walked into the interview room. I let the judges know that I was deaf and that I may need them to repeat questions. Thankfully, everybody spoke clearly and I didn't miss anything.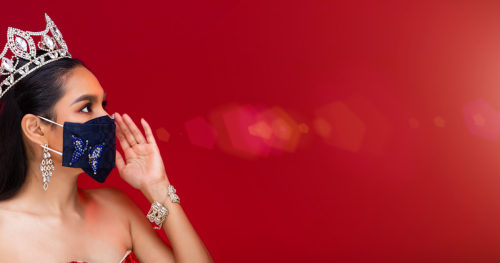 Once the interview was out of the way, I thought that it would be plain sailing! But that wasn't quite the case. There is a lot of hustle and bustle and running from one place to another backstage, so everyone has to be alert to make sure cues aren't missed. It could easily be overwhelming for some, and had I remembered my hearing aid, I would have taken it out once the show started as it would have been little use with the music and background noise.
Therefore, being deaf didn't affect my placing in the pageant, but it did have an impact on my journey, my preparation, and my experience. Doing Galaxy UK has allowed me to connect more with the deaf part of myself and find my place within the deaf community. Every day I am learning more about what being deaf means to me and how I can make an impact as a deaf person.
On Reflection…
My time as Ms Rotherham Galaxy may be over but my pageant journey has only just begun. I wanted to get the message out there that the only thing deaf people aren't able to do is hear as well as others, and that we are no less intelligent, capable, or creative. I will continue to use my pageant platform to educate others and raise awareness of the issues deaf people face.
Embracing my deafness has been the most rewarding part of my time as a pageant finalist and I'm hoping to continue to push boundaries and break barriers to help people in the deaf community be heard.
Go back and catch up on Ashleigh's journey on her Instagram @msrotherhamgalaxy and via her hashtag #myeyesaremyears. Ashleigh Russell is a deaf writer and content contributor. To see another article by Ashleigh about embracing her deaf identity, click here.
Looking for more support? We've made it our mission to improve the lives of deaf people everywhere. Check out Deaf Unity's projects to find out what we can do for you. If you'd like to get in touch, contact us here.