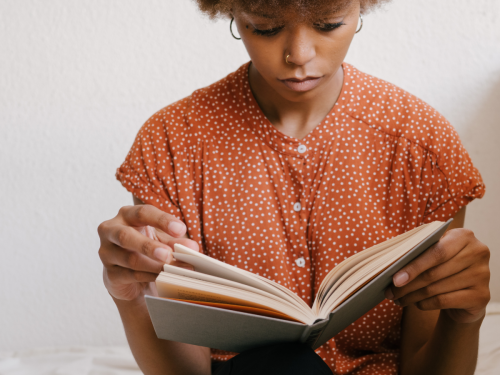 Looking for a good book to get stuck into? We've got a few suggestions.
Whether you're looking for thrills, romance or history – here are some must-read books for deaf people.
1.Flying to the Light – Elyse Salpeter
If you love a thriller, look no further.
'Flying to the Light' by Elyse Salpeter features two brothers, Michael (the eldest) and Danny, who find themselves in mortal danger after their parents are kidnapped. Danny is deaf, and possesses a special gift that makes him a target for power-hungry villains. Together, the two must outrun and outwit their pursuers.
Boasting great reviews, an exciting plot and a mix of the 'real and fantastic', Salpeter's novel is a must-read.
We spoke to author Elyse Salpeter, who said:
'Flying to the Light is about a young deaf boy, named Danny, who knows about the afterlife and now people are after him for the answer. When I wrote this book, it wasn't to showcase a disability. Danny's Deafness is simply a part of who he is and his family all uses ASL to communicate with him. It's a fast-paced thriller and I believe people will enjoy the interaction with Danny and his older 17 year old hearing brother, who has to grow up fast to keep both him and his brother safe.'
2. Flying to the Fire – Elyse Salpeter
Why stop at volume 1?
Good news for those who love a series to get stuck into, 'Flying to the Light' has a sequel, which promises to be just as gripping as the first.
On this novel, Elyse said:
'In my next book, Flying to the Fire, I wanted Danny to be more of a main character. So, he plays a much bigger part in driving the story. I spoke to a lot of students in deaf schools in order to make sure I was more accurate and learned so much from them. In the end, these books have a supernatural take on them that I think readers will enjoy.' 
We also hear there's a third on the way… Watch this space.
3. Signs of Attraction – Laura Brown
A powerful glimpse into the world of hearing loss, combined with a love story. Sound up your street?
Author, Laura Brown, is hard of hearing, , and has used hearing loss as the inspiration behind her characters.
What's the book about? A hard of hearing college student (who has hidden her deafness all her life) falls in love with a deaf guy in her class, who helps her come to terms with it.
If you think this is just another light-hearted romance, think again. There are also some darker elements to the plotline, and it's definitely one you'll find hard to put down!
4. Finding Zoe: A Deaf Woman's Journey of Love, Identity, and Adoption – Brandi Rarus and Gail Harris
An inspirational story based on real-life events, 'Finding Zoe' by Brandi Rarus and Gail Harris is set in America, and tackles dealing with life's difficulties – and hope.
Brandi Rarus lost her hearing at six years' old due to spinal meningitis. After becoming Miss Deaf America in 1988, she met her husband and went on to have three hearing boys. But has always dreamed of having a daughter.
Could Zoe, who was recently put up for adoption, be the answer to her prayers?
5. Five Flavors of Dumb – Antony John
Anthony John's 'Five Flavors of Dumb' is the winner of the American Library Association's Schneider Family Book Award, and shortlisted for ten state book awards. It follows the story of Piper who is challenged to get into her school's popular rock band, Dumb. If she does, she can become their manager.
The only problem – they're not the most talented bunch, and Piper is deaf.
This might sound like another teen school drama, but it's peppered with complex characters and engaging dialogue, which make it really authentic. And, if you're in the mood for belly laughs, this is a great read for you.
6. Seeing Voices – Oliver Sacks
Ever wondered about the origins of sign language? Looking for an introduction to Deaf history? Grab yourself a copy of 'Seeing Voices'.
This incredibly interesting book by Oliver Sacks delves into the background and culture of the visual language, including what it teaches us about the way hearing people communicate.
7. Deaf Empowerment – Katherine Jankowski
'Deaf Empowerment' by Katherine Jankowski focuses on the social changes pushed forward by the Deaf community within the last two centuries. And, examines the struggle of acceptance for deaf people within the hearing society.
It's an evocative book that starts at the beginnings of communication and goes right through to the huge societal changes in the 60s and 70s.
If you're interested in society and cultural change within the Deaf community, this comes highly recommended.
This article was written by Heleana Neil, who works in Marketing. Passionate about all things content, Heleana can be found writing in her free time, as well as for a living.