Between January and July 2021 we ran a first-of-its-kind digital series – Deaf Futures – focusing on Education, Employment and Well-being in the Deaf Community. This series of interviews and presentations was a testament to the depth of expertise and inspiration within the Deaf Community and we were thrilled to have so much support. We are pleased to now offer the fully-accessible content to our full audience via this portal page. Alternatively, visit our YouTube channel and search the Deaf Futures playlist.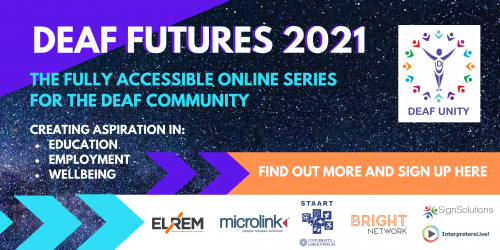 Click to view the full videos.
UCAS Personal Statement Masterclass
Heather Judd is a specialist advisor from West Kent College. Here she gives targeted advice to those filling out UCAS forms and going through the process for the first time. This information is valuable now and in the future for those applying in the next round. Students, teachers and advisors will all benefit from watching. Watch the full presentation:
Heather followed up this presentation with additional advice on Next Steps, such as Clearing and fielding offers.
BrightNetwork – CV Masterclass
Shelly O'Gilvie is an advisor from one of the leading organisations giving support to graduates. We have partnered with BrightNetwork to provide critical support to new and recent deaf graduates now entering the jobs market. In this packed presentation, Shelly shares industry secrets on how to craft your CV into a best-of-class example. Want to stand out from the crowd? Enjoy the full video:
Bilingualism and Creating a Thriving Learning Environment
Frank Barnes School for Deaf Children is the country's leading school following a bilingual approach. The school is a model in creating a rich and BSL-immersed learning environment. Head Teacher Dani Sive joins our Trustee, Paul Ntulila, to discuss the school's philosophy and how they have responded to the pandemic and remote learning.
Domestic and Sexual Violence in the Deaf Community – *Trigger Warning*
Vicky from Sign Health's Domestic Abuse Service discusses this sensitive but vital topic. She discusses the real dangers and issues that people face and how this is compounded for the Deaf Community. She outlines the various avenues of assistance and support that are out there. If you or someone you know are experiencing this situation, please do seek help. *Trigger Warning*
Intersectionality Through the Deaf Lens
This fascinating discussion with Abigail Gorman delved into the fascinating topic of intersectionality and how this relates to the Deaf Community as a whole, as well as the cross-overs between the various communities in society whilst being Deaf. There are many groups for many different identities, but which does a Deaf person align with and are they ensured access. Enjoy the discussion!
Applying for and Accessing Access to Work
Here, Adam Breeze takes you through the whole process of applying for ATW and demonstrates each stage of the process, demystifying the whole world of ATW. This is a really valuable presentation if you are new to ATW or are thinking of applying for it. It is also useful if you are a manager who is responsible for counter-signing to understand the whole process.
Personal Independence Payments
Mark Shrimpton is an expert in advising and supporting people through the PIP process. It can be confusing if you are applying for PIP for the first time or are migrating from DLA. Mark takes you through the first stages of making an application and shares his wealth of expertise with us.
Mark followed up this presentation with an explanation of what happens if you need to appeal a decision or go to a tribunal.
Appealing PIP Decisions
As a follow on to the above presentation, Mark covers the angle of appeals and tribunals and ensures you are equipped to make your case.
BATOD: Deaf Education – Lessons Learned
Martine Monkfield shares insights from the British Association of Teachers of the Deaf's work and brings the lessons of the past to the hopes for the future. She explores the changes in education policy and what needs to be done to ensure equity for deaf learners going forward.
Entrepreneurship – Starting a Business and Equality in the Workplace
At 00:25 Alan Reed, Chief Operations Officer at ELREM provides a masterclass in entrepreneurship and creating a business. This will be valuable information for professionals, students, jobseekers – in fact anyone with a passion or a hobby they would love to do for a living! Alan walks us through turning an idea in to a business, building a brand, advertising and websites, navigating Companies House, HMRC, Self Assessment, and much more. 
At 24:38 Marije Davidson, Equality and Diversity adviser at St John University shares her advice for finding the most inclusive employers, knowing your working rights and starting a conversation around deafness with potential employers. 
Entrepreneurship – Access to Work and Freelancing
Alan Reed (ELREM) returns to deep dive into Access To Work, discussing: – How to apply for ATW under the status of self-employed and what documentation you'll need – What's included with ATW standard support – How to access invaluable, dedicated business consulting services, mentors and business communication support with your ATW budget.
Deaf Role Models – Championing Deaf Leaders and Motivating Deaf Youths
Abdi Gas, of Deaf Unity, met with Robert Adam – an inspirational deaf leader with an international portfolio of work and life. They discuss the need for deaf role models, how they were impacted – positively and negatively – in their own youths from access to role models and education, and how this can be improved for the next generation
Dawn Butler, MP also expresses her support for championing deaf leaders and the role that government should play.
JAZZY – Building an Online Community
A warm and intimate interview with Jazzy – deaf YouTube sensation – discussing her dive into the world of social media and influencing and how this has brought her family together and enhanced her appreciation for her deaf identity. An inspirational watch!
Deaf Futures 2021 was made possible thanks to a host of supporters, including: Microlink PLC, BrightNetwork, STAART, SignSolutions and InterpretersLive and ELREM!

Would you like to demonstrate your commitment to inclusivity, accessibility and allyship? Consider becoming a sponsor of our Deaf Futures 2022 Series or our overall work. Get in touch or visit our Virgin Giving page.
Take a Look
We also feature monthly Role Models from the Deaf Community and regular engaging articles – take a look.
Want to learn sign language? We offer high quality, competitively priced courses. We can tailor courses to your needs – get in touch!