Deaf Role Model of the Month: Brian Kokoruwe
Published: Jul 23rd, 2020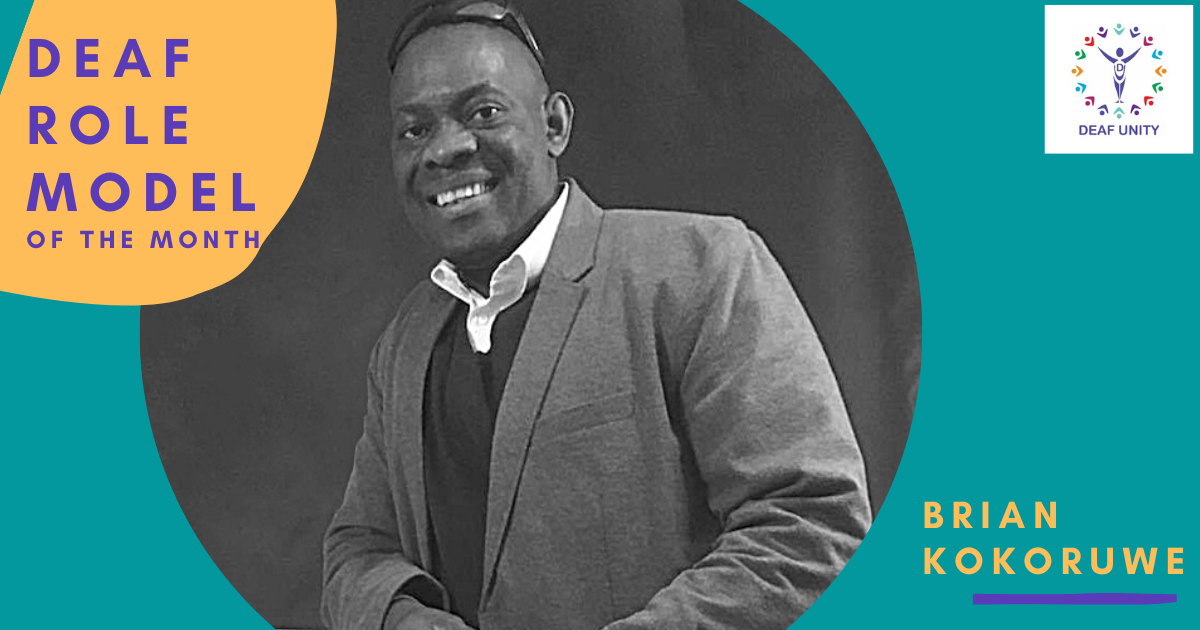 Each month we invite an inspirational or outstanding deaf role model to share their story.  From what they've learnt, to what they wish they'd have known and their best deaf tips. 
This month, meet Brian Kokoruwe. Profoundly deaf sportsman and budding autobiographist. Passionate about both sport and studies, the incredibly talented Brian has represented Great Britain in deaf athletics, and went on to manage the deaf GB team whilst successfully completing four degrees.
Recently, he's written about his interesting upbringing and accomplishments in an autobiography, and plans to release a second book next year.
1. Hi Brian! Tell us a little about yourself:
I describe myself as profoundly deaf. I was born hearing but became deaf through meningitis at 13 years old. At school I struggled with communication challenges, as it took me a while to come to terms with my deafness and get the support I needed.
I always loved sports and have taken part in judo, football, athletics, karate, boxing and kung fu. I've represented Great Britain in deaf athletics, and I've managed the GB deaf team too. During my career, I've also completed 4 degrees.
Now, I try hard not to see myself as a deaf person, but just a person like everyone else. One who faces different challenges to others.
2. How do you communicate with your family and friends?
My family don't sign, so at home I speak and use lip reading. With my deaf friends, I sign in which ever sign language they prefer – I can use BSL, Sign Supported English and International Sign Language too.
3. Tell us about your experience of BSL – how you learnt it and why?
Before I became deaf, I was living in Nigeria and I'd never met a deaf person or seen anyone using sign. My family didn't have any knowledge of deafness or sign language either.
I was brought to London to treat my deafness, and for a long time I didn't meet any other deaf people. When I was placed in a Partial Hearing Unit (PHU) at school, sign language wasn't allowed, so after school when I was introduced to a deaf club, I was shocked to see deaf people signing.
I thought learning to sign would be really hard, so I didn't learn until after my first degree. That's when I decided I wanted to belong and engage more with the deaf community.
4. Did you learn Nigerian Sign Language?
Many deaf Nigerians use American Sign Language (ASL), but I didn't stay in Nigeria long after I lost my hearing, so I didn't meet other deaf people.
Recently, I've been traveling to and from Nigeria and have met a few deaf people, so I'm trying to learn their sign language so we can communicate better.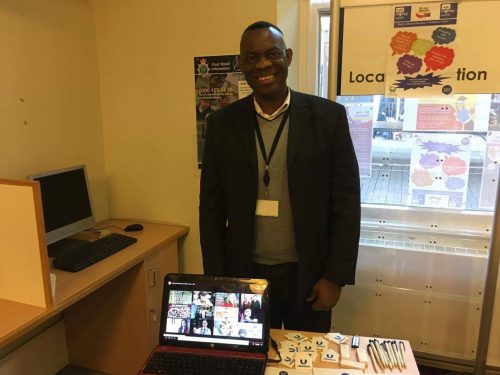 5. Congratulations on publishing your autobiography! – Why did you decide to write it and how did you find the process?
My colleagues encouraged me to write an autobiography because they were fascinated by my (at times challenging) upbringing.
I thought it would be difficult to write a book, and I was right! The biggest challenge is knowing where to start, what to say or not say, and how to structure it. Motivation to get the writing done was tough too. I did it as a hobby without deadlines, so it tended to be pushed to the bottom of my to do list.
I started writing in 2000, typed about 10 pages, then stopped for several years because I was too busy with work, education and sport.
After a bit more encouragement from my colleagues, I started writing again in 2018 and slowly finished the book in 2019. I was excited when it was done.
I've just finished the sequel to my first book, which I'm hoping to release before Christmas 2020.
6. How did you get involved with the GB deaf team?
I was an active member of the athletics clubs at my school, college and university, but I realised that although I did well against hearing competitors, I lost vital seconds at the start of a race from not being able to hear the gun.
At my local deaf club I found a poster for the GB deaf athletics training weekend, and sent a letter to the team manager who invited me to join.  At that first weekend, I was deemed GB ready, and was picked to race for the team in Berlin.
7. What was it like managing the GB team?
It was an honour. Sadly though, the team wasn't well supported financially at the time, and athletes had to pay to represent GB which impacted participation and standards.
I took over managing the team when there was only one athlete, and worked hard to promote, recruit and train deaf athletes up to GB standard. Some went on to break British, European, World and Deaflympics records. Others won bronze, silver and gold medals at deaf international events. I'm so proud of them.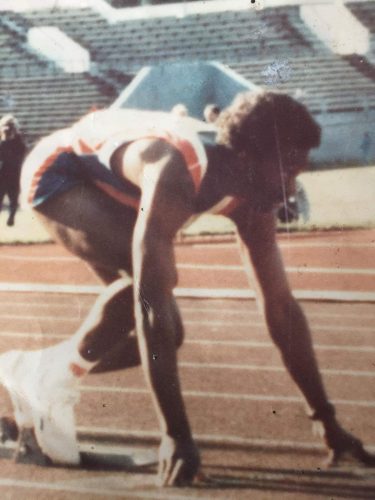 8. How does being deaf affect your sporting ability?
In sport, being deaf can be barrier. Most coaches aren't deaf aware, so deaf people are often under supported and may miss important training advice. There's also a lack of deaf only sports clubs, so deaf people tend to join hearing clubs where they can be at a disadvantage.
For example, deaf runners might take longer to respond to a starting gun, which impacts their ability to show off how they can perform. It's also why there are less opportunities for deaf runners to reach elite level in mainstream events.
I think coaches need better training so they can provide equal access to deaf and hearing individuals. Very few deaf athletes have represented their countries main events, but in deaf sport, they're world record holders.
9. What's your advice for young deaf people who want to get involved in sport?
Follow your dreams, aim high and don't let deafness be an obstacle.
Be clear to coaches about your hearing loss, and let them know if there's anything they can do to make sessions more accessible for you. I asked my coach to write down the training plan and give it to me at the start of each session, so I knew the plan beforehand.
Above all, make sure you enjoy what you're doing.
10. Who inspires you and why?
When I was young, my father inspired me because he'd done so well in education. Because of him, I wanted to attend university and achieve good qualifications.
Other than him, I'm inspired by successful famous people like Mohammed Ali and Bruce Lee. They were both very committed and hard working.
One Bruce Lee quote that I will never forget is, "There is no help but self help!". It means that no matter how much other people want to help you, you have to be willing to help yourself. You need to be clear in what you want to achieve, then go for it one step at a time, whether that's alone or with support from others.
11. What deaf resources or support have you found the most useful?
Through education, Communication Support Workers (CSWs) helped me cope in mainstream schools. In the workplace, Access To Work sign language support workers helped me communicate with my hearing colleagues.
At home, I find accessible alerting systems that flash or vibrate very useful.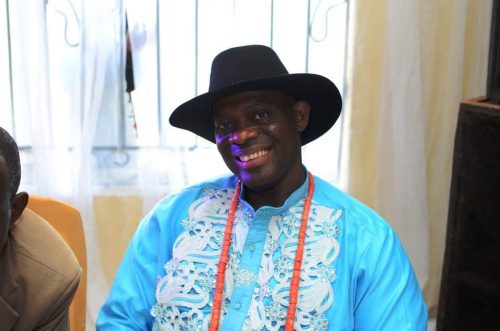 12. What do you do to look after your mental health? What advice would you give to anyone struggling?
To switch off from work and education, every now and then I go to the gym or leisure centre. I like doing classes like spinning, body blast, boxercise and free weights.
When I'm not in the gym, I try to go out for a run or walk.
Exercise is a good way to take your mind off the daily chaos and stress. If you're not big on the gym or running, try other things like going for a walk or cycling.
It's also a good idea to take regular breaks from work, studying or anything that causes you stress.
13. What ways do you think hearing people can be allies to the deaf community?
I think hearing people can be allies by interacting more with the deaf community by learning sign language, volunteering or working with deaf people.
The more a hearing person liaises with deaf people, the more they understand deafness, and the barriers that deaf people face. Hearing allies can help remove these barriers to create a more unified and accessible society for all.
14. What makes you proud to be part of the deaf community?
I'm proud to have proven that deafness shouldn't be a barrier to education, employment or the social aspects of life.
Through my own achievements, I've shown that deaf people can do anything they put their minds to.
Writing my autobiography was a key moment for me, I used it as an opportunity to encourage other deaf people to know that they can do anything too.
15. 3 top tips for Deaf people?
Ask for support as soon as you think you need it.
Never give up on your dreams.
Put as much efforts as you can to achieve your dreams!
Looking for more support? We've made it our mission to improve the lives of deaf people everywhere. Check out Deaf Unity's projects to find out what we can do for you. If you'd like to get in touch, contact us here.