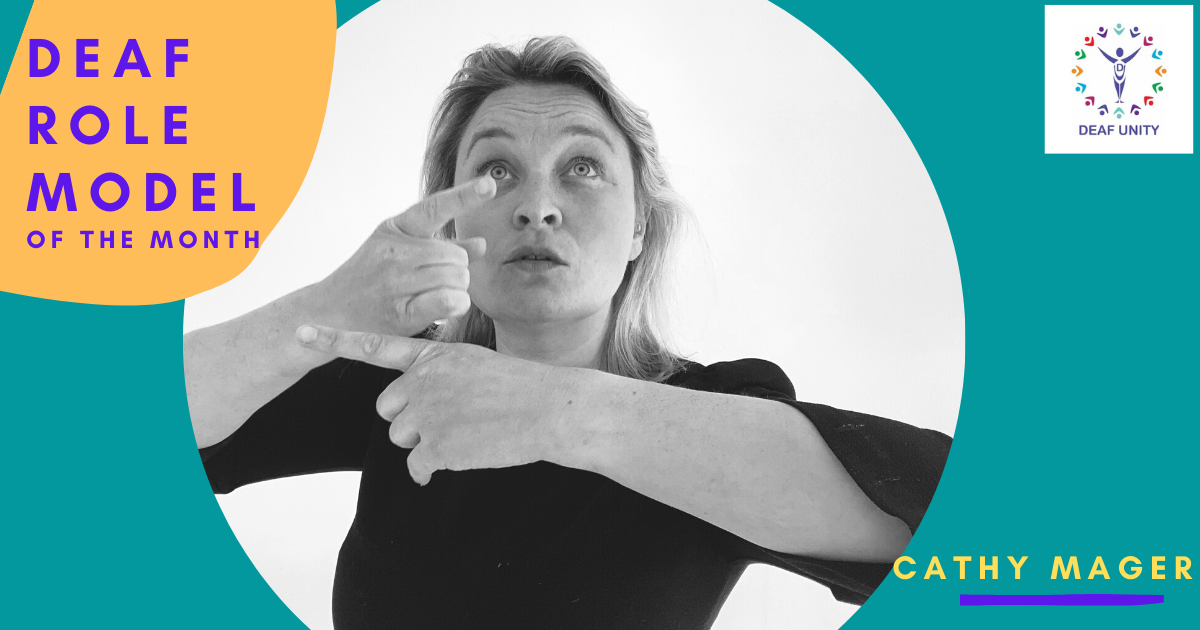 Each month we invite an inspirational or outstanding deaf role model to share their story. From what they've learnt, to what they wish they'd have known and their best deaf tips. 
This month, meet Cathy Mager, a deaf creative who has shone her light in the Arts working across visual art, film, fashion, literature, dance and live music. With a rich deaf history, Cathy brings a fascinating perspective and is an inspiration to so many. 
1.    Hi Cathy! Tell us about yourself?
I am a mother of two children and live in Bristol. I am also a freelance artist, curator and producer. I specialise in participatory art and public art. This means I curate art for public spaces and often invite people to take part in the making of the art. I have worked in visual art, film, fashion, literature, dance and live music disciplines. Sometimes this means people get confused as to what I do as my job description seems to change daily! But I like that its never the same and never gets boring. I work closely with engineers, historians, architects and ecologists too as many of the locations I work in are unusual and require a broad team of specialist knowledge.
I have led creative teams to deliver art events on rooftops, on rivers, in castles, train stations and in forests. Sometimes the events I lead are attended by thousands of people and the installations I curated for the London Underground were seen by millions of commuters. I am a 2021 Clore Fellow, a Royal Society of the Arts Fellow and I currently work in partnership with the Bristol Beacon and Forestry England. In 2020 I created Sign Night, a film for BBC Arts. I was also recently Artistic Director of the award-winning The Ring for Canal & River Trust. Previously, I have worked at Southbank Centre, Art on the Underground and Historic Royal Palaces.
2.    What is your deaf story?
I am the seventh generation in my family to become deaf, I have a deaf sister and a deaf mum. We are very proud of our deaf ancestry.
I was born hearing and then diagnosed with the deaf family gene when I was 5 years old. Although I was diagnosed at a young age, doctors, teachers and social workers didn't believe me when my hearing later began to rapidly decline. They thought I was making it up. Their theory was that because I was a CODA (child of deaf adults) I had been corrupted by sign language culture and sent me to a child psychologist instead of giving me hearing aids! They also, shamefully, lied to my parents and only admitted much later on they had made the wrong call. Eventually tests on my brain responses proved without doubt I had gone deaf. But even then it took a long time to get access to education support and hearing aids. Due to this, I ended up moving school three times in two years in three different parts of the country. I struggled with post-traumatic stress and depression in my teenage years as a result. Pursuing a career in the arts really helped me to lift me out of those dark days and find happiness.
As well as being deaf, I lived with chronic tinnitus for 28 years. My tinnitus was so loud it was like a Tube train crashing through my head. Sometimes it sounded like cannon fire and I would actually flinch in fear thinking there had been an explosion somewhere! My tinnitus became worse after the birth of my son in 2012. So a year later I decided to have a cochlear implant after reading that the operation helps some tinnitus patients. Whilst having a cochlear implant did not make me hearing, it did cure my tinnitus. So its ironic in a way that my cochlear implant gifted me with the sound of silence for the first time in my adult life.
3.    What is your experience of British Sign Language?
I signed from a young age. There's actually BBC footage signing to my mother in my kitchen at home when I was 3 years old. I first signed as a CODA then later as a deafened child, when I lost my hearing. My mother had many deaf friends so I have many happy memories of enjoying their stories in sign language around the kitchen table at home. One of my mother's close friends was the late Dot Miles, a BSL poet. Dot is someone who is an important inspiration as she lost her hearing at 8, a similar age to me. My mother also introduced me to a wide variety of deaf people who used BSL, SSE, or were hard of hearing and lip readers. My mother was always open to befriending deaf people from all walks of life no matter their choice of communication method.
4.    What was your experience of education as a deaf person?
I had a difficult journey in education, attending three different secondary schools. I moved from London to Hull and then to Northern Ireland before ending up at boarding school in Berkshire. I found maths and reading difficult at first. However, with hard work and support from some gifted teachers, I began to exceed expectations and became academically successful. I now have qualifications from four different universities.
5.    Have you faced any obstacles or challenges from being deaf and how have you overcome these?
For nearly 20 years now I have worked in so called "mainstream" organisations. I am usually the only profoundly deaf person in the companies I work with. I often felt I had to work twice as hard as my hearing colleagues to win people's trust in my abilities to deliver on my project or job. One strategy I adopted to overcome this was to regularly promote my work through my website or social media. This helped my professional reputation to grow and people became more aware of my depth of experience and skills. So its important not to be modest, celebrate your achievements and the achievements of other deaf people because this raises awareness that deaf people can thrive in a wide range of job roles.
6.    Tell us about Sign Night and what inspired you? Where did your love of art stem from?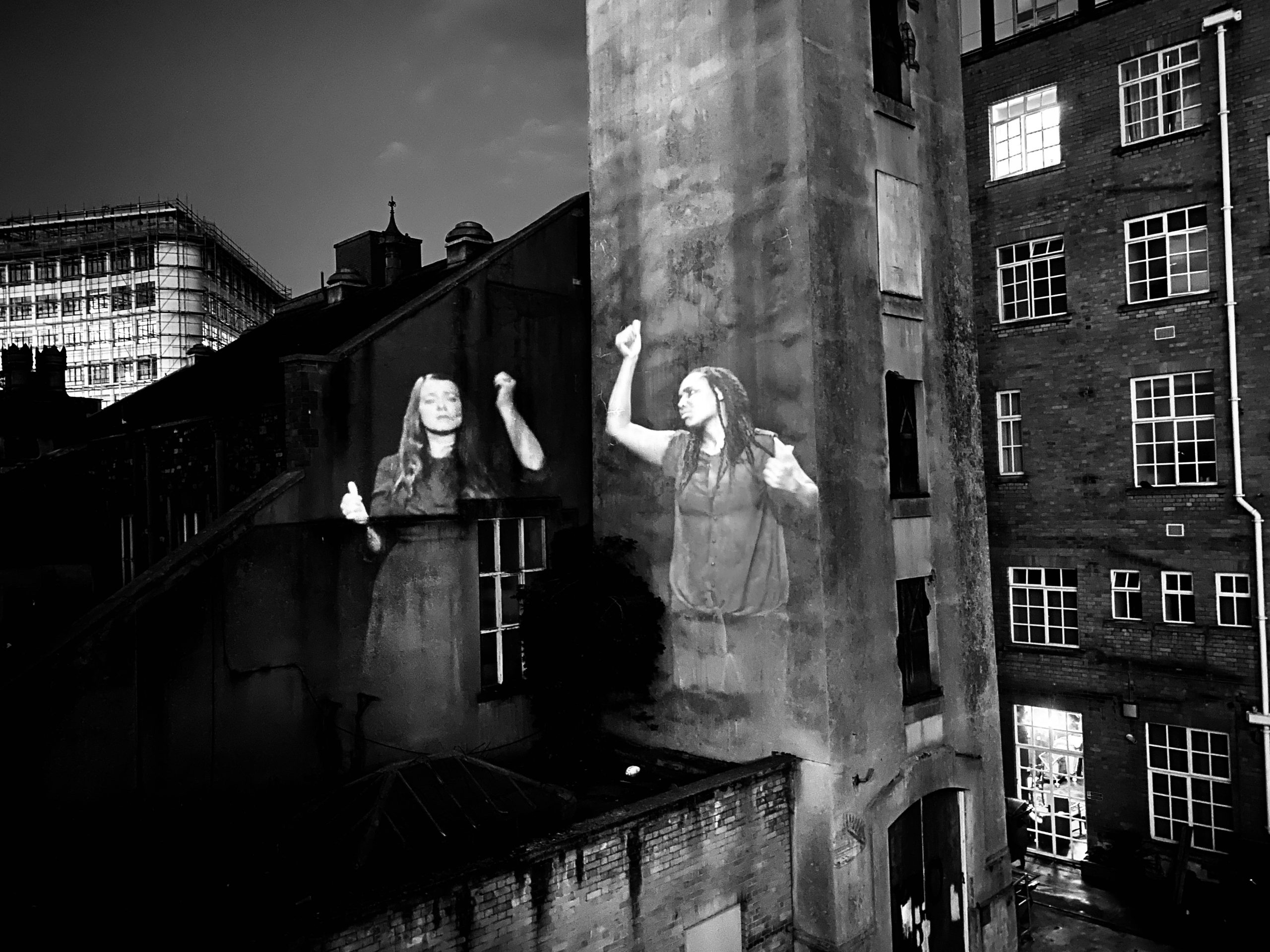 When I was at university studying art, I began to experiment with film projection. This inspired me to want to project the power of sign language – quite literally – onto public buildings. I wanted to raise awareness of the experiences of deaf people in the pandemic, but do it in a way that was uplifting and empowering, and gave people a sense of escapism. I was also inspired by deaf poets Dot Miles and Raymond Antrobus and John Lee Clark, a Deafblind US-based poet and historian. During lockdown I began to experiment with projection again and my neighbours let me project sign language videos onto their houses at night! Thanks to Culture in Quarantine funding I was able to work with Vilma Jackson and Sophie Stone. I have been massive fans of their work for years and it was a dream come true to collaborate with them.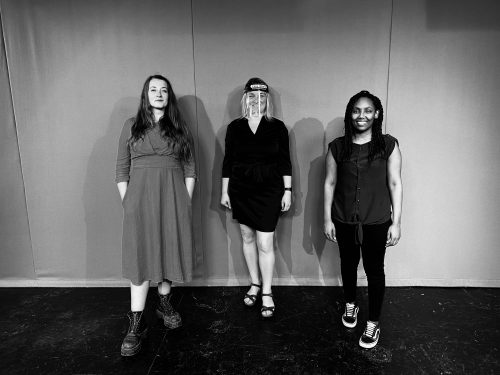 My love of arts activism comes from the influence of my father and mother. My father is an eco-architect and my mother was very active in the disability arts movement. Through these experiences I learnt the powerful role that art and design can have to improve well being and equality.
7.    What are the highlights of your career?
I have many highlights its hard to choose!
China Dreaming, a public art commission I led when I was 28 years old, was the first ever western art project to be featured on the front page of the Beijing Times.
In 2010, I worked with some young artists from Rio to create a model replica of a favela and a council estate in Brixton. The opening was broadcast live on BBC News and featured in the The Guardian. We had the most incredible launch party in the Royal Festival Hall with people of all ages, races and religions dancing to Baile Funk music from Brazil, a memory I will treasure forever.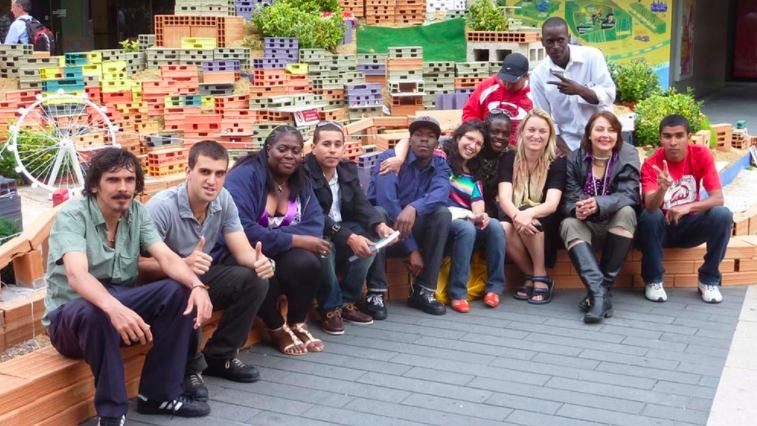 In 2011, I led the team that installed a giant fox sculpture on the top of the Queen Elizabeth Hall and it made the headlines all the way around the world including the New York Times. At the same time, I was so proud to oversee the Museum of '51 for the 60th anniversary of the Festival of Britain. More recently, in 2019 a public art programme I was artistic director of won a national living waterways award for best large scale art project.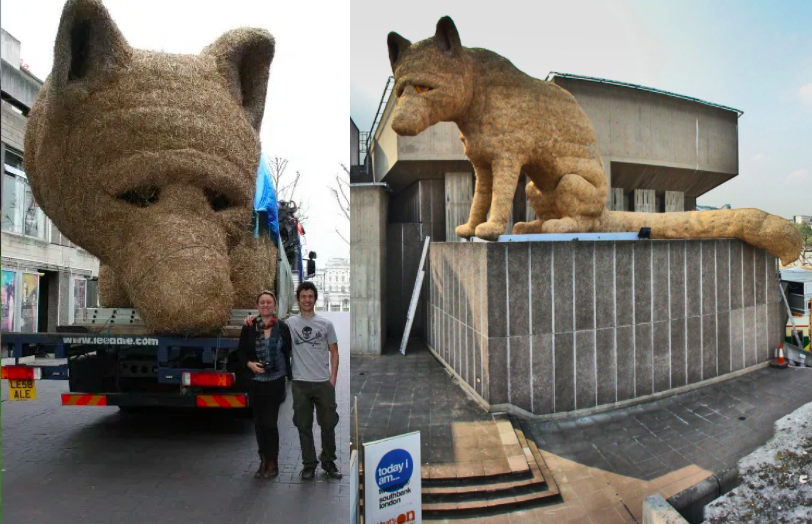 8.    What advice would you give to deaf aspiring artists?
Take a nothing ventured, nothing gained approach. If an arts project doesn't work out, don't worry, move on to the next one and try again. It's important to believe in change and growth at any stage in your career. Believe that anything is possible, because it is. Don't worry about what other people are doing, be inspired by what moves you and follow your own path.
There will be people that will have negative opinions about what you're capable of. But I have learnt it's not just about getting career advice, but figuring out what advice to follow! Sometimes people, out of good intentions, may give you advice that holds you back rather than propel you forward. When I was in my early 20s I applied for an entry level job at a major gallery and didn't get it. Two people I looked up to in the arts said I was aiming too high and that I should stay in the job I was unhappy in. But I decided to ignore what they said and did the exact opposite! I started applying for even more ambitious roles seemingly 'above my station' and outside of my comfort zone. Soon after I landed a prestigious job at Historic Royal Palaces and never looked back.
9.    On your webpage you say that you wanted to "reclaim" your deaf cultural heritage. Could you explain what you mean by this? Why was this important to you?
Like many deaf people, I've struggled with my sense of identity over the years. Sometimes I felt lost and that I didn't fit in with both deaf or hearing communities. I felt a lot of pressure to conform and be validated by deaf and hearing worlds that were asking different things of me. Some deaf people told me I was not 'deaf enough' because I wasn't born deaf. Then hearing people would exclude me from conversations. It felt at times like I was being rejected by both communities. Sometimes both deaf and hearing people may question your authenticity or say things that attempt to diminish your achievements.
But now I'm older I realise it's important not to let a few negative comments and experiences strip you of your sense of belonging. There will always be people that don't 'get' you. It can take a while to find your professional support tribe. Seek out and place your focus on allies that energise you and believe in you. I know without a doubt, that I would not have achieved the career highs I have experienced without deaf culture and sign language in my life. I wanted to reconnect with the deaf cultural heritage I was so privileged to be part of as a child and pass this positivity onto my own two children. Part of this journey was making Sign Night for BBC Arts.
10.    What makes you proud to be part of the deaf community?
The deaf community so diverse and the ingenuity and versatility of sign language culture is forever inspiring. I also love deaf humour and storytelling. My daughter began signing at the age of 6 months and being able to communicate with her from such a young age was truly an amazing gift.
11.    Who inspires you and why?
Laraine Callow, a remarkable trainer and businesswoman who has been a hugely important influence. She gave me my first job in the arts after I graduated and showed me the ropes of arts administration. I wouldn't be the person I am today without her leadership and guidance early in my career.
Penny Beschizza has always been a great role model for me. She has dedicated her life to nurturing and supporting others, often whilst experiencing discrimination and oppression herself. She is a wonderful advocate and exudes kindness.
Jo Verrent the director of Unlimited is so cool. Wonderfully warm and funny, she inspires many and has opened career doors in the arts that were previously closed for deaf and disabled people.
Hilary Carty is the Director of the Clore Fellowship and I had the privilege to watch her speak recently. She is an incredible leader who has had a globally influential career. She speaks with such honesty and integrity and I am learning so much from her.
12.    What ways do you think hearing people can be allies to the deaf community? Any DOs and DON'Ts?
A good ally should always empower deaf people to come forward rather than stand in for them. Despite being a seventh generation deaf person, I have never felt that I am an expert on deaf culture. It's always evolving and I learn something new every day. There are some incredible young deaf vloggers on social media who teach me new things. No individual deaf person's lived experience is exactly the same as another. For example, there are many deaf people who have other disabilities that also shape their life experiences. This is why it is so vital to enable deaf individuals to shine, to tell their own story and for hearing people to not think they know it all and can "speak for" deaf people.
13.    3 top tips for deaf people?
1.Take care of your well-being – Often deaf people have two jobs: the job they're paid for and the job managing their access requirements. Deaf people are also sometimes carrying about a lot of unresolved trauma from bad experiences in their personal and professional lives. Don't underestimate the toll that takes on your energy levels. Find out what helps you soothe that stress. For some people its kick boxing or yoga, but I found that gardening was my release. There's nothing more fulfilling than channelling negative experiences into the creation of a beautiful garden! Every negative thought was cancelled out by a seed sprouting into new life. Even when I lived in a small flat I had the most amazing window boxes overflowing with flowers. I would come home from a difficult day at work and get my trowel out!
2.Do your Research – When I apply for jobs, I focus on what the organisation is about and its history. I google the leaders of the organisation and read or watch any talks they have given. This means when I go to an interview I talk with a lot of confidence about where I fit within the organisation's mission and values. Interviewers are then impressed by my knowledge and insight.
3.Feel the force! – If you're like me and work in an industry sector where you're often the "only deaf in the village" surrounded by hearing people, it can be lonely at times. Sometimes you can experience discrimination in front of other hearing people without them noticing or acknowledging it. To help with this I find it useful to think about the poem 'Hidden Nation' by Dot Miles. She refers to the deaf community as hidden, we exist among them but hearing people don't see us. I have drawn on this poem in many ways over the years. At times when you feel at your most vulnerable, let the invisible force of deafhood encircle you and lift you. This might sound a bit Star Wars "use the Force!" but try it, it does work, I promise! So you are never really alone. Let the hidden deaf nation inspire you, as you inspire them, with every new step you take in the hearing world.
Sign up to our newsletter for more content like this
Looking for more support? We've made it our mission to improve the lives of deaf people everywhere. Check out Deaf Unity's projects to find out what we can do for you. If you'd like to get in touch, contact us here.