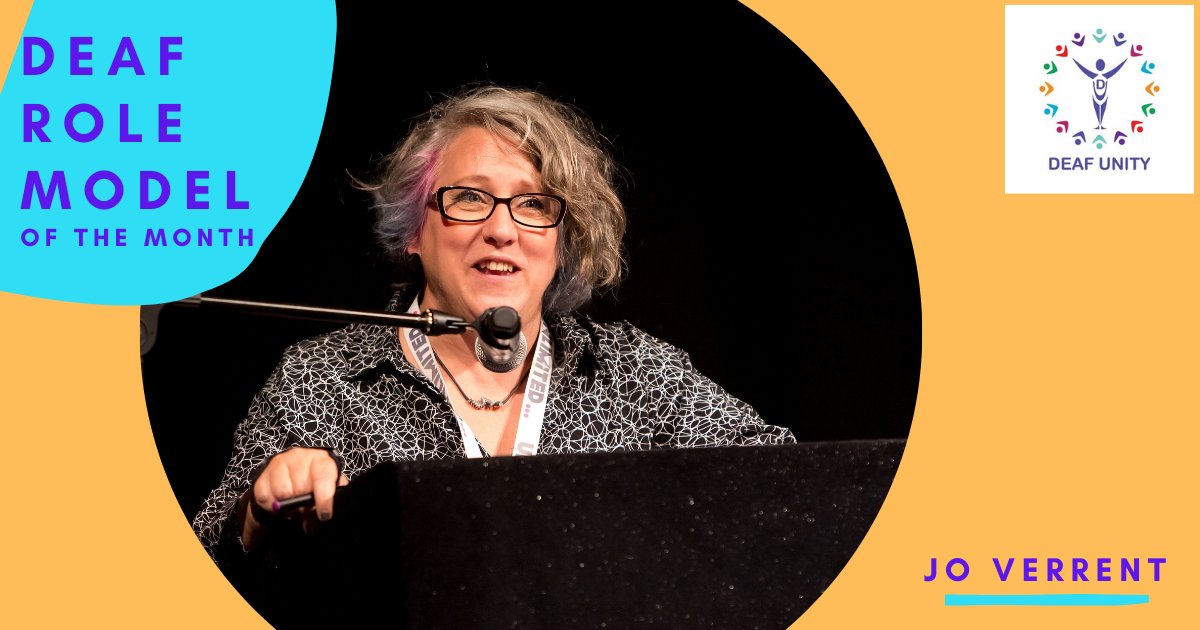 Each month we invite an inspirational or outstanding deaf role model to share their story. From what they've learnt, to what they wish they'd have known and their best deaf tips. 
This month we welcome Jo Verrent. Jo is a deaf leader in the Arts and Creative Spaces. Read about her fascinating journey to discover her potential and release her creativity. 
1.  Hi Jo! Tell us about yourself?
My name is Jo Verrent, I'm senior producer for an arts commissioning programme called Unlimited that commissions disabled artists. I'm also a mum to three kids and have 2 grandchildren. One of my key achievements is having worked in the arts consistently since leaving University. I've also travelled around the world talking about the arts and inclusion – including Russia, Japan, Brazil, China, Mexico, Indonesia and widely across Europe. Oh and I once met Mary Berry, the cook, in the Ladies at a theatre in Bristol!
2.  What is your deaf story?
I started to lose my hearing from around 11 they think. I say 'they think' as it wasn't picked up quickly. Or rather, something was picked up but they assumed I was just 'acting out'. I began to ignore teachers and my parents so they thought it was just me pushing back against authority. After a couple of years of that, someone thought to test my hearing. Then they realised why I ignored people and sat near the telly!
So from 13 I gained both hearing aids and acne. I was taken out of music lessons and stopped from running our after-school drama club. Rather than the careers tutor encouraging me in my main ambition (to be a Blue Peter Presenter) I was told to focus on science. I remember her saying that it would be easiest 'as you don't have to talk to test tubes.' It's ironic as talking has never been a problem… Just the hearing!
I wore behind the ear aids for years (from 13 to well into my 30's). Then I was offered a BAHA (bone anchored hearing aid). This was such a change! Rather than endless operations caused by infections, mastoid bone problems and cholesteatoma, I now function much better and love the connectivity to music again, streaming it straight to my head through my neck loop.
3.  What was your experience of education and higher education as a deaf person?
I remember a residential geography field trip when we were all sent to bed and lights out. I was asleep and then the lights suddenly came on and a teacher burst in. All the other kids were having a midnight feast by torchlight. I hadn't heard them and they hadn't woken me to join in. I remember then feeling intensely angry at being excluded, by my own friends, just because I used hearing aids.
Although my A levels are in science subjects, I rebelled enough to ensure my degree wasn't – it's in Theatre Studies (with dance and creative writing). But I can remember applying to a couple of drama schools and being told that they 'couldn't work with someone with communication problems'. I said I didn't have those, just a hearing aid, but that still didn't get me an audition.
When I did my degree there was lots I couldn't access. Literally every time there was an exercise that began 'now shut your eyes…' there was an awkward silence and they'd say 'oh Jo, maybe you could just sit this one out?' I didn't think this was a problem. I didn't know that I was being discriminated against. I thought they were being nice to include me in the first place.
After my degree I went on to do a post degree qualification in Theatre of the Deaf – then I found out what access was! Did I want a note taker? You mean I didn't have to remember everything and write it up later?
4.  What is your experience of BSL? How/why did you learn it?
It was when studying for my Theatre of the Deaf qualification I learnt to sign. The lecturers were both deaf and hearing, and lectures were given some in BSL and some in English both with translation. If you didn't sign, you learnt – and quick! Even the bar staff signed! That total immersion for most of a year, which included working theatrically in both sign and speech was a brilliant way to learn. I didn't have to learn a single bit of vocab about weddings and relations!
5.  Have you faced any obstacles or challenges from being deaf? And how have you overcome these?
I've had my share of the 'well, you can't use the phone, so you can't do that job' type comments which have been infuriating. This was particularly true when I was younger before email was such a thing. Now most people I know don't use the phone for work preferring to text, Zoom, Slack, email or whatever. Then on the other side there is the 'you don't look deaf' type comments which are just as irritating. I now keep the hair around my BAHA short so no one can fail to see it. Once someone woke me up when I was sleeping on a train to ask what it was for. I said it was where I'd had a lobotomy to control my extreme anger which I experienced on being woken up for no reason. They skuttled away pretty quick!
The saddest moment I think was when I was pregnant with my third child – so 20 years ago now. The doctors were very excited when I went for a routine check up. They said there was now a way to check if my baby would be deaf (there wasn't a test available for the other two). I disappointed them by refusing it – why did I need to know? I remember telling my mum about it and she immediately said, almost without thinking, 'oh I wish that test was around when I was pregnant with you'. I think had it been, her choice might have been to take a different path and I wouldn't be here today. I've had – and have – such an incredible life I would have hated to miss it!
And the most pressing challenge now is with Covid. I also have an immune suppressing condition so have been shielding so I go out very very rarely – mainly for blood tests or the dentists. But trying to understand what's happening is pretty hard due to masks, essential though they are. It's strange. At home, working, I have so few barriers because I am in an environment I have designed. Outside, just trying to get to the dentists – and it's like stepping back 30 years!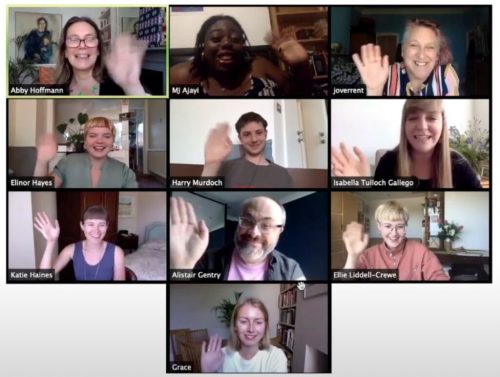 6.  Can you tell us about your role at Unlimited?
I'm senior producer which means leading a team of people – some based with Shape Arts and some based at Artsadmin – to deliver the programme. It's all about getting money to artists to make exceptional art. We've been able to fund some stunning work that has impacted across the globe.
From plays to exhibitions, we've supported over 330 artists since 2013 awarding over £4million – numbers that still make me gasp. We also fund work that is harder to define, like Cherophobia – a durational art work where an artist was tied to 20,000 helium balloons until they floated in the air. That ended up being performed over 9 hours on the main stage at Sydney Opera House!
7.  Which projects have been some of the most exciting ones you have worked with and why?
I love the massive range of work – from a tiny R&D project through to a main commission which tours internationally. Working with the Paraorchestra on The Nature of Why was amazing, as they redefined the whole experience of going to a concert and turned it on its head. And seeing Sophie Woolley take Augmented, which we supported as an R&D project, forward to a national touring piece about her cochlear implant has been great. I've loved the conversations stirred up by Kai Syng Tan's work – we supported her Magic Carpet project  which literally wove together threads of art, ADHD and neurodivergence. Honestly, I could go on for hours!
8.  What changes have you seen within the cultural sector for equality and diversity?
Progress is slow but if you look back you can see that we are at least heading in the right direction! I love that its now common place to have BSL and captioning at events. Less so to have integrated audio description and I think we can do more to improve access for our blind and partially sighted colleagues.
I can see a small improvement in who gets funded and in who is leading projects but it's still quite small scale. Given that many of us have been campaigning for years it's sad that not more has shifted. More D/deaf and disabled control over our own organisations and projects please!
9.  What progress still needs to be made?
So much! I think it's about picking up the speed of change and not letting the current crisis set things back. The current situation is just making things so much worse – no BSL for main bulletins, the issues with communications and masks. Deaf friends are all talking of feeling more isolated.

10.  You do a lot of travelling with your work, how do you allow the experiences of the culture you encounter to influence your work?
I never used to travel without my family. I assumed I wouldn't be able to communicate and was just plain scared. I was part of a leadership programme and one element was about pushing us to try and see if such fears were founded. So I found myself on a 10 day trip to Hong Kong, with days crammed with meetings as I met those in the cultural sector there to see how it all worked. I realised I loved travel and new places and had been denying myself this for years for no reason.
Yes, there were barriers – it's MUCH harder for me to lip read if English isn't someone's first language – but nothing that was insurmountable. Presenting and speaking wasn't hard – and if people write down the questions as they are asked, that works. The translation kit can work, if I can use my neck-loop, which is a real boon for me.
I always try and have time on my own in any new place. Walking around, getting a sense of what it might be like to live there. I always do three things – take public transport, go to a supermarket and eat at least one local meal (usually by following office workers at lunchtime!). I've had some hysterical mishaps, but who hasn't? Since Covid came I've missed 7 international trips but if I never travel again, I've been so privileged that I can't really complain.
11.  Are you currently working on any new projects?
There are two extremely exciting new things that are ongoing. Rather than type more here, I'll point you to the webpages about each!
We are running an open call for deaf and disabled artists and have over half a million to grant in awards. Also we are transitioning from a programme into an independent organisation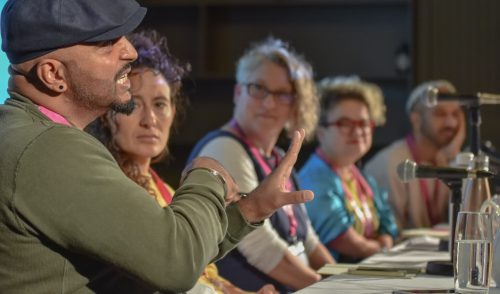 12.  What makes you proud to be part of the deaf community?
I love the creativity, the companionship and of course the beauty of BSL. I find deaf people some of the best problem solvers I have worked with as they are naturally tuned into adapting and seeing things from multiple perspectives at the same time. I've never seen my hearing loss as a negative thing, just been frustrated by lack of access.
I particularly like the instant connection I feel when I see someone else wearing a hearing aid, or even when I see a hearing aid battery sticker stuck somewhere – I have photos of those I've encountered on trains or in hotel rooms!
13.  Who inspires you and why? 
Right now, I'm a big fan of Bim Ajadi – we funded some of the work for his film Here Not Here, mainly the live elements which hopefully can come back once Covid is more controlled. Fusing hip hop, krump, BSL and VV both live and on screen, its all just so exciting. I'm also a fan of Cathy Mager – we got to support her work for the BBC as part of their Culture in Quarantine – Sign Night. It's still up on iPlayer I think. I also really loved all the deaf crew that were part of House of Krip, the first ever deaf vogue house! (worth watching the short documentary here.)
14.  What ways do you think hearing people can be allies to the deaf community? Any DOs and DON'Ts?
People don't recognise 'deaf gain' enough – the default is to assume we are missing everything and should be pitied. I love not hearing my husband snore, being able to alter the volume, and being able to choose silence (well, a form of silence… I experience tinnitus so it never seems completely silent!). Plus the massive benefit of BSL – both creatively and for communication.
I think it would be great for hearing people to think about the positives more, and realise that the so called 'lack of communication' is their lack, not ours.
3 top tips for deaf people?
1. Don't be afraid to switch off and take a break from the noise. I love walking and usually walk without by BAHA just for the peace.
2. Kit is great – I love my neck-loop and its opened up a whole world of music, TV and film to me. I honestly never knew those layers were there before.
3. For communication, nothing beats a pencil and piece of paper. Although I am quite adept now at pantomiming various medical aliments for pharmacists.