Deaf Unity believes in giving meaningful support to deaf people at critical times in their lives. Leaving school and not sure what options are out there. Choosing whether to go to college or university. Or entering the job market. We strive to connect people to the support and services that they need to achieve their dreams. In 2021, we launched our Deaf Futures series showcasing the expertise within the community. One of the contributors was ELREM – learn more about the support they provide to deaf and hard of hearing people.
As an organisation ELREM Ltd was privileged to be part of the Deaf Futures 2021 programme, an informative set of presentations and discussions. My brother and business partner Alan Reed gave a presentation divided into two parts: part one focused on entrepreneurship and freelance opportunities, whereas part two tackled the minefield that is Access to Work.
Access to Work
The Access to Work scheme is far more difficult to navigate if you choose to go the self-employed route. From the get-go, there are obstacles; Access to Work advisors state the importance of creating a level playing field regarding the support required, but what exactly does that mean?
Access to Work advisors do not generally recognise that a self-employed Deaf person needs more than a BSL interpreter to achieve a level playing field with a hearing person. Employees normally receive support and guidance through a system of line management, something not available to freelancers (self-employed) who are alone in their role as business owners. 
When Access to Work will not cover the costs of a business mentor, it puts the deaf self-employed business owner at a disadvantage. There is also the advantage of block booking interpreters that employees have over the self-employed. Self-employed business owners don't always have the luxury of knowing what their schedule is from one day to the next and are therefore not in the position to block book support, making it problematic given the lack of registered interpreters.  
Employed users of Access to Work often get a budget for 3 years. Self-employed users must prove their validity every year. Employed users tend to get greater budgets in the first place, often close to the budget cap (£61,200) for support, whereas the self-employed have to fight and justify every penny before the Access to Work advisor will agree it.
Don't Give Up – Here to Help
You shouldn't fret, however, because owning your own business and building it brick by brick provides you with great satisfaction and the feeling of fulfilment is enormous. The flexibility provided by being your own boss and making your own decisions outweighs the difficulties in setting up your business. So, don't give up those dreams just yet.
The difficulties for self-employed Access to Work users are the reasons why deaf people value various types of support provided by ELREM Ltd. We create a package of dedicated business communication support for the individual that often goes above and beyond the remit of the Access to Work scheme. Individuality is a key factor as no two people are the same and therefore their individual support needs are unique to them.
This has certainly been the case since the first lockdown back in March 2020; we realised early on that the lockdowns would have a negative impact on deaf and disabled communities. Many sigh at the mere mention of Zoom, but during those initial months, feelings of isolation and loneliness were eased through online meeting facilities enabling people to stay connected. We had regular meetings with our clients to keep them positive and look at different possibilities available. I am extremely proud of all our clients and their successes; they have proven to be talented and dedicated professionals who were able to adapt to the ever-changing circumstances.
Let's hear about some of our successful clients.
Connor Ahern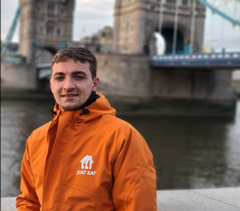 Connor arrived in London from South African in March 2019. As his first language was South African Sign Language, he was unable to gain support even from local charities. Connor's story demonstrates the power of social media and networking as it was his South African headteacher who connected with me on LinkedIn and that led to Connor and me meeting two years ago. It has been a tough couple of years for Connor but he has shown patience and fortitude, he has learnt British Sign Language and manages to balance several work roles, a combination of self-employment and employment. In fact, he was the first ever Deaf courier at Just Eat as well as being one of a growing number of Deaf employees at Starbucks. When Connor isn't whizzing around the streets of London, or honing his barista skills, he is working hard to establish himself as a freelance Athlete and Blogger. With Connor, where there's a will, there's a way – he is proof of what is possible when you think outside of the box and go above and beyond to find out what is possible.
Calum Medlock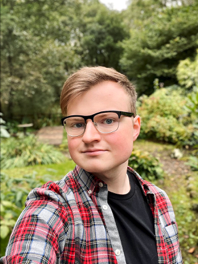 Calum is the founder and director of Calman Designs Ltd. He established his website design business early in 2021. Having seen Alan's Deaf Futures presentations, Calum requested an introduction through Deaf Unity's founder Abdi Gas – yet another example of positive networking. Calum has an analytical mind, which is not surprising as he has a degree in Mathematics. Combining this approach with his excellent design skills and professional approach has enabled Calum to start establishing himself as a website designer. He particularly wants to improve the industry's slow take-up of accessibility functionality. As Calum's first blog post states, "Around 15% of the world's population is disabled, which means 1 billion people are living with some form of disability". When will society sit up and take notice of this huge number of people and 'include' them in the conversation and decisions? 
The world is full of information and the speed at which this information is passed on has increased infinitely over the last 20 years. Let's make sure that during the next 20 years 'accessibility' becomes front and centre of society's plan for all of us. 
Sign up to our newsletter for more content like this
Sharon Osbourne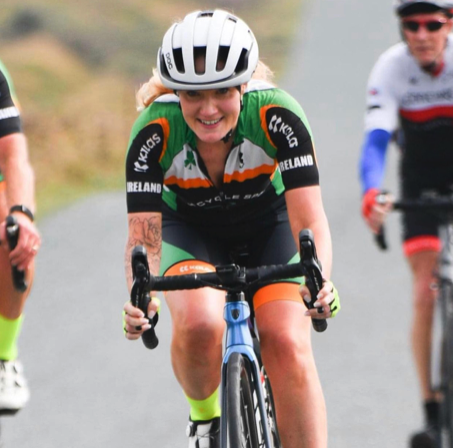 Sharon has been supported by ELREM Ltd. for a few years. She moved over from Ireland to gain her degree in Fashion Design and Pattern Cutting. After many successful years working for some high street brands, she moved to London for new job; unfortunately, within a month she was a casualty of the first Covid-19 lockdown and lost her job. As a way to improve her mental well-being, she turned to her other passion, road cycling; she became a professional road cycler and cycling instructor. We assisted with the creation of her charity cycle ride along the stunning, Wild Atlantic Way, which was a great success. We are proud of the work we did together, and the personal progress Sharon achieved. Sharon has decided to move back to her family home in Ireland, so our time together is coming to an end but our achievements will remain.
Whether working visibly or behind the scenes, we are thankful to have such determined and successful clients! Their successes are not achieved overnight so we encourage everyone not to be deterred by failure. If you have an idea, we can help you make it a business. If you have a business already, we can help you achieve those difficult targets.

We are excited by new people and the new ideas that come our way. We look forward to helping more members of the Deaf community achieve success. We have recently opened a foundation (Community Interest Company) and are seeking funding to develop community projects that impact people's lives at a fundamental level. Usually, our focus is on the professional or business aspects of people's lives but the pandemic and ensuing lockdowns highlighted the support that members of the Deaf and disabled communities need for projects and initiatives that are built for them and operated by them. Stay tuned, and we will update you when we have more news on these exciting community projects…
Life is full of ups and downs, never more so than the last 18 months! We remain positive but it is important to remember that without hardships, the highs wouldn't feel so great. 
Don't put your dreams to bed just yet.
This article was composed by Dorothy Dady – CEO of ELREM Ltd. To find out more about what support they offer and to start a conversation, get in touch with Dorothy here – dorothy@elrem.uk
Looking for more support? We've made it our mission to improve the lives of deaf people everywhere. Check out Deaf Unity's projects to find out what we can do for you. If you'd like to get in touch, contact us here.