2021 and 2022 have seen exciting challenges and developments in the landscape of deaf people's access. It feels like the deaf community and its allies have galvanised in ways that have not been seen for a decade or more. Here, Liam O'Dell shares his musings on what more needs to be done to make these developments really mean something in the lives of deaf people. 
With the British Sign Language (BSL) Bill passing its third reading in the House of Lords at the end of April and moving to Royal Ascent, it will be easy for the UK Government to pat themselves on the back.
Sure, the Work and Pensions Secretary will have to publish regular reports on what the government is doing to "promote and facilitate" BSL, but with these reports due every couple of years, it's easy for the Government to slip back into putting Deaf Rights on the back burner like it did during the coronavirus pandemic (see the Where Is The Interpreter campaign, for example).
It's easy for them to abandon their non-statutory commitments around Access to Work and increasing the number of BSL interpreters, too.
Whatever your views are on the BSL Bill – whether it's long overdue legal recognition of our community's previous language, or merely symbolic – I think both sides of the debate can agree that the UK Government's moves to strengthen Deaf rights can't just end here. There are other pieces of legislation ministers can enact and bring forward.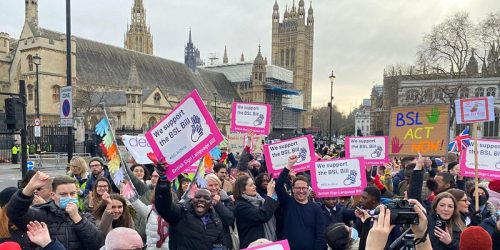 The BSL GCSE
Firstly, what on earth is going on with the BSL GCSE? Peter Aldous MP, who represents Deaf campaigner Daniel Jillings (he forced the UK Government to commit to introducing the qualification by threatening legal action), has rightly drawn attention to this issue when the BSL Bill went through the Commons.
A consultation on the draft subject content was previously said to go live in the "first half" of this year, but now it looks set to be published much later.
In what is a damning demonstration of just how much the Government has been kicking this particular can down the road, Daniel is too old now to sit the GCSE he desperately wants implemented.
If the BSL Bill is to pass and recognise our language in law alongside other languages such as English, Welsh and Gaelic, then it's about time we see the same parity in our education system. This was something which was highlighted by David Buxton, chair of the British Deaf Association (BDA) and founder of the BSL Act Now campaign, at the BSL rally in Trafalgar Square last month.
The Digital Economy Act
In 2017, a Bill became law which included a clause on the accessibility of on-demand services (so BBC iPlayer, ITV Hub, All 4 and so on). It mentioned especially "requirements for programmes included in the services to be accompanied by subtitling" listed under Section 93.
However, this is yet to be enacted by the UK Government (specifically the Culture Secretary), in an almost five-year wait which has left the Royal National Institute for Deaf people "deeply angry". They've been calling for the section of the DEA to be implemented as part of their Subtitle It! campaign, and I believe there's no finer indication of just how important accessible on-demand services are to Deaf people than the dreadful incident involving Channel 4 and All 4 at the end of last year. It was a situation so bad that Ofcom have since launched an investigation into the broadcaster – something I'm ashamed to say I welcome, given their poor communication with the Deaf community during the crisis.
We have quotas for mainstream TV channels; now it's time for on-demand services to follow suit.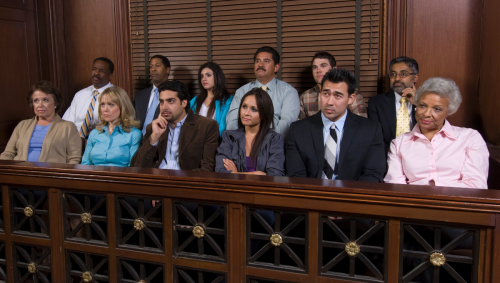 Deaf jurors
The UK Government's Police, Crime, Sentencing and Courts Bill finally looks set to grant profoundly deaf, BSL signers the right to take part in jury service. This would abolish the '13th juror' issue which prevented sign language interpreters from entering the jury deliberation room.
Yet the Bill, often shortened to the PCSC Bill, has sparked concern over its treatment of Gypsy, Roma and Traveller communities, and a string of measures restricting demonstrations and protests.
I have no doubt we, as a Deaf community, will want to take to the streets in the future to uphold Deaf Rights (heck, we did so in Trafalgar Square last month for the BSL Bill's third Commons reading), and so the basic right to protest shouldn't be harmed by any potential legislation.
Fortunately, it looks like the Bill is stuck in a state of Parliamentary 'ping-pong', where the Commons and Lords can't decide on amendments to draft legislation. This could very well mean the proposals fail to become law before the end of the Parliamentary session. That's due to be complete sometime next month.
In a BSL Bill Question Time held earlier this month, both representatives from the BDA and the Royal National Institute for Deaf people (RNID) praised a shift in attitude from the UK Government when it comes to Deaf Rights. I very much hope that continues in the years to come – irrespective of whomever the Minister for Disabled People might be, or which political party (or parties) will be in charge.
I said it at the end of last year, when I looked ahead to what 2022 had in store, and so far it looks like I'm already right: this year will be the year we assert our rights after the hearing world was made more aware of our lived experiences and challenges last year (see Rose Ayling-Ellis' win on the popular BBC dance competition Strictly Come Dancing as one high-profile example, where BSL usage soared following her appearance).
Personally, I feel the BSL Bill will go some way to do that, alongside the BSL Advisory Board the Act will create. Other legislation I've listed above, meanwhile, will strengthen that further in other areas of interest to the Deaf community, such as education, accessible entertainment and more.
The charities and organisations behind the BSL Act Now campaign have committed to remaining a consortium once the Act (hopefully) passes, and it's important that momentum continues on an individual level.
I'll conclude with something Labour MP Rosie Cooper said at the Trafalgar Square rally last month when her Private Member's Bill passed its final stage in the Commons: "My job is at an end," she said, "yours starts".
Liam O'Dell is a freelance journalist and campaigner specialising in deafness, disability and social media. He is a regular contributor to the Deaf news blog The Limping Chicken and his work has also been featured in The Stage, HuffPost, Metro.co.uk, The i and The Independent. He recently won the Young Freelancer Award at the Freelancer Awards for his coverage of the #WhereIsTheInterpreter campaign.
Looking for more support? We've made it our mission to improve the lives of deaf people everywhere. Check out Deaf Unity's projects to find out what we can do for you. If you'd like to get in touch, contact us here.