Published: Friday 19 June 2020 | 2 Comments
Grouped under: General Information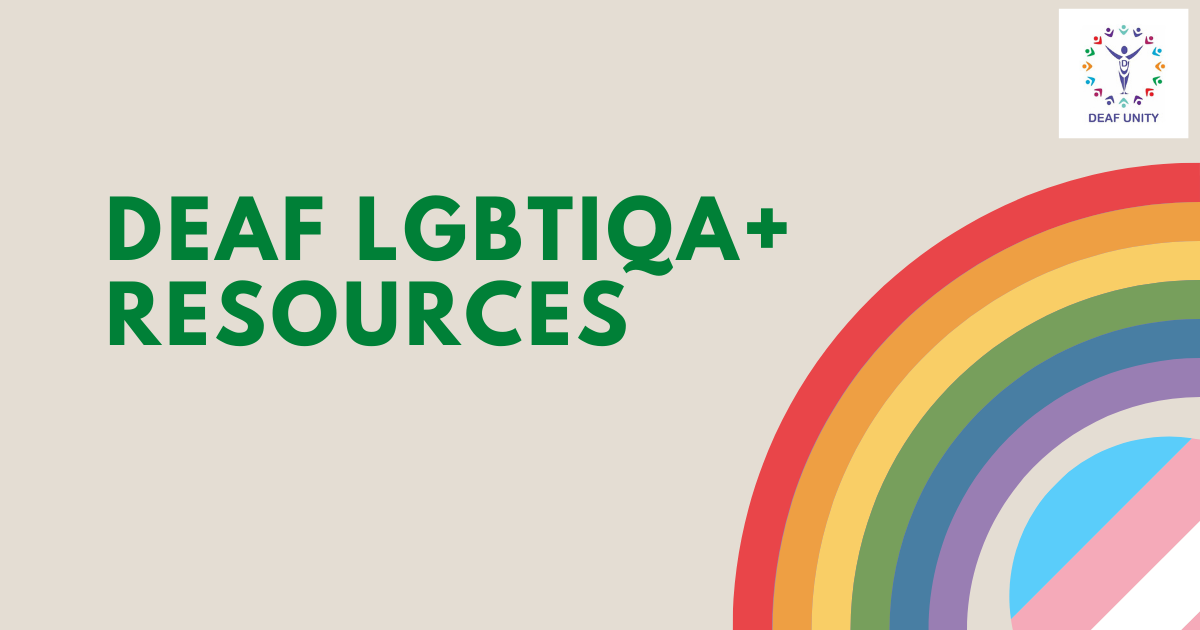 Are you a deaf person who identifies within the LGBTIQA+ community?
Being a deaf LGBT+ person comes with a unique set of challenges that can be hard to manage, and can have impact on mental health.
Deaf LGBT+ people are a minority within a minority, which means they often struggle to find their place, and feel accepted within both the deaf and the LGBT+ communities.
In the US and the UK, there are growing Deaf LGBT+ communities offering helpful information, advice and support to anyone in need, and LGBT organisations that provide a safe place to meet others.
Here's some Deaf LGBTIQA+ resources – from accessible support services and organisations, to mental health resources and social media accounts.
You can learn more about Deaf LGBT history here. And, learn the BSL signs for the diverse array of sexualities and identities here.
Accessible Support Services
Switchboard – the LGBT+ helpline.
Phone: 0300 330 0630, open 10am–10pm every day
Email: chris@switchboard.lgbt.
Online chat is available on their website.
SAMH (Scottish Association for Mental Health)
Phone: 0141 530 1000
Email: enquire@samh.org.uk
Mind provides advice and support to empower anyone experiencing a mental health problem.
Phone: 0300 123 3393 (9am-6pm, Monday to Friday)
Text: 86463
Website: info@mind.org.uk
MindLine Trans+ – a confidential emotional, mental health support helpline for people who identify as transgender, agender, gender fluid and non-binary.
Phone: 0300 330 5468.
Samaritans – a safe place to talk about whatever's getting to you. Free 24 hours phone line.
Phone: 116 123
Email: jo@samaritans.org
SHOUT – the UK's first 24/7 text service, free on all major mobile networks, for anyone in crisis anytime, anywhere. All the conversation is done via text.
Text: 85258 with either the text 'Pride', 'Switchboard', 'Mermaids' to start a conversation.
Deaf LGBTIQA Support Organisations UK
Regard is a national organisation of lesbians, gay men, bi, trans and queer people (LGBTQ) who self-identify as disabled. They follow the Social Model of Disability. This is a way of thinking about disability that says it is society that needs to change by removing the barriers that deny us inclusion and equal rights.
Unique LGBT is a group which meets monthly in King's Cross and central London. Unique is run by disabled LGBTQ+ people, for disabled LGBTQ+ people.
Deaf LGBTIQA provides information, represents and supports deaf people who are either coming out and/or identify as LGBTIQA.
Mental Health Resources UK
Pink Therapy is the UK's largest independent therapy organisation working with gender and sexual diversity clients. You can search and find therapists and mental health resources on their site.
Counselling Directory is a comprehensive database of UK counsellors and psychotherapists, with information on their training and experience, fees and contact details. Use keywords such as 'LGBT', 'gay', 'lesbian', 'bi', 'trans' or 'same-sex couple' to find professionals who specialise in supporting LGBT people.
The Gendered Intelligence (GI) Network for Therapists and Counsellors aims to support therapists and counsellors to enable a positive experience in a therapy setting for trans people (and their families). Here's a link to the PDF version.
Deaf LGBTIQA Support Organisations US
Deaf Queer Resource Center resource center for, by and about the Deaf Lesbian, Gay, Bisexual, Transgender, Transsexual, Intersex and Questioning communities.
Northwest Rainbow Alliance of the Deaf
Rainbow Alliance of the Deaf (RAD) a society for Deaf Gay and Lesbian citizens in the United States and Canada.
BSL Glossary
Deaf LGBTIQA+ have created an ongoing BSL glossary for the array of sexualities and identities. You can view the BSL videos here.
Social Media Accounts to Follow
@deaflgbtqia – posts about deaf lgbtqia information, support, events, accessible PRIDE and BSL definitions
@deaf_lgbt_family – posts about gender and sexuality, BSL definitions, and being lgbt in different countries
@chellaman – deaf trans artist and influencer
Other Resources
Previous resource: UK Deaf Clubs
Next resource: Accessible Mental Health Services