Published: Friday 19 June 2020 | No Comments
Grouped under: General Information
Did you know 1 in every 2.5 people (around 40%) in the deaf community experience mental health issues. Which is 2 x more than hearing people.
It's important for us to understand the link between deafness and mental health, and ensure the community has access to help and support.
Why is Deafness Linked to Mental Health Issues?
Mental health struggles are caused by many different reasons, from everyday struggles like money, employment and education, to emotional struggles related to family and relationships. Insufficient access to mental health services and support can exaggerate mental health issues too.
In the deaf community, these problems are amplified because of difficulties in communicating, barriers in education and employment, and a lack of accessible support.
If you're struggling with a mental health issues, it's important to remember that there are many other people going through the same thing.
The deaf community is a strong and supportive network open to all who need friendly advice, support and information on deafness. Don't hesitate to reach out whenever you need to.
Here are some mental health services and deaf charities that offer accessible support options such as text, email, writing a letter and online chat.
Accessible Mental Health Services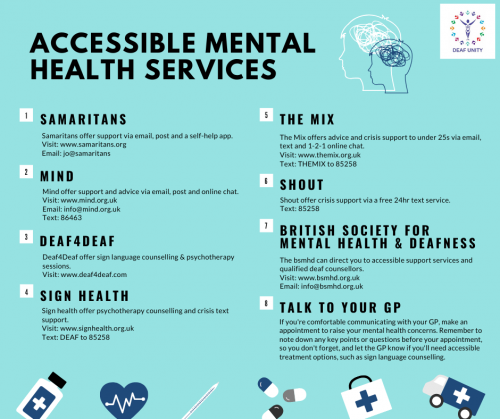 Visit:
www.samaritans.org
www.mind.org
www.deaf4deaf.com
www.signhealth.org.uk
www.themix.org.uk
www.bsmhd.org.uk
Another option for deaf people who need emotional support is peer to peer counselling. Thankfully there are a number of qualified deaf counsellors available who are trained to work specifically with deaf people to discuss their emotional well-being and provide suitable support services to help with recovery. Take a look at the British Society for Mental Health and Deafness for more information.
Other Resources
Previous resource: LGBTIQA+ Deaf Resources
Next resource: Sign Language Courses in 2020/2021